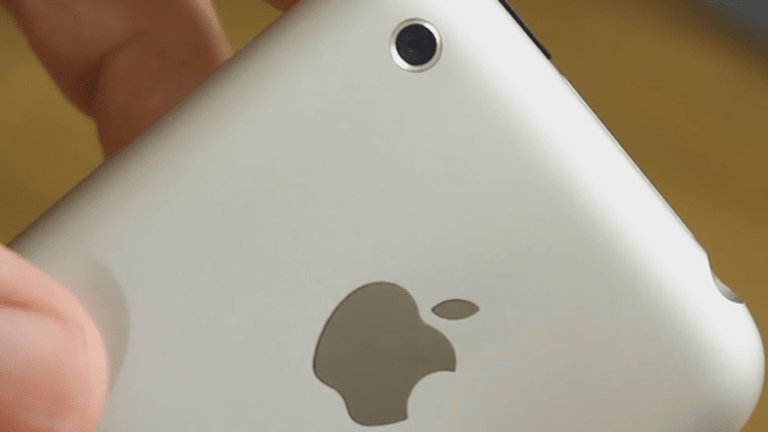 Here's How Much More You'd Have to Pay for Apple's iPhone if It Were Made in America
It's not as much as you might think.
All Apple Inc.'s (AAPL) - Get Apple Inc. ReportiPhones say "Designed by Apple in California, Assembled in China" on the back.
That's because while Apple designs the iPhone and creates the software in its headquarters in Cupertino, Calif., all the other work is done outside of the U.S. The iPhones' components, including the processor, memory chip and display screen, are mostly sourced from China, Taiwan and Japan. Once all of the components are made, they are shipped to a plant in China to be assembled. 
President Donald Trump has been vocal in chastising Apple for not manufacturing iPhones in the U.S. to create more jobs. On Tuesday, Trump further pressured Apple to move some of its iPhone manufacturing to the U.S. after claiming that Apple CEO Tim Cook had committed to building three big manufacturing plants in the U.S. 
Bringing iPhone manufacturing to the U.S. would come with a cost, however, for a product that's already criticized for being too expensive. The iPhone 7 that debuted in the fall of 2016 cost $649 for the the 32GB model, while the upcoming iPhone 8, due out this fall, could retail for over $1,000. Research firm IHS market estimates the iPhone 7 costs Apple just $224.80 in materials and manufacturing.
This Why President Trump Can Now Blame Apple for Atlantic's Reporting
So how much more would you have to pay for your iPhone to have "Assembled in the U.S." printed on the back? About $30 to $40, according to a 2016 study by MIT Technology Review. Assembling the iPhone in the U.S. would cost significantly more than the low $4 to $10 it costs to assemble in China because of higher labor costs in the U.S. and because a number of components needed for the iPhone would have to be shipped to the U.S. from Asia.
However, just assembling the parts together in the U.S. wouldn't create that many jobs because a lot of that work has already been automated. 
If Apple wants to add more jobs, then it would need to get its components made in the U.S. too, which would also cut down on shipping costs. If Apple were to both source components and assemble the iPhone in the U.S., then customers would pay at most an extra $100 total for their iPhone, according to MIT Technology Review's report. To do so, the U.S. would have to buy some raw materials from outside the U.S. because the U.S. doesn't have all of them domestically. 
An extra $100 on a $750 phone means customers would amount to paying an extra 13%, while for a $1,000 phone, that would be an extra 10%. While some might say that's a small price to pay to bring jobs and manufacturing back to the U.S., the MIT study concluded that making iPhones in the U.S. in either scenario likely wouldn't have a meaningful impact on the U.S. job market. 
One reason Apple has been so successful, however, is that it maintains such high margins on its iPhone business. The iPhone 7 cost $224.80 in materials, by IHS's estimate, which is about $39 less than the $264 it cost Samsung (SSNLF) to make the Galaxy S7. However, the Galaxy S7 retailed for just $23 more than the iPhone 7 ($672 vs. $649). 
It's worth noting that Apple CEO Tim Cook noted during a 2015 earnings call that investors should be wary of the estimated cost breakdowns of Apple products. "I haven't seen [them for Apple Watch], but generally there are cost breakdowns around our products that are much different than the reality. I've never seen one that is anywhere close to being accurate," Cook said.
Apple is a holding in Jim Cramer'sAction Alerts PLUS Charitable Trust Portfolio. Want to be alerted before Cramer buys or sells AAPL? Learn more now.
Watch More with TheStreet:
Tesla's Elon Musk and 3 Other Business Titans Think Artificial Intelligence Will Send You the Pink Slip
How Birchbox Took on Macy's, J.C. Penney and the $500 Billion Beauty Counter