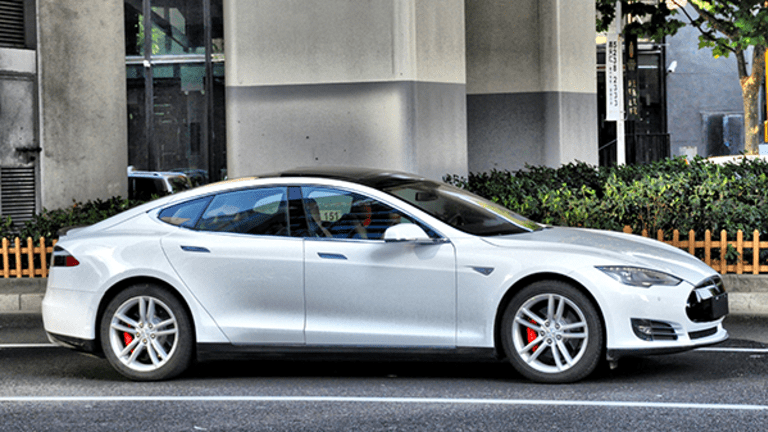 Tesla Will Issue $1.5 Billion in Debt So It Has a Shot in the Dark of Delivering Tons of Model 3s
If things go as planned, Tesla may not need to raise as much cash down the road.
As 1,800 net orders a day for the new Model 3 electric car pour into Tesla Inc. (TSLA) , Elon Musk's auto maker has ample demand to hit its ambitious 2018 production targets. To churn out cars at a rate of 500,000 per year, however, Musk will likely need to raise capital.
"What people should absolutely have zero concern about is that Tesla will achieve a 10,000 unit production week by the end of next year," Musk told investors on the company's second quarter earnings call. 
The Tesla founder acknowledged that the company is considering raising capital to reach that goal. "We're not at this point considering an equity raise," Musk told investors. "We are thinking about debt."  The cash would provide a protective buffer. "You just never know if there's going be some significant force majeure events in the world," Musk said. "It could be an earthquake in California, for example."
On Monday, Musk took a giant step toward making its cash pile grow. The company revealed plans to offer $1.5 billion of senior notes due 2025. But, more likely needs to be done.
The electric car marker's cash burn, or negative free cash flow, came to $1.2 billion in the second quarter --nearly double the negative $622 million in the previous quarter. RBC Capital Markets analyst Joseph Spak noted that Tesla's cash burn could have been worse if capital expenditures had not come in $200 million below expectations, among other factors.
Efraim Levy of CFRA Research suggested that a Tesla fund raising would be a 2018 event. "They could do it before hand but they don't need to," he said.
If Tesla stock continues to rocket, Levy suggested, issuing debt could have an advantage over convertible debt that holders could eventually exchange for stock. "With debt, you pay may more cash but you're not giving up equity, so it's less dilutive," he said.
More of What's Trending on TheStreet:
Apple, Bitcoin and Buffett Make These Monday's Hot Tickers: AAPL, AMD, NVDA, S, TSLA, TEVA, LMT
Microsoft Has Been Reborn Under CEO Satya Nadella -- Here Are His 6 Crowning Achievements
Tesla last hit the capital markets in March, raising close to $1.4 billion by selling convertible notes and stock after initially targeting a $1 billion raise. 
Greenlight Capital Inc.'s David Einhorn, a prominent Tesla short, predicted last week that Musk will have to raise more capital within a year. "[Tesla] is expected to burn over $2 billion this year as it begins production of its Model 3 and is currently only capitalized for the next three quarters," Einhorn told investors during Greenlight's call. "As Tesla attempts to achieve scale for the Model 3 it will depend on the capital markets' willingness to fund it."
Einhorn's firm declined to comment following Tesla's report.
Meanwhile, orders for the Model 3 are racking up even though buyers cannot test drive or even see the car in person.
Orders are not quite as high as Musk said Friday at a media event for the Model 3, when the Tesla boss announced more than 500,000 reservations had been made. Musk clarified on Wednesday that Tesla has received 518,000 gross reservations, but 455,000 net reservations due to some cancellations.
Musk said that suppliers have agreed to give it longer terms before payments are due. Increased time to pay bills and a faster production cycle would lessen Tesla's need for cash.
"The nirvana is that we can make the car and get paid for the car before we have to pay our suppliers, which then the faster you grow, the faster your cash position grows." he said. "I think we'll achieve that maybe not immediately but pretty quickly."
In employing that strategy, Musk would be borrowing from the playbook of another tech billionaire, Michael Dell. 
"That's what Dell used to do," CFRA's Levy said of Musk's nirvana scenario. "They'd get paid by their customers before they had to pay their suppliers."
Tesla stock traded down 0.49% to $355.17 per share Monday. 
More of What's Trending on TheStreet:
Apple, Bitcoin and Buffett Make These Monday's Hot Tickers: AAPL, AMD, NVDA, S, TSLA, TEVA, LMT
Microsoft Has Been Reborn Under CEO Satya Nadella -- Here Are His 6 Crowning Achievements