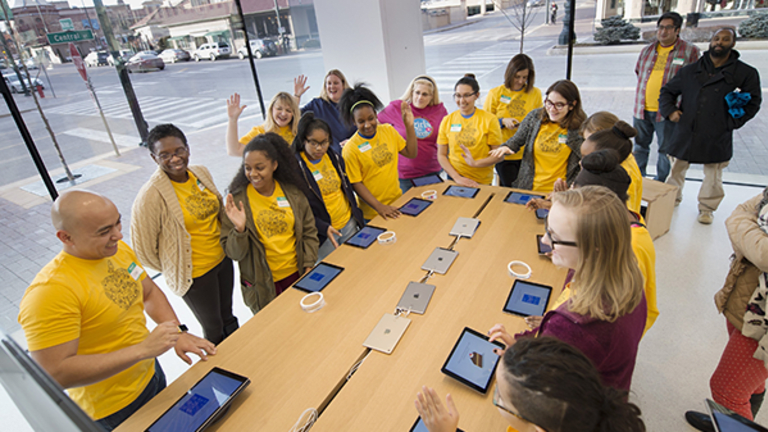 Here's How Apple Is Trying to Get People to Think Differently About Its Iconic Stores
The tech giant's head of retail says she wants to create a 'modern-day town square.'
Faced with the growing decline of brick-and-mortar shopping, Apple is leveraging its large network of stores and trying to create a place for people to learn new skills and gather. The new initiative is being branded as "Today at Apple" and is now available at all 495 Apple stores worldwide, 271 of which are in the U.S.
The program's class sign up sheet went live on Apple's site on Tuesday. Free classes include how to start a music project, edit photos on the iPhone, draw and paint on an iPad and even how to get started with coding. The classes range from one hour to one-and-a-half hours in length and will mostly be taught by new Creative Pros, which Apple calls "the liberal arts equivalent to Apple's technical Geniuses."
"We're creating a modern-day town square, where everyone is welcome in a space where the best of Apple comes together to connect with one another, discover a new passion, or take their skill to the next level," Apple's senior vice president of retail Angela Ahrendts said in the announcement. "We think it will be a fun and enlightening experience for everyone who joins."
Other class options include Photo and Sketch Walks (leaving the store to take photos or sketch), Teacher Tuesday (how to use technology in the classroom), Kids Hour (teaching kids to code with robots), Business Circuits (networking for entrepreneurs), Studio Hours (get help on a specific project) and a Pro Series (advanced classes). 
Additionally, select bigger cities will offer classes taught by world-class experts. For example, a music lab class in New York called "Producing Music on the iPhone" class will be taught by 18-year-old Grammy-nominated producer Steve Lacy. These pros will sometimes even perform free listening sessions. On May 20, Apple's SoHo store is hosting Kanye collaborator Estelle as she performs songs from her upcoming album. 
More of TheStreet's top stories:
Here's How Home Depot Is Trying to Destroy Dying Sears
Editors' pick: Originally published May 17.
Ahrendts joined Apple in 2014 from Burberry (BURBY) where she served as CEO. Her past experiences also include executive vice president at Liz Claiborne, now owned by Kate Spade (KATE) , and president of Donna Karan International, under parent companies Estee Lauder (EL) and LVMH (LVMUY) . 
Loup Ventures founder Gene Munster said Apple is trying to change people's view of its stores from somewhere just to get something fixed to a place where they can visit for entertainment and education. "This builds loyalty and also provides an opportunity for them to buy stuff while they're in the store," he explained. 
With its plan, Apple also looks to be trying to guard itself against the decline of brick-and-mortar stores in the U.S. as more and more people opt to shop online, especially on Amazon (AMZN) . A number of major mall-based retailers including Macy's (M) , J.C. Penny (JCP)  and Sears (SHLD) have been forced to shutter stores while others have been filing for Chapter 11 protection. However, Munster said he thinks Apple is already protected against the death of brick-and-mortar because of its Genius bar, which provides a place for customers to quickly get their Apple products fixed. "Everyone likes to get things fixed fast and that's generally hard to find," he noted. 
TheStreet's Jim Cramer explained the decline of brick-and-mortar as a result of people wanting to get home as soon as possible to go on Facebook (FB) or watch Netflix (NFLX) in the comfort of their home. "The simple fact is: whether it is time management, or ease, or the improvement of everything that you can do at home, from faster chips from Nvidia to better cellphones from Apple or better programming from Netflix or cooler games from Take Two and Activision Blizzard, it's all coming together to conspire against people going out," Cramer wrote. "That's what kills bricks and mortar."
While Apple previously taught a limited number of free "how to" classes, largely for beginners, on how to use Apple products, those classes are either being absorbed into the "Today at Apple" program or being redesigned as more in-depth classes. 
Shares of Apple were trading down about 2.6% to $151.42 in late morning trading on Wednesday amid broader market declines. The stock is up about 31% so far this year, however.  
More of TheStreet's top stories:
Here's How Home Depot Is Trying to Destroy Dying Sears