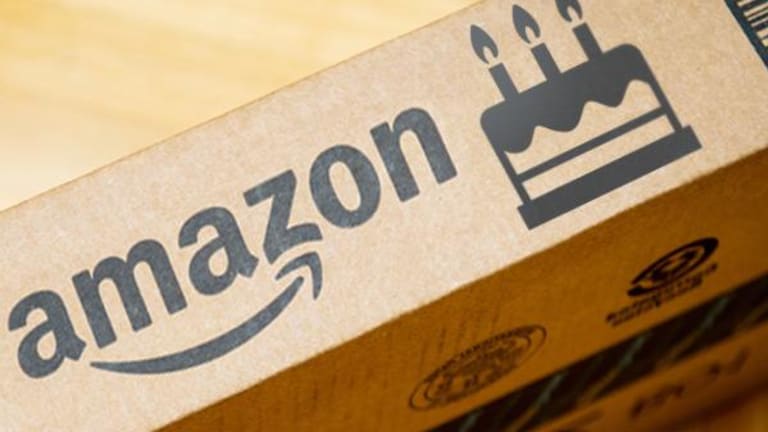 Twenty years ago this week, shares of Amazon (AMZN) - Get Amazon.com, Inc. Report went public at $18 per share, or a split adjusted $1.96. Today, the company's shares are trading at almost 500 times that.
Over that time, the company has built an incredibly loyal base with its focus on low prices, fast and inexpensive shipping, and overall customer satisfaction. Amazon is now one of the most valuable companies in the world, and founder and CEO Jeff Bezos recently became the second-richest person on the planet. 
Here's a look back at 15 of the most important dates in Amazon's growth timeline: 
July 1994 -- Bezos founded the company in 1994 at the age of 30 in Bellevue, Washington. He originally wanted to call the e-commerce site Cadabra.com, as in Abracadabra, but reconsidered when he realized it sounded too similar to cadaver.com. 
July 1995 -- The company sells its first book, "Fluid Concepts & Creative Analogies: Computer Models of the Fundamental Mechanisms of Thought." 
May 1997 -- Amazon goes public at $18 per share, or $1.96 when adjusted for splits. The stock is now trading at almost $960 per share. 
April 1998 -- About a year after Amazon's IPO, the company's board of directors vote in favor of a 2-for-1 stock split, granting investors a bonus share for every share they owned. The board later approved two additional stock splits.  
October 1998 -- Amazon launches in Europe. 
November 2000 -- Amazon launches Marketplace, its third-party seller business, which has become a huge moneymaker. Earlier in 2000, Amazon debuted a new logo featuring an arrow shaped smile that starts at the "A" and points to the "z" to represent the site that sells everything from A to Z. 
July 2002 - Cloud computing platform Amazon Web Services launches; it has since become a more than $12-billion-a-year business for Amazon.
December 2003 -- Amazon reports its first full-year profit of $35.3 million. 
February 2005 -- Amazon launches its Amazon Prime subscription program in the U.S. It now has an estimated 65 million Prime Members, who generate more than $6 billion a year in revenue. 
August 2006 -- Amazon Fresh begins delivering groceries in Seattle. 
November 2009 -- Amazon buys footwear e-commerce site Zappos.com for $1.2 billion. 
February 2011 -- The company adds video to its Amazon Prime premium subscription as it begins to take on Netflix. 
November 2014 -- Amazon releases the first Echo, a speaker powered by its digital assistant Alexa. The Echo is the first mass-market device of its kind and steadily becomes a huge hit, forcing Alphabet's (GOOGL) - Get Alphabet Inc. Class A Report Google and others to release competitors. 
November 2015 -- Amazon opens its first physical store, a bookstore called Amazon Books in the University Village mall in Seattle. 
December 2016 -- Amazon makes its first customer delivery by drone in England. The drone carried popcorn and a Fire TV video streaming device for about 13 minutes.