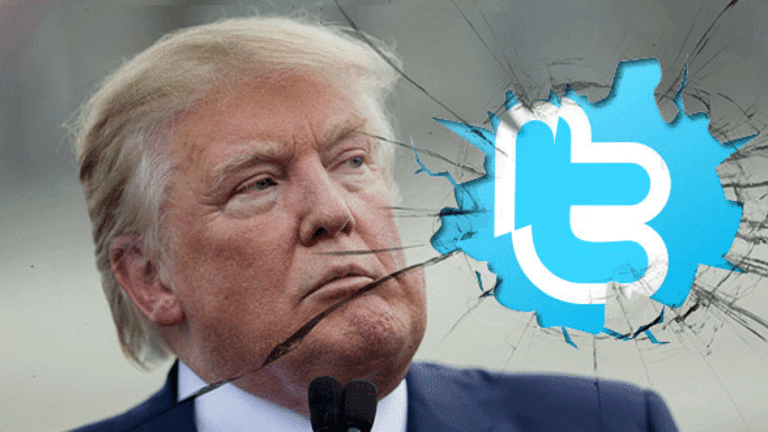 Here's an Attractive Aerospace Stock That Trump Isn't Tweeting About
Aerospace/defense stocks are soaring, but drone manufacturer AeroVironment has been overlooked.
In aerospace/defense news, Donald Trump's reproachful tweets about Boeing and Lockheed Martin have tended to hog the attention of the financial press.
But there's an industry niche called "special missions" that investors (and fortunately Trump) are ignoring. The category refers to special mission aircraft such as drones. 
Now is the time to scoop up shares of drone manufacturer AeroVironment (AVAV) - Get Free Report , before its stellar prospects become obvious to the investment herd. Given Trump's vow to beef up military spending, and the private sector's growing use of drones, demand for the AeroVironment's products is likely to increase in the coming year and beyond. AeroVironment shares were up 1.69% in late afternoon Wednesday trading. 
First, let's examine why you shouldn't trade based on Trump's mercurial tweets and pronouncements, and instead focus on investment fundamentals.
"We're not really clear the president knows enough to be sending the tweets he's been sending," said Richard Aboulafia, vice president of analysis with the aerospace/defense consultancy the Teal Group. In a phone interview Wednesday, Aboulafia explained what investors should heed -- and what they should tune out.
"There are two schools of thought," Aboulafia said. "One, that he's a master negotiator, and two, that a whole host of factors are driving these tweets. I tend to be a bit concerned. I don't think it's a negotiation, I think it's an effort to micromanage and to take credit for the hard work of others. If you look at his tweets about companies such as Boeing and Lockheed, there's a bigger effort to increase the role of the presidency in relatively small economic matters. And it's not really clear that's always useful, or even executable."
Trump's tweets about cost overruns and offshoring have shown the power to clobber the stocks of Boeing and Lockheed, as well as automakers such as General Motors and Ford, but their share prices usually rebound quickly. Indeed, aerospace/defense stocks are soaring and they face excellent prospects in 2017 and beyond. The problem is the high-profile blue chips are now mostly overvalued. In particular, Boeing and Lockheed Martin are enjoying remarkable bull runs. Investors should wait for pullbacks before buying shares.
Aboulafia counsels investors to ignore ephemeral political passions and instead focus on secular trends, such as booming demand for special mission aircraft, which provide intelligence, surveillance, and reconnaissance. One company encompasses all of these intersecting fields: AeroVironment, the dominant company in the drone industry.
AeroVironment manufactures a wide variety of drones for both commercial and military applications and has a market cap of more than $615 million. As the drone industry undergoes huge multi-year growth, grab shares of AeroVironment while it's still a mid-cap stock with room for market-beating capital appreciation.
The Pentagon, worldwide militaries and growing numbers of federal, state and local policing organizations in the U.S. and overseas are adopting drones for intelligence, surveillance and reconnaissance. Drones also are increasingly pervasive in the commercial sector. E-commerce giant Amazon.comlast month launched a test program of its highly anticipated drone delivery program, making CEO Jeff Bezos' dream of home delivery by drone closer to reality.
AeroVironment shares have risen more than 12% over the past three months, as it becomes clearer that Trump's tough anti-terrorism stance will result in boosted procurement for drones.
The average analyst expectation is that AeroVironment's earnings will soar 430.4% in the next quarter and by 145% next year. You should regard Trump's tweets as circus-like entertainment, but take AeroVironment very seriously as a long-term growth investment.
---
AeroVironment is a shrewd play on America's defense priorities, but you'll rarely hear about the stock on CNBC or Bloomberg. If you're looking for other under-the-radar growth opportunities, we've found a brilliant trader who has developed a trading system that makes money in up or down markets. Click here for a presentation on how it works.
This article is commentary by an independent contributor. At the time of publication, the author held shares of BA. John Persinos also serves as an analyst with the aerospace consulting firm the Teal Group.