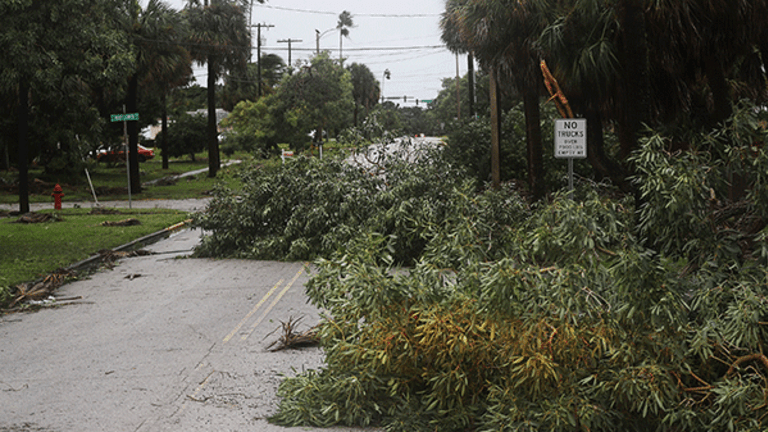 Here's a Look at the REITs With Exposure to the Hurricane-Threatened Southeast
Analyst predict on Hurricane Matthew's impacts on two closely-related sectors.
As Hurricane Matthew continues to barrel through Florida, Georgia and the Carolinas, two closely related sectors are being impacted in very different ways.
According to a report published by BTIG Research analyst James Sullivan Thursday, three real estate investment trusts (REITs): Equity One (EQY) , EastGroup (EGP) - Get EastGroup Properties, Inc. Report , and Kite Realty Group (KRG) - Get Kite Realty Group Trust Report with respectively almost 41%, 29% and 25% of their rent revenue coming from Florida, are standout risks due to the possible impacts from Hurricane Matthew.
The report also points out that that any substantial fallout from Hurricane Matthew could lead investors to revalue REITs or even dampen investors' sentiment towards the REIT sector.
Equity One closed down less than 1% to $28.90, EastGroup closed up less than 1% to $68.33, and Kite Realty Group closed down less than 1% to $25.93.
Whether the negative earnings projection is a one-time thing or exerts more lasting impact, some analysts believe that hurricanes can be a minor source of negative and occasionally positive disruption to earnings.
"Historically speaking, hurricanes are not materially negative financial events for most U.S. hotel companies; property damage and most lost business is generally insured," said Jeffrey J. Donnelly, managing director of Real Estate & Lodging Equity Research at Wells Fargo Securities LLC.
"We estimate there are 11 hotel markets in Hurricane Matthew's path that could be negatively impacted (however, some of these same markets end up with guests 'stranded' at hotels). Conversely, we estimate there are 9 markets that could be net beneficiaries of guests seeking to move inland," wrote Donnelly.
While the risk factors associated with REITs can seem unpredictable, on the other end of the spectrum, home improvement retailers Home Depot Inc. (HD) - Get Home Depot, Inc. Report and Lowe's Cos. (LOW) - Get Lowe's Companies, Inc. Report stand to benefit from the natural disaster as residents in affected areas rush to make last-minute, pre-storm preparations and post-hurricane reparations.
Historically, home improvement sales are impacted by a hurricane's strength, water and wind damage, and timing. In 2011, Hurricane Irene brought in around $360 million in sales for Home Depot, with 87 stores in New England, while Hurricane Isaac and Hurricane Sandy in 2012 added around $834 million in sales.
"HD and LOW have 267 and 233 stores, respectively, in the affected states: HD's store base in the region represents 11.7% of its total store count, while LOW's store base represents 9.9% of its total store count. As mentioned, repairs can play out over the course of a few quarters and can place significant strain on supply chains," wrote Matthew McClintock, retail analyst at Barclays Capital (BCS) - Get Barclays Plc Report .
Home Depot closed down less 1.4% to $128.31 while Lowe's closed down 1.1% to $71.30.
Analysts also believe that the severity of Hurricane Matthew, plus the upgraded building code requirements in the hurricane-prone parts Florida and other exposed regions after Hurricane Andrew battered the state in 1992, will only positively impact the sales of Home Depot and Lowe's.