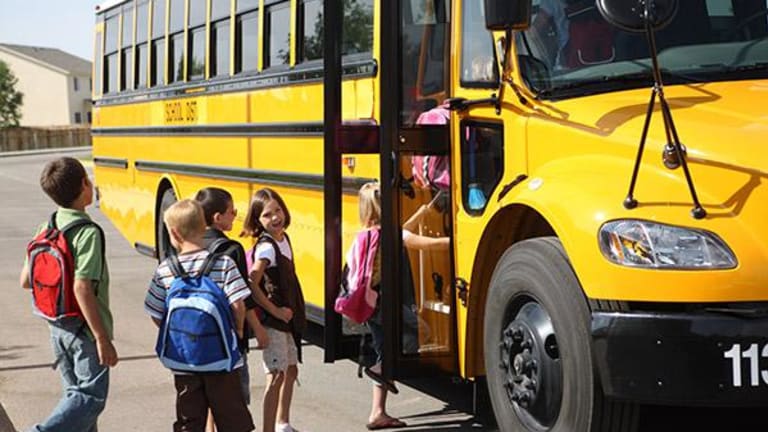 Here's a Huge Transportation Investment Opportunity You're Missing
While airlines, trains and even public transportation continue to grab headlines, one dividend-paying company is building a great business with yellow school buses.
There's a great investment opportunity in the transportation sector that you might not have heard of: school buses. 
Yellow school buses might not sound very exciting, especially for investors used to spotting hot investments in cutting-edge financial technology or e-commerce. But the money you make from this long-term growth opportunity will be very exciting.
Every day 480,000 school buses take the nation's schoolchildren to and from school, according to a 2013 white paper by the National School Transportation Association. Meanwhile, public transit has only 140,000 vehicles in total, 96,000 of which are buses; commercial airlines have 7,400 planes; and railroads have 1,200 passenger cars, the white paper said.
Why does a market that is so large and that makes such an important contribution to society receive so little attention? It might be because nearly two-thirds of of the school buses are owned and operated by local public school districts.
That is where there the investment opportunity emerges, however.
The private sector is making headway into this massive market. A leader in this movement is Student Transportation (STB) . The Barrie, Canada-based company transports 1 million children daily in school districts throughout the U.S. and Canada.
The company continues to build its market with additional school districts that recognize the advantages of not having to buy, own and operate their own school buses.
Many school districts face significant budgetary challenges. They're receiving demands for higher teacher pay and various educational initiatives at the same time that they're trying to control costs for taxpayers. Contracting the private operation of school buses appears to be a wise move to maximize services for schoolchildren while containing costs.
But not all are convinced. Many districts want to maintain existing drivers and union relationships. Student Transportation has a solution in such cases, however. It also can provide buses that can be driven by existing local drivers.
Or if districts already have their desired buses, Student Transportation can manage their existing fleets. And whether a district is changing an entire fleet or just individual buses, Student Transportation brokers used buses that go to markets worldwide in an efficient manner. This can generate added revenue for school districts.
There are also tailored specialized transportation contracts that range from special-needs students to chartered buses for sports teams and field trips.
The company continues to add school districts throughout North America and grow its revenue year after year. 
A significant number of private contractors serving school districts are local mom-and-pop companies, providing Student Transportation acquisition opportunities as it further consolidates the industry. 
The company has a focus on rewarding shareholders. Its stock pays a monthly dividend, and the yield is a juicy 7.9%. And for greater clarity, the company declares its dividends each quarter for the following three months. That's a much better yield than the average for the Dow Jones Industrial Average, which is 2.4% now. It's also much better than the 1.2% yield for the iShares Transportation Index ETF.
And despite the great dividend and the projected further gains of some 136 additional school district contracts for the fiscal year, many investors have been missing out. But not all, as the stock has risen 68% over the past year.
The shares have performed pretty well in the long term, although they sank in the second half of 2015. That's when the company issued additional shares to repay bonds and pay down a revolving line of credit. News of the new shares caused some investors to sell at the wrong time; the stock has regained much of its 2015 losses.
---
As an investor facing what promises to be a volatile 2017, you want to be in control of your own destiny. That means being able to predict in advance how much money your investment portfolio will generate. Think it can't be done? Our top analyst has a system that can ensure you will make a profit on more than 80% of your trades. Click here to find out the secret.
This article is commentary by an independent contributor. At the time of publication, the author held no positions in the stocks mentioned.