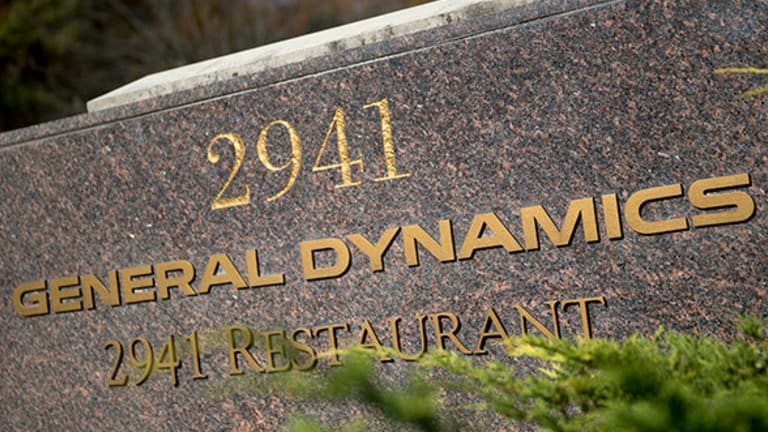 Publish date:
Here's a Dividend-Growth Stock That Profits From an Unsafe World
General Dynamics sells the tools that governments need to take on new threats, including cyberattacks.
General Dynamics sells the tools that governments need to take on new threats, including cyberattacks.
With the S&P 500 rising this year, reasonably priced dividend-growth stocks are getting harder to find.
But there is one place where investors can still uncover investment bargains with rising dividend payouts: the defense sector.
A prime example is General Dynamics (GD) - Get General Dynamics Corporation (GD) Report  =, which has a 2% dividend yield. Although that is in line with the S&P 500 company average and seems like it is nothing to write home about, the company has in the past decade increased its quarterly payout by 230%.
The company's latest dividend increase of 10% announced in March bought General Dynamics a ticket to the Dividend Aristocrats club, the group of 50 stocks that have increased their dividends every year for the past 25 years or more.
In addition, the company's stock boasts a forward price-earnings ratio of 15.8, a discount to the S&P 500 and major competitors such as Lockheed Martin, at 19.4, and Northrop Grumman, at 19.2.
From almost daily terror attacks to North Korean nuclear tests and increasingly ominous moves by Russia, the global threat level is rising.
That is finally starting to show up in national defense budgets, which collectively rose 1% to $1.68 trillion last year, marking the first increase since 2011, according to a report from the Stockholm International Peace Research Institute.
It is likely just the start.
In Japan, Prime Minister Shinzo Abe is pushing for a 2.3% boost to the country's defense budget as it faces threats from North Korea and China, the latter claiming a string of islands Japan also calls its own.
Meanwhile, in the U.S., both major presidential candidates have voiced support for eliminating existing caps on defense spending. Republican candidate Donald Trump has rolled out a plan for a beefed-up U.S. military, while Democratic candidate Hillary Clinton said that she would bolster efforts to combat cybersecurity and terrorism.
The trend toward higher military spending presents a lucrative opportunity for Falls Church, Va.-based General Dynamics, particularly the focus on computer systems.
The company is best known for its military hardware such as the Abrams tank, the Ohio-class submarine and the Stryker armored vehicle, but its information technology business gets a lot less play. Also largely overlooked is its shift to a diversified industrial conglomerate from a mainly defense business.
Contrary to what many people think, the company's IT business, not its combat systems, comprises the largest percentage of revenue: 29% in the second quarter. Aerospace was second, at 28%, followed by marine systems, at 26%, and military hardware bringing up the rear, at 17%.
The IT division goes well beyond the military, creating and managing networks and systems for organizations ranging from the Department of Health and Human Services to commercial clients and local governments. This year, for example, the division landed landed a contract to develop a new 911 system in Fairfax County, Va.
Cybersecurity, one of the hottest growth areas, plays a key role, as the company custom designs networks capable of fending off the latest threats. General Dynamics also monitors clients' systems in real time and works to mitigate the damage when hackers do break in.
This is a booming business, as evidenced by the IT division's second-quarter revenue, which jumped 14% from a year earlier.
In all, the company's sales declined 2.8% in the quarter to $7.7 billion, falling short of the $7.9 billion that analysts expected. But the company continues to improve its efficiency, driving earnings up 7.5% to $2.44 a share, well ahead of the consensus forecast of $2.32 a share.
Meanwhile, the company is marching ahead with a string of promising new projects such as a refreshed line of Gulfstream business jets.
The new models, the G500 and G600, offer greater range and far better fuel economy than their predecessors. They are set to enter service in 2018 and 2019, respectively.
On the marine side, General Dynamics is increasingly moving beyond making navy vessels and into civilian ships. Case in point is a recent contract to build two new liquefied natural-gas carriers for Matson, set for delivery in 2019 and 2020.
General Dynamics' healthy balance sheet and order backlog will help sustain it while management navigates the shifting sands. As of the end of the second quarter, the company was sitting on $63.2 billion of orders or about two years' worth of revenue.
The bottom line? It is a great time to buy shares of General Dynamics, which is profiting from higher defense spending and tapping into more new markets every day. 
---
General Dynamics is a great buy for income and gains as the world becomes ever more dangerous. But even reliable dividend growers like this don't come close to what you can earn using the simple system we've found. It throws off a guaranteed $67,548 a year! One trader used it to turn $5,000 into a $5-million fortune! Go right here to get all the details now.
This article is commentary by an independent contributor. At the time of publication, the author held no positions in the stocks mentioned.