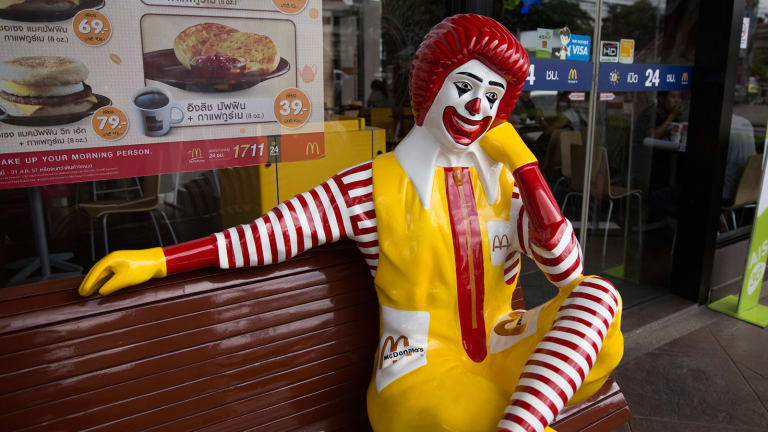 Here's 4 Ways Laggard McDonald's Can Ignite Its Stock in 2017
It's about time for McDonald's executives to thank shareholders for sticking things out.
(This article originally appeared at 10:00 ET, Dec. 28, on Real Money, our premium site for active traders. Click here to get great columns like this from Jim Cramer and other writers even earlier in the trading day.)
Despite all of the hope spewed by McDonald's (MCD) - Get Report executives on quarterly earnings calls this year, the stock has basically been dead money.
McDonald's shares will end 2016 (barring a shocking pre-announcement this week of a $0.90 fourth-quarter earnings beat) with the unhealthy distinction of being a laggard in the Dow Jones Industrial Average. At around $123, shares of the Golden Arches have increased 4% or so year to date, worse than the Dow's 11% rise. And the stock has been particularly not helpful in the Dow's march toward the 20,000 milestone, with MCD up 1% over the past month vs. a 3% advance for the Dow.
In short, McDonald's clearly needs to find ways to boost its sagging stock price.
Wall Street has largely ignored the company's messages of minor improvements to food quality under CEO Steve Easterbrook. Also, it has all but forgotten that the company could soon land a nice chunk of change from selling its China business. Instead, the market is wrapped up in the rising wage environment set to take hold in 2017 and the expected impact on McDonald's franchisees (and possibly, their sales and profit), the negative impact of a strong U.S. dollar to the company's bottom line and concern on the state of the executive suite amid a shakeup in the ranks over the past six months.
But there are a couple ways Mickey Ds could start to get back into the good graces of Wall Street in the first quarter of 2017.
Leak a sale price for the China business, which has been rumored to be worth $3 billion. The sales process for 2,400 or so restaurants in China and Hong Kong has taken up most of the year, so it's time for McDonald's to pull the trigger and get this done. As soon as McDonald's leaks the sale number, it's likely to spur optimism on how the company will allocate its newfound cash.
Enact a special dividend. After a year of holding a stock that hasn't done much, it's time for McDonald's executives to thank its shareholders for sticking things out. It could do that, as well as buy goodwill from Wall Street, by announcing a special dividend. With the company's solid balance sheet and a move toward a mostly franchisee-driven business model, it has the capacity to offer a generous one-time payout.
While doing so, it may want to materially hike its quarterly dividend. Although McDonald's currently yields 3%, the reality is that the company is a low-growth business that generates a lot of cash. In order to keep investors away from more attractive investments in the restaurant space (such as Starbucks (SBUX) - Get Report ), the company has to reward them even more so relative to competitors.
Blowout the digital launch. McDonald's should be embarrassed by its incompetence in rolling out a mobile ordering platform. Not having one has been such a missed sales opportunity over the past three years it's sad. But the company could finally become known as a digital play -- in the same vein as Action Alerts PLUS holding Panera Bread (PNRA) and Starbucks -- if it goes all out in the first quarter to market its new mobile ordering platform, which is rumored to be set for release soon.
By going all out on this initiative, the company would dominate the TV airwaves and social media feeds to drive awareness of the launch, while offering people free drinks and food for signing up.
Tease a "healthy" Big Mac. McDonald's will soon debut several newly sized Big Macs. While this is an OK idea, it doesn't go far enough to move the iconic Big Mac forward.
The company still sells tons of these sandwiches, so why not try and reinvent it ingredient by ingredient so that it plays into healthier eating trends? No, that wouldn't mean putting the Big Mac on a gluten-free bun. But what it could mean is making the Big Mac's special sauce free of artificial colors and flavors (yes, it can be done) and launching global tests of fresh beef for the sandwich.
McDonald's has to start being known as the Target (TGT) - Get Report for burgers -- unbeatable prices for high-quality grub. It could do that by leading with a Big Mac reinvention.
Employees of TheStreet are restricted from trading individual securities.
Action Alerts PLUS, which Jim Cramer co-manages as a charitable trust, is long SBUX and PNRA.