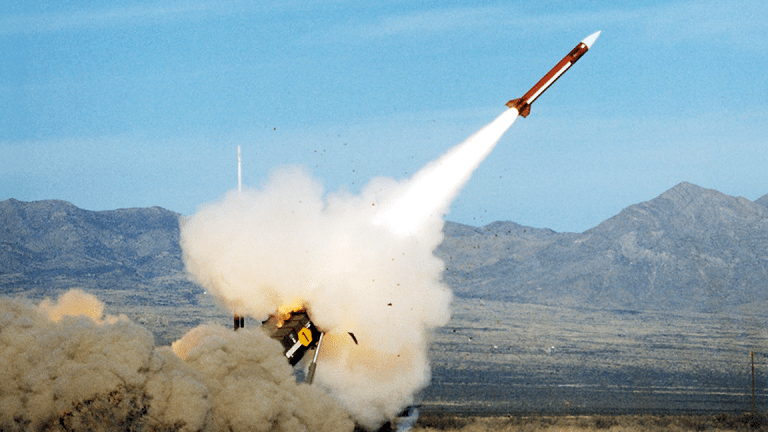 Trump's Speech Unlikely to Prove a Boon for Defense Stocks, Cramer Says
The president's posture on military spending during his annual State of the Union address may not be a boon for defense stocks.
President Donald Trump will deliver the annual State of the Union address from the House of Representatives chamber in Washington, D.C. Tuesday night, and investors in defense stocks will be eager to hear what he has to say.
Republicans tend to be war hawks, and the defense industry benefits from increased spending on weapons of war. But defense stocks fell into a tailspin to end 2018. The stocks have made up some ground since Christmas.
The iShares U.S. Aerospace & Defense ETF (ITA) - Get iShares U.S. Aerospace & Defense ETF Report reached the nadir of a 19% decline over the past 12 months on Christmas Eve. Since then, however, the defense stock ETF has climbed back to basically break even over the past 12 months. 
TheStreet's Jim Cramer said that it's a mistake to buy defense stocks ahead of Tuesday's SOTU speech. 
"Well, [President] Trump is uniquely related to the stock market, so he's certainly not going to do anything to hurt it," said Cramer when asked how the State of the Union speech could affect the markets. "People are going to buy defense stocks, that's a mistake. The Democrats in the House ... even though they like defense, I don't think that they're going to be spending."
Cramer added that Trump probably won't introduce any new initiatives because "there is no more money."
Defense stocks got a boost in early December on reports that Trump's 2020 budget included a request of $750 billion for defense, a number that was higher than expected. That would be a 4.7% increase from the $716 billion that has been earmarked for 2019. 
Watch: Why Jim Cramer Says It's a Mistake to Buy Defense Ahead of State of the Union and Why Defense Is a Long-Term Play, According to EventShares CIO
"You have to have the finest equipment anywhere in the world, and you have that - $716 billion," Trump said in late December during a speech at Al Asad Airbase in Anbar Province, Iraq.  "This year, again, we're going to be - don't tell anybody because nobody else knows - even a little bit higher."
Those comments led the ITA ETF to jump 12.3% in January, its best month since April 2009. 
However, just last week Raytheon Co. (RTN) - Get Raytheon Company Report missed on revenue while providing cautious guidance. Lockheed Martin Corp. (LMT) - Get Lockheed Martin Corporation Report  also provided guidance below expectations.
Still, Real Money contributor Stephen "Sarge" Guilfoyle believes that investors shouldn't abandon the sector because "not spending on this defense should not be an option" for the U.S. 
"I believe there could be some panic once it is publicly understood that both China and Russia are advanced in the field of hypersonic weaponry. While fighter planes and missile technology are going nowhere, the future of offensive capability is this, and thus the rush will be to defend against this high-speed form of delivery," Guilfoyle wrote in an article this week. 
Ben Phillips, chief investment officer of Washington-focused investment management firm EventShares, echoes similar thoughts when discussing defense stocks ahead of Trump's address Tuesday. 
"We're looking at a multi-year -- three-year to five-year typical view -- we think defense spending is going to continue to increase. We actually have been buying defense stocks since mid-January at fairly good valuations in our view. We're talking 12 to 16 times PE's," Phillips told TheStreet. 
"I would say for a long-term oriented investor, defense is an interesting place to look. These companies know their revenue streams. They have pretty good visibility on what their revenue looks like and they almost have fixed margins. It's almost like a utility-like business where you know your margins and know your revenue. You just have to pick the companies you think will see the most outsized benefits from defense spending," Phillips said.