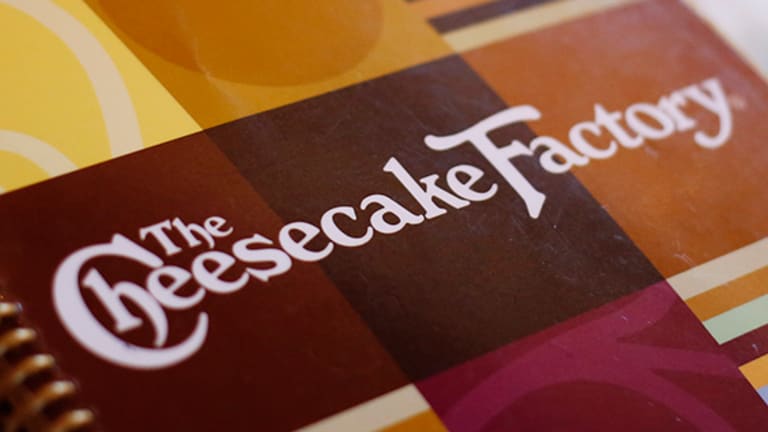 Here Is Why to Buy These 2 Under-the-Radar Restaurant Stocks Now
Forget Chipotle Mexican Grill and McDonald's. These two rising restaurant plays offer tastier profits.
Burgers are passé, which doesn't bode well for McDonald's, and Mexican food is tasty and popular, but as last year's E.coli outbreak at Chipotle Mexican Grill showed, that company has its own set of challenges.
But two other casual-dining stocks are winning the hearts of food connoisseurs and investors.
One company, Cheesecake Factory (CAKE) - Get Cheesecake Factory Incorporated Report , specializes in typical dining fare and dessert. The other, Texas Roadhouse (TXRH) - Get Texas Roadhouse, Inc. Report , focuses on hand-cut steaks.
These almost debt-free, billion-dollar restaurant chains are moving up a gear in terms of earnings and trade at attractive valuations. They are both bargain-priced gems that get short shrift. 
Cheesecake Factory, a $2.4 billion global company, has created an upscale casual-dining segment and built its network.
The company owns and operates 202 restaurants in the U.S. and Puerto Rico. This number includes 189 restaurants under the Cheesecake Factory brand and 12 restaurants under the Grand Lux Cafe brand.
Cheesecake Factory surpassed $2 billion in annual revenue last year. It has delivered three consecutive years of $100 million in profits.
The company boasts gross margins of nearly 20%. After a more than 13% jump in Cheesecake Factory's stock this year, analysts see another 7% upside. Combine that with the 1.84% dividend yield, and investors can easily get a near double-digit total return on the stock.
Financially, Cheesecake Factory is a sound bet that is almost net-debt free and has had eight positive free-cash-flow years.
In terms of earnings, despite the hullabaloo surrounding minimum-wage reform and concerns about sluggish restaurant sales, analysts expect Cheesecake Factory to deliver 12%-plus annual earnings-per-share growth for the next half a decade. This is faster than the nearly 9.6% run rate in the previous five years.
Cheesecake Factory shares trade at an attractive price-earnings-growth ratio of 1.59, compared with peers such as Chipotle Mexican Grill (10.12), Domino's Pizza (2.24) and Panera Bread (2.22).
Meanwhile, Texas Roadhouse started its journey on Feb. 17, 1993, when founder Kent Taylor opened the first restaurant in Clarksville, Ind. The company operates more than 485 restaurants in 49 U.S. states and four other countries, including 392 Texas Roadhouse restaurants and seven Bubba's 33 outlets.
In the past 10 years, Texas Roadhouse has tripled annual sales to $1.8 billion and profits, while maintaining its gross margin of 20%.
Analysts predict that the $3.1 billion company will show an annual 19%-plus EPS growth year over year over the next five years, much faster than the 13.85% run rate in the previous five years.
If Texas Roadhouse is able to grow at the higher pace, it will beat Dunkin' Brands (13.21%), McDonald's (less than 10%), Restaurant Brands (18.28%) and even top-growth stock Starbucks (18.7%).
Panera Bread and Starbucks are holdings in Jim Cramer's Action Alerts PLUS Charitable Trust Portfolio. See how Cramer rates the stocks here. Want to be alerted before Cramer buys or sells Panera Bread or Starbucks? Learn more now.
Lower food costs have started benefiting Texas Roadhouse. Moreover, the company reported second-quarter comparable sales growth of 4.5% at company-owned locations.
Texas Roadhouse expects food cost deflation this year of 2.5% to 3%. This is a much bigger benefit than the 1% to 2% decline that was originally factored in.
Given the company's good growth and industry-beating earnings outlook, the stock trades at a price-earnings-growth ratio of 1.32, a discount to the industry average of 34.5 and that of peers.
Texas Roadhouse's 1.71% yield, with a low payout ratio and five years of dividend growth, should also keep investors satisfied. This stock is poised to be a cash machine for investors this year and beyond.
---
How many times have you heard someone on CNBC say, "I actually think the economy is fine here in the United States. Buy stocks!"? If you're like many Americans, you've probably heard it more than once. But just because they're saying it, doesn't make it true. Because I can tell you with absolute certainty it's not. America is in deep trouble. And the crisis looming on the horizon has the potential to make 2008-2009 look like child's play. The window to protect yourself is rapidly closing. I'll show you how here.
This article is commentary by an independent contributor. At the time of publication, the author held no positions in the stocks mentioned.