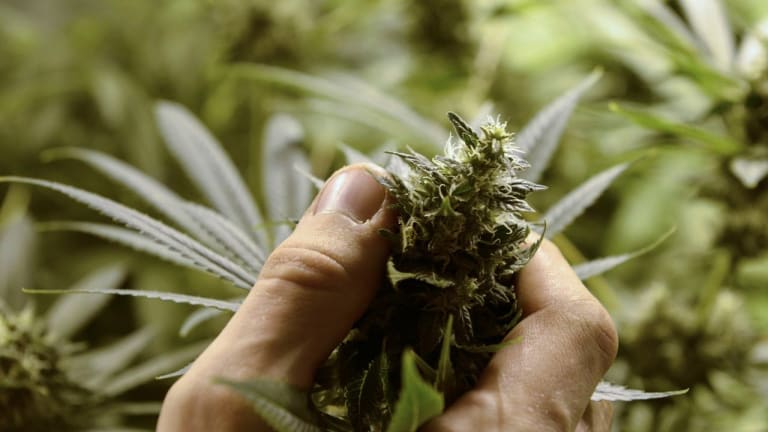 Here Is Why These 3 Marijuana Stocks Haven't Even Started to Peak
Shares of these three companies were big winners following the election last month and have the best long-term growth prospects.
Amid the typhoon of news coverage of President-elect Donald Trump's transition into public service, another major political victory was lost in the noise.
Nine states voted on marijuana legalization on Nov. 8, and every state voted in favor except for Arizona, which lost by a 4-percentage-point margin.
Arkansas, Florida, Montana and North Dakota voted in favor of medicinal marijuana measures, while California, Maine, Massachusetts and Nevada voted in favor of recreational legalization. Maine passed its measure by a narrow margin of about 2,600 votes.
Marijuana is legal in some form in 28 states and legal for recreational use in nine of those states as well as Washington D.C. It is safe to assume that the trend will continue, providing established marijuana businesses a growing market to serve.
Below are three marijuana stocks that have been big winners, with one returning 85% in a month. Another stock performed so well that its market capitalization increased more than $100 million in one month.
1. Aphria (APHQF)
Canadian marijuana producer Aphria is one of the only producers turning a profit at $994,000 and $682,000 in the second and third quarters, respectively. The company's market cap grew substantially last month to more than $400 million.
Aphria's share price jumped 42% over the past month to $3.91 apiece from $2.75.
The company is also working on increasing its production volume.
On Sept. 16, the company said that it approved a $24.5 million project to triple the size of its production space to 300,000 square feet. The expansion is expected to increase the company's marijuana yield annually to nearly 40,000 lbs. from more than 12,000 lbs.
Aphria expects the expansion to be completed and receive regulatory approval within the next two years. Increased capacity and inventory will drive the company's earnings which will increase its share price.
Not only focused on increasing capacity, Aphria announced its partnership with MassRoots to build brand awareness for the former's products in Canada. MassRoots has a smartphone application and social network for the marijuana community.
Under the terms of the partnership, Aphria will pay a fee to MassRoots per patient referred to the company.
2. Aurora Cannabis (ACBFF)
Canadian marijuana producer, Aurora Cannabis recently reported fiscal first-quarter revenue of $3.1 million, up 151.7% from $1.2 million in the previous quarter. The company's stock is up 22% over the past month.
A great sign of the company's long-term potential was Wednesday's announcement that it will begin construction on a production facility. To be known as Aurora Sky, the hybrid greenhouse facility will be larger than 16 football fields and is anticipated to be able to produce more than 220,460 pounds of marijuana per year.
Aurora Cannabis management said that the facility will have a high level of automation and that the targeted completion date is October. By comparison, Aurora Cannabis operates a facility half the size of Aurora Sky.
3. Canopy Growth (TWMJF)
Leading marijuana producer Canopy Growth was the biggest winner when its stock rose 85% to $8.66 a share from $4.68 a share in one month.
The company increased its Quebec, Canada, market presence early last month by acquiring Vert Médical and 90 acres of land. Canopy Growth already accounts for about 30% of medical marijuana shipments to Quebec, and this acquisition provides the company with a chance to increase its market share.
Investors should expect significant share price gains from this leading Canadian-based marijuana producer.
Vert Médical was already in the process of becoming a licensed marijuana producer, so Canopy Growth intends to apply its compliant operating procedures to complete that process.
Although Canopy Growth hasn't been profitable in the past three quarters, its sales growth is attractive. Over the past nine quarters, the company's total sales have grown on average 63% per quarter to $6.47 million in the third quarter from $1.84 million a year earlier.
---
As we've just explained, these three companies were big winners following the November election and all have strong long-term growth prospects. If you're looking for other growth opportunities, we've found a genius trader who turned $50,000 into $5 million by using his proprietary trading method. For a limited time, he's guaranteeing you $67,548 per year in profitable trades if you follow his simple step-by-step process. Click here now for details.
This article is commentary by an independent contributor. At the time of publication, the author held no positions in the stocks mentioned.