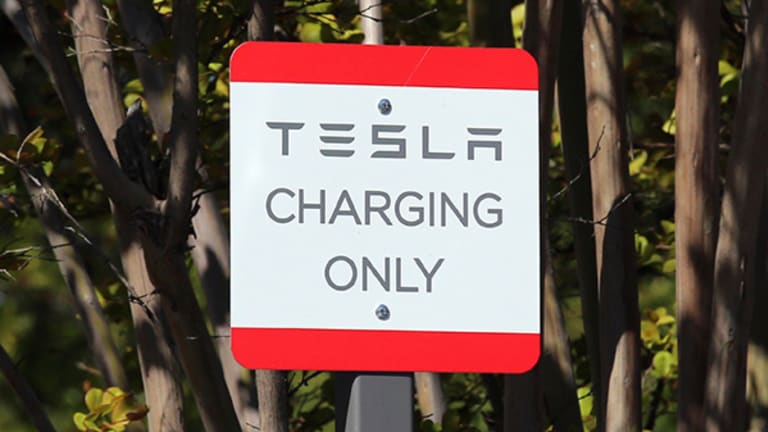 Here Is Why Tesla's Master Plan May Put a Dent in Apple's Fender
Tesla's master plan, which could require it to partner with a ride-hailing company, could hurt Apple's self-driving efforts outside China and iPhone sales in India.
The rapid-fire pace of merger, acquisition and investment activity in the ride-hailing market has led to increased speculation by financial experts and opportunities for investors.
We got the first hint of one of the more interesting possibilities in the ride-hailing landscape during Tesla Motors' (TSLA) - Get Report  second-quarter 2015 conference call when an analyst asked Chief Executive Elon Musk whether he would consider selling cars to companies such as Lyft or Uber.
Last month, Musk announced his "Master Plan, Part Deux," saying, "In cities where demand exceeds the supply of customer-owned cars, Tesla will operate its own fleet, ensuring you can always hail a ride from us no matter where you are."
The next M&A opportunity for Tesla Motors could be Lyft. The potential target has advisers including Credit Suisse and Qatalyst that could help pull off such a deal.
With China's Didi Chuxing partnering with Uber, the ride-hailing industry is consolidating, and Lyft's management feels the need to respond. Tesla Motors may have to outbid other potential suitors such as Alibaba and General Motors.
If Tesla Motors were to acquire Lyft, it could result in a serious setback for Apple in its ride-hailing and self-driving car plans. This stems from several developments in recent months. 
Apple is a holding in Jim Cramer's Action Alerts PLUS Charitable Trust Portfolio. See how Cramer rates the stock here. Want to be alerted before Cramer buys or sells AAPL? Learn more now.
In February 2015, Japan's SoftBank contributed to Kuaidi Dache's $600 million Series D round of funding. Then ride-hailing applications Didi Dache and Kuaidi Dache merged to form Didi Kuaidi, which became Didi Chuxing.
In addition to Didi Chuxing, SolfBank made other investments in the ride-hailing business such as in Singapore's GrabTaxi, San Francisco-based Lyft, and India's most popular cab-summoning start-up, Ola. India and China are the world's fastest-growing ride-hailing markets, while the U.S. is the world's biggest.
On May 13, Didi Chuxing said that it received $1 billion from Apple, which was the largest single investment that the company has received. This marked Apple's entry into the ride-hailing market.
Meanwhile, SoftBank last month said that it will acquire chip manufacturer ARM Holdings.
A layout of the investments and acquisitions is shown in Figure 1, below. 
Apple has had a long relationship with ARM Holdings, and all its iPhones operate with an ARM Holdings processor. ARM Holdings is also one of the leading companies making processors that go into the computers in automobiles.
"Automotive is another example where because of what you can economically build in silicon there is an opportunity to make cars smarter, safer, use less fuel and just better. That comes about through having computers embedded in cars," ARM Holdings Chief Executive Simon Segars said in an interview, with The Guardian in February.
"If you extrapolate that further, you can get the car doing things for itself," he said.
The ultimate goal of self-driving cars I think is a few years away. A self-driving car is going to need a lot of computer power in it, a car becomes a super computer on wheels," Segars said.
The synergy between Apple and SoftBank through its acquisition of ARM Holdings opens the door to a closer relationship between Apple and ARM Holdings' chip set capabilities for the self-driving car that Apple hasn't officially announced.
Figure 2, below, illustrates this relationship.
The investment by Apple in the Chinese ride-hailing market opens up endless possibilities for the company, including a more positive and profitable relationship with the Chinese government; an opportunity to align its strategy in India, one of the fastest-growing markets for iPhones; greater iPhone sales in China and India; greater revenue from iPhone apps; greater revenue from iPhone maps; a ready-made market for Apple's self-driving cars; ride-hailing revenue; and the Uber connection.
This month, Didi Chuxing said that it will acquire Uber's China business. One of the important takeaways from the acquisition is that Didi Chuxing will also obtain a minority equity interest in Uber.
Cheng Wei, founder and chairman of Didi Chuxing, will join Uber's board. Travis Kalanick, founder of Uber, will join Didi Chuxing's board.
The China Uber acquisition becomes a great opportunity for Apple because of the relationships shown in Figure 3, below. The investment by Apple in Didi Chuxing and the latter's board-sharing agreement with Uber provides an environment for Apple to enter not only the China or India markets but also the global market.
Didi Chuxing has a market valuation of $28 billion, so Apple's investment of $1 billion isn't insignificant.
According to Figure 3, above, Apple has a direct relationship with Didi Chuxing but an indirect relationship with GrabTaxi, Lyft and Ola.
To reiterate, there are indications that Tesla Motors may acquire Lyft as its entry point into the ride-hailing market. If that happens, there could be some significant changes in the ecosystem because that would create a stronger contact point between SoftBank and Tesla Motors than the contact point between Apple and SoftBank, as is illustrated in Figure 4, below.
A Lyft acquisition by Tesla Motors would establish a relationship with ARM Holdings, Didi Chuxing, GrabTaxi, Ola and SoftBank. The impact on Apple could be the loss of the GrabTaxi and Ola ride-hailing markets in Singapore and India.
However, as mentioned above, India is an important market for Apple's iPhones. To fortify its iPhone market, one possibility is for Apple to acquire or invest in OLA in a similar fashion to its investment in Didi Chuxing this year.
OLA is in need of a cash infusion to compete against Uber in India. Last year, it received $30 million directly from Didi Chuxing.
However, with the new relationship between Didi Chuxing and Uber, we won't see any more money from Didi Chuxing. That creates the opening for Apple to invest in OLA.
Through its $1 billion investment in China via ride-hailing leader Didi Chuxing, Apple is in a strong position to enter the ride-hailing market. Apple will not only generate revenue from ride hailing but from ancillary opportunities such as greater app, iPhone and map advertising sales.
Additional investment and M&A activity in the ride-hailing market by companies such as SoftBank could allow Apple to enter ride-hailing markets outside China and even be a launching board for its self-driving car.
Tesla Motors has indicated its interest in the ride-hailing market, and if it does enter the market through a Lyft acquisition, it could affect Apple's efforts.
Apple needs to make additional investments in OLA to counter Tesla Motors.
This article is commentary by an independent contributor. At the time of publication, the author held no positions in the stocks mentioned.