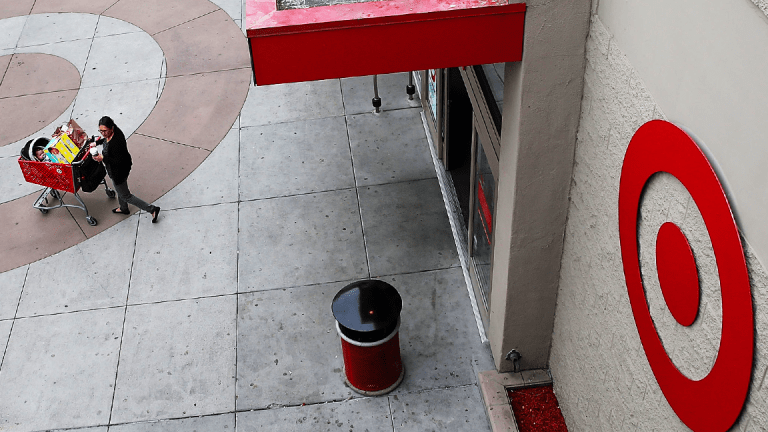 Watch: Here's Why Target and Kroger Should Merge
A report says the two retailing giants are discussing a merger. A second report says they aren't.
A merger between Target Corp. (TGT) - Get Target Corporation Report and Kroger Co (KR) - Get Kroger Co. (KR) Report would really hit the mark.
A report from Fast Company on Friday said the two retailers were in ongoing merger talks after first broaching the possibility last summer.
If the companies were to combine the move would bolster Target's grocery business while giving Kroger more access to merchandise and better e-commerce infrastructure.
However, a source told CNBC that the two companies weren't engaged in merger talks but were instead discussing their Shipt internet-based grocery delivery service partnership.
Discussions between the retailers follow Action Alerts Plus holding Amazon.com Inc.'s  (AMZN) - Get Amazon.com, Inc. Report  purchase last year of grocer Whole Foods. 
The rumors have caught the attention of investors, but the gains the stocks made premarket have been pared since the opening bell.
Kroger shares were up 1.75% to $23.60 and Target shares were up 0.74% to $69.40. TheStreet's Executive Editor Brian Sozzi discusses below why Target should make the deal for Kroger.
Meanwhile, veteran retail analyst Karen Short at Barclay's says there is strong strategic logic to the deal. Here are several of her points:
A Target/Kroger union could help Target advance its store-within-a-store opportunity with food and there is evidence that Target has considered acquiring a grocer in the recent past.
As we have discussed in prior reports, Kroger faces many challenges and it will need to evolve its business as retail margins compress for food and consumables as large competitors (e.g. Amazon, Walmart (WMT) - Get Walmart Inc. Report ) shift their business models to use these categories to drive traffic and monetize customers through less frequently purchased items - products that are "in the tail".
Synergies as both companies have a substantial store network across the U.S. and purchase many similar products across food and consumables. Kroger has 42 distribution centers across the U.S. (per 2017 Factbook) and Target has 41 distribution centers across the U.S. (per 2017 10-K). In addition, Kroger has 38 food production facilities that produce dairy, deli, bakery, grocery, beverage, meat and cheese products. Approximately 35% of Kroger's corporate brand units are manufactured by Kroger.
Furthermore, we think there may be an opportunity for "shared learning" across the organizations. Target has expertise in owned brand development of clothing, e-commerce (e.g. merchandising, sku expansion, ship from store, etc.), and driving private label credit card penetration. Kroger has expertise in owned brand development for food (e.g. Simple Truth), fresh supply chain and merchandising, and click and collect operations. In addition, Kroger owns industry leading data analytics firm 84.51.
We believe it is worth emphasizing that both companies have substantial amounts of data on their respective customers and a combination could lead to increased understanding and more personalization, particularly given Kroger's expertise in data science.
Furthermore, as recently detailed in our report from Shoptalk as well as that of our U.S. Retail Broadlines/Hardlines colleague Matthew McClintock the industry is rapidly evolving.