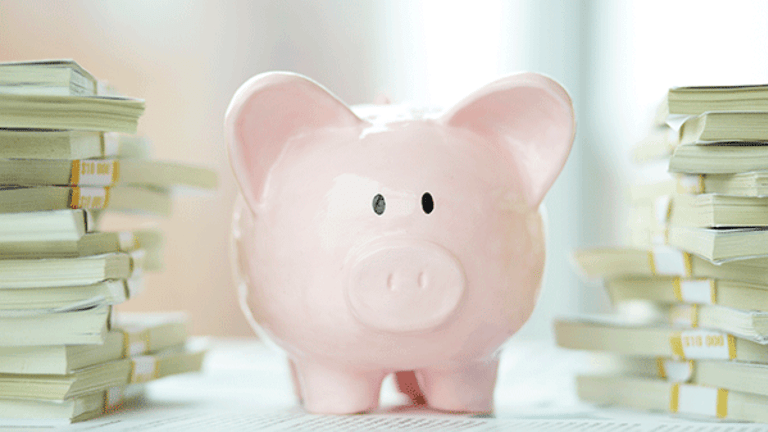 Here Is Why Shares of Legg Mason Are a Terrific Bargain Right Now
The investment management company's stock is trading at a discount ahead of the release Wednesday of fiscal third-quarter earnings.
After a rough 2016, shares of renowned investment management company Legg Mason (LM) - Get Legg Mason, Inc. Report trade at less than book value, indicating a clear opportunity for great stock gains.
The Baltimore-based asset manager with more than $700 billion in assets under management could deliver at least 20% upside to investors over the next 12 months.
Legg Mason trades at about 0.8 times book value, a steep discount to rivals such as BlackRockat 2.1, Invescoat 1.6 and T. Rowe Priceat 3.4. 
Ahead of its release Wednesday of earnings results for the fiscal third quarter ended Dec. 31, Legg Mason's low valuation gives investors an opportunity to snatch up shares at a bargain.
Analysts expect Legg Mason to report quarterly earnings of 63 cents a share on revenue of about $713 million.
Over the past six months, the company's stock has fallen nearly 7%, while shares of rival asset manager Franklin Resources have risen 10.5%. This creates an opportunity for investors to grab an oversold stock at a discount.
The gap in the price-book value indicates that just part of the stock's upside will come from improving profits. Legg Mason's five-year historical price-book average of 0.9 is 12.5% higher than its current 0.83 price-book value and significantly lower than the asset management industry average of 1.8.
Having lost 25% last year, Legg Mason's stock was one of the worst-performing constituents of the S&P 500, and investors might be worried about the state of its fundamentals.
However, things aren't as bad as they may seem.
Legg Mason's most recent earnings for the fiscal second quarter ended Sept. 30 of 63 cents a share beat earnings expectations of 58 cents a share by more than 8%. Also, the company has increased its annual dividend every year since 2010, making it a dependable income stock.
The company's Asian investor, Shanda of Singapore, has forged closer ties with the company, unveiling plans to increase its stake to up to 15% and to invest at least $500 million in Legg Mason affiliate products. Getting access to one of the fastest-growing regions in the world seems like a surefire way to drive future earnings.
Shanda, which is Legg Mason's largest shareholder with about a 10% stake, will also name two members of the company's board. 
In addition, Shanda Founder Tianqiao Chen has been scooping up Legg Mason shares, a pretty strong signal.
Compared with its peer group of other asset management firms, Legg Mason's forward price-earnings ratio of 11.8 is 15% lower than the peer group average of 13.6. This makes the company one of the cheapest in the sector with significant upside potential and a decent dividend yield of 2.8%.
---
As we've just explained, Legg Mason is an excellent growth opportunity. If you're looking for other growth opportunities, we've found a genius trader who turned $50,000 into $5 million by using his proprietary trading method. For a limited time, he's guaranteeing you $67,548 per year in profitable trades if you follow his simple step-by-step process.Click here now for details.
The author is an independent contributor who at the time of publication owned none of the stocks mentioned.