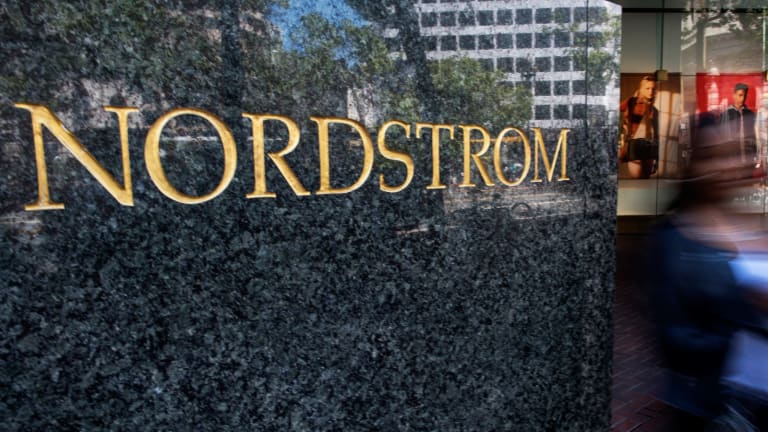 Here Is Why Nordstrom's Canadian Expansion Is a Winning Strategy
The retailer is poised to succeed where Target flamed out.
Call it the anti-Target.
That would be upscale Seattle-based retailer Nordstrom (JWN) - Get Nordstrom, Inc. Report , a profitable investment opportunity that is more than worthy of investors' attention. Unlike its cheap chic cousin, Nordstrom is making all the right moves as it moves beyond the U.S. into Canada.
On Sept. 16, the company opened its latest store in the country in Toronto's downtown Eaton Centre mall.
Like its U.S. locations, this 220,000-square-foot store boasts refinements such as beauty stylists, four bars, phone-charging stations and shoe fitters. That is on top of offering most of the same clothing, cosmetic and shoe brands found in the U.S. locations.
That couldn't be more different from Target's now-shuttered Canadian effort. Target's effort was panned for offering a watered-down version of the company's U.S. stores, something that Canadians, who are a common sight cross-border shopping in Buffalo, Detroit and Seattle, were quick to pick up on.
Target's ill-fated expansion into Canada began in March 2013, but by January 2015, Target Canada was filing for bankruptcy protection. By April 2015, it was no more.
Nordstrom was clearly watching.
Instead of a mad rush north -- Target opened its 133 Canadian stores in less than two years -- Nordstrom has set itself up for strong long-term growth by charting a more cautious course. It entered the Canadian market with just one store, in Calgary, Alberta, in September 2014.
Nordstrom has only opened three more stores since then. In all, it is planning six Nordstrom locations north of the border, as well as three of its discount Nordstrom Rack stores, but those won't start to open until 2018.
And unlike Target, which shoehorned most of its stores into the footprint of the defunct Zellers chain, Nordstrom has carefully chosen its locations. The Eaton Centre, for example, is a major Toronto landmark that attracts 51 million visits a year.
That isn't to say that Nordstrom will have an easy time of it in Canada, however.
As in the U.S., Canada's retail scene is brutally competitive.
In the upscale arena, for example, Saks Fifth Avenue, owned by Canadian retailer Hudson's Bay also recently opened in the Eaton Centre. And other homegrown chains, such as Quebec, Canada's La Maison Simons, are in expansion mode, too.
Retailers have also felt the effects of the crash in oil prices, which has hammered Canada's resource-reliant economy. In July, for example, Canadian retail sales contracted 0.1% from June, though economists had expected 0.1% growth.
But despite those risks, Nordstrom still has a great shot at earning healthy profits in Canada.
For one thing, though the country's statistics bureau didn't break out department store sales, retailers peddling two of Nordstrom's key products, clothing and shoes, saw 1.3% and 3.9% sales increases, respectively, in July. Those figures are many times higher than the headline number.
In addition, competition from online retailers isn't as fierce in Canada, with web-based purchases accounting for 6% of total retail spending last year, compared with 9% in the U.S., though the gap continues to narrow.
That slower uptake bodes well for Nordstrom, which has a reputation for strong customer service. It also has a major online presence of its own, with 23% of sales coming from the web in the second quarter.
In all, Nordstrom thinks that it can hit $1 billion in sales in Canada, and its cautious approach puts it in a great position to hit that target. Investors should pick up shares before the company uses its Canadian beachhead as a springboard to international success.
---
Nordstrom's prospects are bright, but its future profits-and share-price gains-are far from guaranteed. But that's not the case with the proven system we've found: one trader used it to turn $50,000 into a $5-milllion fortune, and now he's guaranteeing you at least $67,548 per year in profitable trades if you follow his simple, step-by-step process. Go right here to see how easy it is to collect thousands of dollars in "free money" every month.
This article is commentary by an independent contributor. At the time of publication, the author held none of the stocks mentioned.