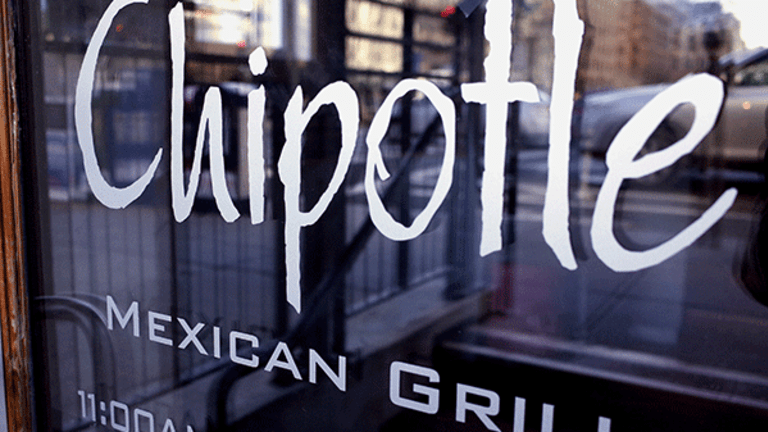 Publish date:
Here Is Why Chipotle Hasn't Bottomed, and It Is a Stock to Avoid
The Mexican fast-food chain has been besieged by competitors, and the E.coli crisis has irreparably damaged its brand.
The Mexican fast-food chain has been besieged by competitors, and the E.coli crisis has irreparably damaged its brand.
Have shares of Chipotle Mexican Grill (CMG) - Get Chipotle Mexican Grill, Inc. Report  finally bottomed?
Those holding shares of the fast-food chain or who have been waiting for a chance to buy in, no doubt hope so. Since an E.coli outbreak sickened hundreds of Chipotle Mexican Grill customers a year ago, the stock has nosedived some 42%.
That includes a 9% drop last Wednesday to $368.02, after the company reported its fourth straight quarter of year-over-year sales declines. The stock is down another 1%-plus percent on Monday.
What gave investors indigestion? In the third quarter, the 2,178-store chain saw its sales plunge 14.8%, to $1.04 billion, missing the $1.09 billion consensus forecast.
Same-store sales dove 21.9%, way worse than the 18.9% drop analysts expected, despite a new loyalty program and enhanced marketing. Adjusted earnings slumped 88%, to 56 cents a share, a full dollar below consensus forecasts.
The question for investors is this: Is the worst over, or is Chipotle Mexican Grill still a stock to avoid?
To be sure, the chain is far from the first to fall victim to a food safety scare. Jack in the Box, McDonald's, Yum! Brands and others have been tripped up by food safety issues in the past and all have recovered.
But with Chipotle Mexican Grill there are other factors at play both inside and outside its business that suggest that the company's turnaround is still a long way off, if it happens at all.
Management's recovery plan includes a move into selling burgers and pizza using the same fresh, hormone-free ingredients for which Chipotle Mexican Grill is known. The company opened its first burger outlet, called Tasty Made, in Lancaster, Ohio, on Thursday.
But so far, reviews have been mixed. And the move puts Chipotle Mexican Grill in direct competition with the nimble mom-and-pop shops that many diners now prefer over the big chains.
Meantime, burger behemoths such as McDonald's continue to creep into the burgeoning fresh-fare market that Chipotle Mexican Grill helped build.
At the Golden Arches, for example, antibiotics in chicken are a thing of the past. Ronald McDonald has also eliminated artificial preservatives from Chicken McNuggets and several breakfast items.
Looming over all this is a restaurant market that is in the doldrums as more Americans opt to dine in, despite the fact that the wider U.S. economy is growing nicely.
Why?
Higher minimum wages in many states as well as the improving U.S. job market are driving up restaurant chains' costs, a trend that is showing up in menu prices. Pricier restaurant fare also comes as supermarket prices are falling, making eating at home even more attractive.
Finally, despite its steep fall, Chipotle Mexican Grill is still dramatically overvalued, trading at 186 times its forecast 2016 earnings, versus just 27.6 for its industry. That makes the stock particularly vulnerable to another big drop on any more bad news.
And unlike with McDonald's, Yum! Brands and Restaurant Brands International, which owns Burger King, investors won't be pocketing a reliable dividend while Chipotle Mexican Grill tries to engineer a turnaround, because the company doesn't pay one. That is yet another missing ingredient that makes Chipotle Mexican Grill an unappetizing stock.
---
A blistering financial storm is about to hit our shores. When it hits, weak companies like Chipotle and their investors will be washed away. You need to put yourself on solid ground. And that doesn't just mean changing your investment allocations or loading up on cash.I'll show you how to protect yourself and prosper when you click here.
The author is an independent contributor who at the time of publication owned none of the stocks mentioned.