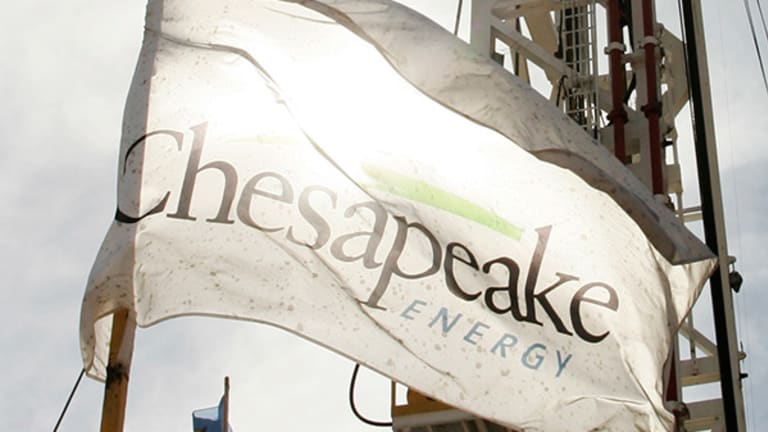 Here Is Why Chesapeake Energy's Rebound Is Likely to Be Sustained
This could be the right time to invest in the beleaguered but rebounding petroleum and natural-gas exploration and production company
Not long ago, Chesapeake Energy (CHK) - Get Report was staring into an abyss. 
Bankruptcy was right around the corner, a mountain of debt overshadowed all chances for revival and oil prices were at a flaccid low.
But Chesapeake Energy has found a way into the light. Despite all the negativity around the stock, the company is mounting a recovery, and its battered stock offers a promising growth opportunity.
Shares are up 62% this year, and management execution has been pitch-perfect, judging by asset sales. Rising oil prices have also played an essential role.
However, all isn't rosy.
Chesapeake Energy is still a junk-rated energy stock, like Cheniere Energy and Parsley Energy, its debt load of nearly $10 billion is heavy, and its most recent fiscal quarter was disappointing in terms of earnings.
What has worked for Chesapeake Energy is its ability to persevere, play for time and take advantage of rising oil prices. The stock is an appealing bet for aggressive investors.
Management at the company endured the turbulence and was proactive.
Non-core assets were sold, which is driving capital capabilities. Loans were reduced, and debt was refinanced at a lower rate.
Since then, signs have been encouraging.
The latest deal aims to offload another portion of Chesapeake Energy's properties in Haynesville Shale, surpassing its $2 billion asset sale target for this year by nearly $500 million.
Chesapeake Energy has also enhanced its balance sheet and is trying to turn over a new leaf by implementing operational improvements.
The company plans to optimize its method of creating super-sized wells. This would bolster extraction capacities, with deeper and wider wells.
The process has been carried out in Haynesville, and Chesapeake Energy is also running tests at Eagle Ford. Utica is next on the list.
In addition, the Nov. 30 announcement of an Organization of Petroleum Exporting Countries production is a huge positive for most energy companies, including Chesapeake Energy, putting them on a sustainable upward path.
After the bloodbath over the past year, Chesapeake Energy has gleaned some key takeaways on how to produce profits amid abysmally low oil prices. And with Brent crude and West Texas Intermediate crude futures trading upwards of $50 a barrel, that is a positive for Chesapeake Energy.
In February, WTI was trading at a record low of about $26.
Another positive is that, according to a report, over the past two months, fourth-quarter earnings estimates have risen to 8 cents a share from 7 cents a share.
Meanwhile, full-year estimates have narrowed from a loss of 18 cents a share to a loss of 8 cents a share.
Next year will be crucial for Chesapeake Energy, as it is expected to report an 8%-plus increase in revenue and turn around the bottom line.
Finally, Chesapeake Energy's forward price-earnings ratio of 8.89 times is also attractive. If the company is able to show material improvement in terms of debt and liquidity, investors will be rewarded.
---
As an investor facing what promises to be a volatile 2017, you want to be in control of your own destiny. That means being able to predict in advance how much money your investment portfolio will generate. Think it can't be done? Our top analyst has a system that can ensure you will make a profit on more than 80% of your trades. To find out the secret, just click here.
The author is an independent contributor who at the time of publication owned none of the stocks mentioned.