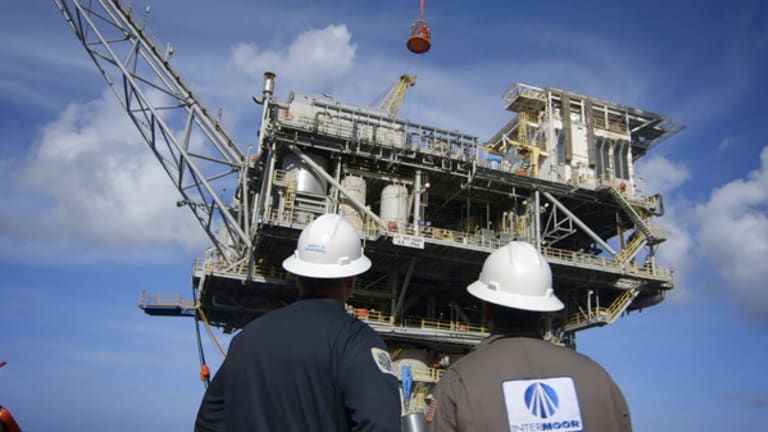 Here Is Why Anadarko Petroleum's 'Hail Mary' Could Miss the Mark
After agreeing to buy Freeport-McMoRan's deepwater assets, the stock of independent oil producer Anadarko Petroleum is now more dangerous than ever.
After agreeing to buy Freeport-McMoRan's deepwater assets, the stock of independent oil producer Anadarko Petroleum is now more dangerous than ever.
A headline-grabbing acquisition executed by a debt-ridden company and born of desperation isn't a strategy but a futile maneuver to buy time.
Case in point: Anadarko Petroleum (APC) - Get Reportsaid Tuesday that it will pay $2 billion to buy Freeport-McMoRan's deep-water oil and gas assets in the Gulf of Mexico.
Activist investor Carl Icahn, who bought an 8.5% stake in Freeport-McMoRan last year, had been pressuring that company to spin off its flagging oil and gas business so that it can focus on its core activity of copper mining.
He tweeted Tuesday that the Anadarko-Freeport-McMoRan deal confirms that Freeport-McMoRan is "making good on its stated goal of de-leveraging and is on track to cut its net debt by half" from year-end 2015 to the end of next year.
That is all fine and good for Freeport-McMoRan, but what does the deal do for Anadarko Petroleum? Not much.
Some analysts immediately endorsed the move, but investors should avoid troubled Anadarko Petroleum more than ever as there are better and safer growth opportunities.
Analysts such as Johnson Rice Tuesday upgraded Anadarko Petroleum to a buy rating, viewing the deal as a "contrarian" move that brings considerable long-term value to the company.
UBS also praised the acquisition as a win-win for both parties, saying that it helps debt-laden Freeport-McMoRan streamline its operations while boosting stagnant oil volumes for Anadarko Petroleum.
UBS estimates that the newly acquired offshore assets will lift Anadarko Petroleum's oil production by more than 10% a year, an imperative amid investor worries that the company's output has stalled.
But many investors aren't buying the cheer-leading. Shares of both Anadarko Petroleum and Freeport-McMoRan Tuesday dipped on the news.
It looks like Anadarko Petroleum has thrown a Hail Mary pass that is unlikely to turn around a losing game.
Oil prices have generally recovered from their lows of the $20s in February, but they are still whipsawing investors. The $50-a-barrel threshold required by energy companies to break even remains elusive.
Many companies in the beleaguered energy patch are still trying to recover from the recent bear market in oil. Even as energy prices rise, major exploration and production companies such as Chevron and ExxonMobil (XOM) - Get Report are still struggling to overcome the recent bear market in oil and increase revenue.
Heavily indebted oilfield drilling companies such as Transocean are particularly vulnerable, and they are trying to buy time by cleaning up their balance sheets.
In this volatile broader market, investors should emphasize defensive growth plays, not indebted energy companies with fundamental weaknesses. Geopolitical uncertainties make the energy patch all the riskier.
The Woodlands Texas-based Anadarko Petroleum is shouldering an onerous debt load that is worse than most of its peers, which has been a drag on operating results.
Anadarko Petroleum posted a second-quarter loss of $692 million, or $1.36 a diluted share. Analysts had expected a narrower loss of 8 cents, compared with a gain of a penny a year earlier.
For the full year, the estimated loss is $3.10 a share, compared with a loss of $2 a share last year.
Anadarko Petroleum operates via three segments: oil and gas exploration and production; midstream; and marketing. The company's assets includes U.S. onshore resource plays in Alaska, the Appalachian basin, the deep water Gulf of Mexico, the Rocky Mountains area and the southern U.S., and in several other countries, including Algeria, Ghana, Kenya and New Zealand.
After several divestitures, Anadarko Petroleum was becoming a pure play on U.S. shale production through its holdings in the Delaware Basin, Eagle Ford and Wattenberg. Now the company seems to have reversed its streamlining strategy with its expensive acquisition of Freeport-McMoRan's deep-water assets, which makes investors wonder what Anadarko Petroleum was thinking.
Anadarko Petroleum's debt-equity ratio rose from 2013 to 2014 and from 2014 to 2015, and it remains at nosebleed levels. With a market capitalization of $29.47 billion, Anadarko Petroleum's total debt stands at $17.52 billion, for a whopping total debt-equity ratio of 120.01.
The company's ratio is hideously high compared with those of its direct rivals, which are grappling with debt burdens of their own: BP (55.73); Chevron (30.40); ConocoPhillips (75.80); EOG Resources (57.94); ExxonMobil (25.14) and Phillips 66 (36.82). The average debt-equity ratio of the oil and gas drilling and exploration industry is 24.5.
Anadarko Petroleum's stock is up about 18% year to date, compared with a gain of nearly 5% for the S&P 500. Over the past two years, Anadarko Petroleum's shares have plummeted 46.42%.
Investors betting that oil prices have found a bottom and are in a sustainable rebound are exhibiting unwarranted optimism over energy companies that still have ugly balance sheets.
After a wild acquisition spree when oil prices were in the $80- to $100-a-barrel range, Anadarko Petroleum has been trying to cut costs and sign up new clients to service its debt. The acquisition of Freeport-McMo-Ran's deep-water assets is an attempt to generate much-needed revenue, but the oil price rally remains too fragile to prompt major exploration and production players to start redeploying capital expenditures to expensive deep-water projects that they just got through curtailing.
In the beleaguered energy sector, there is a wide disparity between the bulls and the bears. The best and the brightest are all over the map: Some say that the price of oil will collapse, whereas others say that it will soar.
Regardless, potential triggers abound for another collapse in oil prices.
All it would take to clobber oil is a Chinese financial crash, the insolvency of a few key European banks, France's exit from the European Union, a North Korean missile strike or even the election of Donald Trump as president of the U.S. Through it all, global economic growth is on track but quite tentative.
Don't get suckered by the undue optimism about Anadarko Petroleum. The energy price recovery is fragile, the company is drowning in debt and the stock is poised to disappoint gullible investors.
---
A crisis is coming. When it hits, weak companies and their investors will be washed away. Don't let that happen to you! I've found seven companies you should own no matter what the economy is doing. Each one of these powerful yet overlooked companies barely notices when the market tumbles. And they'll skyrocket when it rebounds. You can pick up all seven for pennies on the dollar right now. To get the names of these "seven survivor stocks," click here.
John Persinos is an editorial manager and investment analyst at Investing Daily.
At the time of publication, he owned none of the stocks mentioned.
Persinos appears as a regular commentator on the financial television show "Small Cap Nation." Follow him on Twitter.