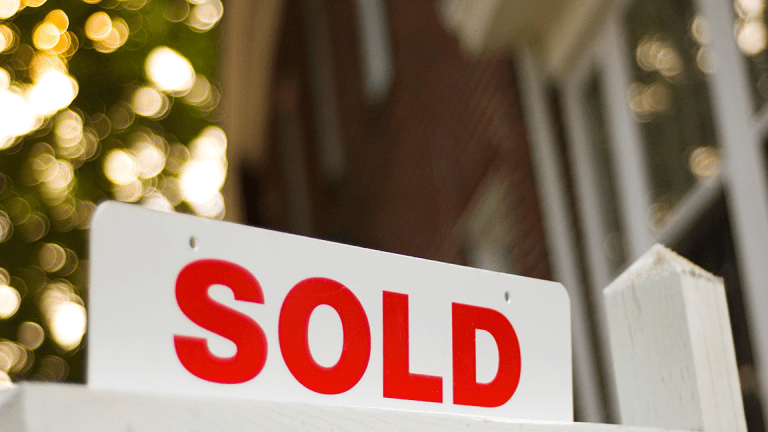 How to Play Housing: Redfin Guides Down, Buy Home Depot
This play on Home Depot could net you a gain.
You kids know who Glenn Kelman is? OK, easier question. You guys ever hear of Redfin Corp. (RDFN) ?
First off, for the uninitiated, Redfin is a technology-based real estate firm that engages in traditional brokerage activities as well as title search, settlement services, mortgage banking operations, to name a few. The firm went public about a year ago but has existed since 2004.
On Thursday night, Redfin reported second-quarter numbers that looked superb. Performance beat expectations for both the top and bottom lines. Revenue printed up 35.9% from the same quarter a year earlier. That's where the good news ended. Enter CEO Glenn Kelman.
Guidance Down
Redfin guided third-quarter revenue below consensus, and net income way, way below consensus. By Friday morning, news broke that Redfin was up against a downgrade by DA Davidson largely due to some stark remarks made by the CEO the night prior during the earnings call. Kelman had said, "For the first time in years, we are getting reports from managers of some markets that home buyer demand is waning, especially in some of Redfin's largest markets." Kelman explained Redfin had reduced guidance as the product of his firm experiencing "an unexpected drop in Redfin's booking growth in the past three weeks." He also referred to "slowing traffic growth in a weakening real estate market."
So, is the sky falling? I am not going to flat out tell you that for housing we are either on the road to or around Armageddon. I am going to tell you that housing performance is, and always has been, regional. 
Housing Market ETFs
Consequently, to trade around any housing uncertainty, it makes sense to look at the housing market more broadly via ETFs.
The largest two homebuilder ETFs easily would be the iShares US Home Construction ETF (ITB) and the SPDR S&P Homebuilders ETF (XHB) . These two are lower by nearly 13% and nearly 11% year to date, respectively. I am not sure the homebuilders are ready to pop. To maintain exposure to this space, I possibly might initiate a small long as something of a hedge vs. overwhelming negative sentiment. At last glance, Freddie Mac still was predicting that home prices would rise 7% over the last half of the year and that total home sales would rise by 2.5% for the full year. Hmm...
One seeking to broadly play the space through ETF exposure should expect performance to be lumpier for ITB, as that offering's largest holdings by far are D.R. Horton Inc. (DHI) and Lennar Corp. (LEN)  -- to the tune of 14% and 13%, respectively, with no other holding represented by more than an 8% weighting. XHB is far more evenly spread in the weighting of its holdings. Not a single stock accounts for even 5% of the portfolio. That's the one that I would consider.
Home Depot on the Horizon
If you are in this racket, then you are probably well aware that Home Depot   (HD) reports Tuesday morning, and that Lowe's  (LOW) reports next week. Now, we already know that several suppliers that home-improvement companies rely upon had rough quarters. We know that the weather for much of the country, particularly the Northeast, was not helpful back in the spring. That should be factored in, you would think. Still, the potential exists now that HD has worked its way back toward the top of the chart for a negative surprise. Both HD and LOW have formed double tops across June and July. Both have approached but failed to reach their January highs.
I understand that Lowe's is making progress. It appears to be back on the right track, and a better-managed Lowe's means increased competition for Home Depot. I am long Home Depot. The name at this point is my oldest continually held net long position. I have not been flat this name since early 2014. (Let's just hope they end up indexing net basis entry points to inflation before I decide to take a profit on this thing.)
To be clear, just because I have stayed net long does not mean that my position size has remained constant. Still, I believe in Home Depot. I believe this is perhaps the best-managed name in retailing. I have seen it up close. This is my plan for my position going forward:
-- HD Target Price: $230. You need to see a break above and then at least one successful defense of the $205 level. I expect this to take perhaps the rest of the year.
-- Point of Replenishment: $190. A poor reaction to the earnings call that pushes the share price below this level will trigger an add on my part (after the name stabilizes, so don't ask me on Twitter as soon as the darned thing opens.)
-- Panic Point: $170. It is here that I decide that I have a problem and will seek to salvage the remains of a profitable trade.
By the way, $190 puts expiring this Friday went out at $1.57 on Friday night. These will likely maintain a nice premium through today's trade. Sorry, you won't get anything for the $170s, but the $185s did pay $0.66 on Friday night. Food for thought.
(This column has been updated.)
Free White Paper: 7 Things All Investors Must Know in 2018. Start the second half off right with our free white paper on seven key things to watch this year. From how much cash to have on hand to the three reasons this bull market might die, our white paper features key takeaways from an all-star panel that TheStreet and Fisher Investments recently hosted in New York. Click here to register for your free online copy.
At the time of publication, Guilfoyle was long HD.