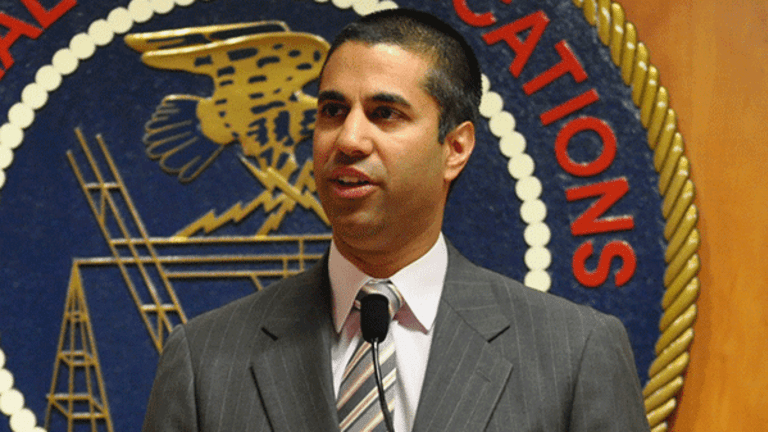 Here Is What Impact the New FCC Chief Will Have on Telecom Stocks
What growth opportunities are available in this sector now that Ajit Pai has been appointed chairman of the Federal Communications Commission?
Although many of the President Donald Trump's cabinet nominations and government appointees have been mired in controversy, one of the more influential for a large swath of the U.S. economy and markets is barely registering with the media.
The irony, of course, is that the media are directly affected by the new chairman of the Federal Communications Commission, Ajit Pai, who is both focused and sharp. Armed with an undergraduate degree from Harvard University and a Juris Doctor degree from the University of Chicago, his career has been well crafted.
Starting in the federal court system and the Department of Justice for antitrust enforcement, Pai got to know first-hand how to work against or with government when it comes to business.
Specifically, he worked on telecommunication companies' mergers and acquisitions including at Verizon Communications.
The FCC has five commissioners who are appointed by the president. There are two vacancies, but with Pai on board, there are three commissioners who can vote and pass approvals, regulations and rules for communication and media from broadcast to broadband and beyond.
"We need to fire up the weed wacker and remove those rules that are holding back investment, innovation and job creation," he said recently.
This policy could be a sharp profit catalyst for select stocks.
Specifically, Pai is laser-focused on rolling back the so-called net neutrality rules that bar Internet and telecom companies from favoring content providers. He wants to avoid tasking Internet service providers with being known as "common carriers" like land line phone companies.
Pai has argued that if telecom companies can't cut deals with content and other users of communications networks the incentive to invest will be lacking.
The FCC had continued to defend net neutrality under Tom Wheeler, the last chairman, but that is set to change.
Facilitating the move will be the two FCC members serving under Pai.
Mignon Clyburn has made passive mention of some of the benefits of neutrality as it was the stated policy of the Obama administration. But many in the industry see her as willing to cut deals with the telecom industry.
And Michael O'Reilly is opposed to net neutrality and any mention of common carrier designation.
Given the direction that Pai is taking, the other two vacant seats should safely go to those who also oppose net neutrality.
So what growth opportunities are there in the telecom sector related to his appointment? They will likely be the leaders in wired and wireless Internet service.
AT&T, armed with its DirecTV unit, is already giving preference to its own content flowing through its wireless networks. The new FCC will only encourage the company not only to ramp up its own content but to reach out to other content companies.
Verizon Communications is sitting pretty with Pai at the helm of the FCC. The company is looking at buying Charter Communications and its Time Warner Cable assets.
Verizon Communications would expand its network reach with the deal, and that would set it up to perhaps best roll out the next generation of wireless data called 5G. That ideally requires a strong wired network that Charter Communications' network would provide.
T-Mobile is always looking for a deal. And with the FCC, Dish Network is being rumored as a good fit, much like the AT&T-DirecTV deal.
Another deal maker, Sprint, just off buying a big stake in music content streaming company Tidal Streaming, is like T-Mobile, looking to become a bigger player or as part of a larger merger. Its mega-investor, Softbank of Japan, could further step up to arm Sprint with the ability to capitalize on the pending FCC deregulation.
Meanwhile, Comcast is salivating over getting out from under the cloud of net neutrality.
The losers from Pai's appointment potentially might end up being the users of a neutral wired and wireless Internet. Alphabet, from its search to YouTube assets, lives and breathes on an open Internet.
Comcast and Alphabet are holdings in Jim Cramer's Action Alerts PLUS Charitable Trust Portfolio. See how Cramer rates the stocks here. Want to be alerted before Cramer buys or sells CMCSA and GOOGL? Learn more now.
Amazon is another company that requires Internet access for its cloud, retail and streaming businesses.
And streaming content providers such as Netflix and Scripps Networks Interactive will be worried about how much they might need to pay Internet service companies to avoid being slowed to a crawl in terms of access.
The bottom line is that the FCC is set to give more power to the networks and less to the content companies.
---
As I've just explained, Verizon, AT&T, Comcast and others are bargain investment bets now. But, if you're looking for other growth opportunities, we've found a genius trader who turned $50,000 into $5 million by using his proprietary trading method. For a limited time, he's guaranteeing you $67,548 per year in profitable trades if you follow his simple step-by-step process. Click here now for details.
This article is commentary by an independent contributor. At the time of publication, the author held no positions in the stocks mentioned.