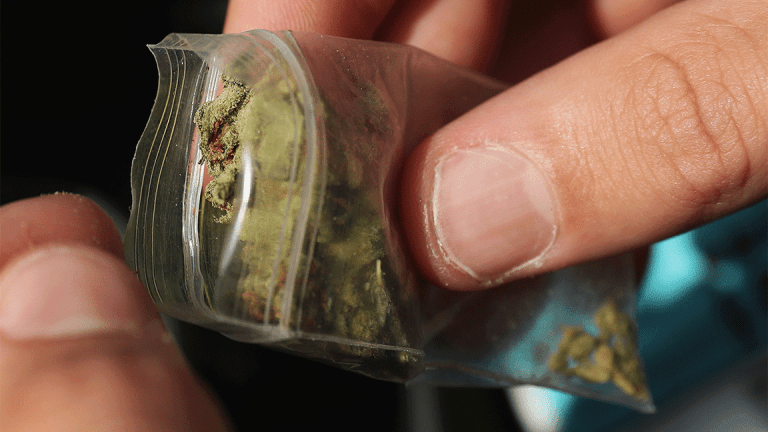 Here's What Constellation Brands Sinking $4 Billion Into Canopy Growth Signals
Constellation Brands is clearly going all in on the budding cannabis movement in the United States.
Let's just call it: cannabis has gone mainstream thanks to growing interest by big business and investors. 
Shares of Canopy Growth (CGC) - Get Report exploded 60% in pre-market trading Wednesday as liquor maker Constellation Brands (STZ) - Get Report said it will invest another $4 billion into the public cannabis company. The investment values Canopy Growth at a lofty 51% premium to the company's closing price on Tuesday. Constellation Brands' ownership stake will jump to 38% from the 10% it bought back in Oct. 2017. 
Constellation will also nominate four members to Canopy's board. 
"Overall, we think Constellation's increased stake in WEED/CGC (the largest investment to date in the cannabis space) is very positive and further accelerates another avenue of growth," says Wells Fargo analyst Bonnie Herzog.
The Mainstreaming of Cannabis
Canopy Growth CEO CEO Bruce Linton sat down with TheStreet's founder Jim Cramer on 'Mad Money' in mid-July. One of Cramer's takeaways: cannabis is on the move.
"Canopy is an important company, of all the Canadian names selling marijuana it refines the product and makes the product into different formulations such as soft gell caps," Cramer told TheStreet. "It's products could be commercial," Cramer explained, adding he was bullish on Canopy's new sleeping pill. 
Watch below.
Meanwhile, Tilray's (TLRY) - Get Report CEO Brendan Kennedy told TheStreet the company is pushing ahead with different cannabis form factors.
"This industry [cannabis] is disrupting the pharmaceutical industry, cannabis is a threat to prescription based painkillers primarily opiods," explained Kennedy in an interview with TheStreet on its IPO day on Jul. 21. "It's definitely a threat to companies in the alcohol industry who see cannabis as a substitute -- it's also a threat to some of the functional food and beverage companies who don't look at THC as an ingredient but look at CBS as an ingredient in CBD water or CBD exercise or recovery drink."
Kennedy says people would be "surprised" by how many large companies, starved for growth in many cases, have looked at getting into the cannabis space. 
For more cannabis coverage, visit TheStreet's sister publication Real Money.