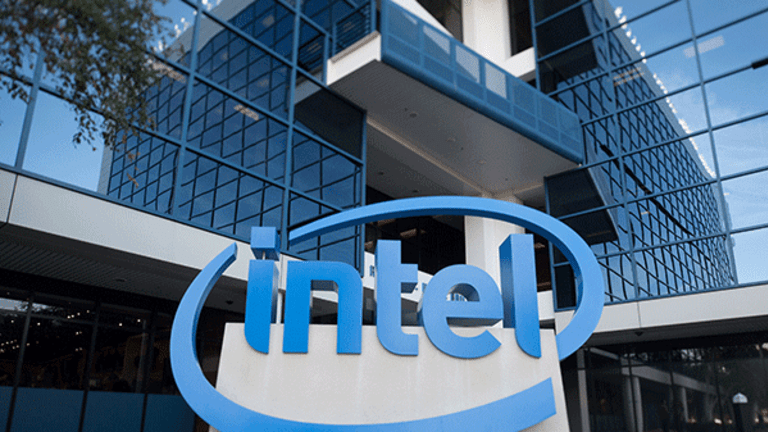 Here Is How to Profit as Intel Announces Ambitious Factory Plans
The chip maker has its own multi-billion-dollar facility up its sleeve. It will employ thousands of workers and make a product that is in demand.
One of President Donald Trump's biggest campaign promises was to bring back America's industrial jobs.
But with or without his influence, this has already been happening. The jobs may not be in coal or steel but big U.S. technology companies that are building their factory footprints by leaps and bounds, and the potential profits for investors are growing, too.
On Wednesday, Intel (INTC) became the newest tech company to announce plans to build a huge factory in the American Southwest. And though it may not have quite the scope and size of Tesla's Gigafactory, it will still employ thousands of workers and make a product that is in demand.
The announcement was made following a meeting between Intel Chief Executive Brian Krzanich and Trump. But beyond the proposed tax cuts, the extent of Trump's influence on the company's plans to build the factory is debatable.
Krzanich has been critical of Trump's anti-immigration policies, and the company is reportedly not receiving any sort of financial inventive for the factory's construction. In addition, Intel has been planning this construction project for a few years.
However, the facility will cost Intel about $7 billion. And at the location in Arizona, about 3,000 workers will build the next generation of super-high-tech microprocessor chips.
Chips have been Intel's lifeblood since the company's founding. About 99% of all personal computers contain Intel's products.
But the PC market has been dwindling, driving Intel to explore other avenues. And that is creating great opportunities for investors.
Last month, Intel reported fourth-quarter revenue that proved that the company has found success not only by making forays into cloud computing but  also with a chip business comeback. But the company's hottest new items aren't just run-of-the-mill computer chips.
Intel's new products support some of the hottest developments in modern technology. From self-driving cars to smartphones, the demand for Intel chips is growing.
The company is signing deals with other big companies such as Apple and BMW.
Apple is a holding in Jim Cramer's Action Alerts PLUS Charitable Trust Portfolio. See how Cramer rates the stock here. Want to be alerted before Cramer buys or sells AAPL? Learn more now.
That isn't to say that the company isn't still making money from computer chips, however. Intel's line of top-of-the-range multi-thousand-dollar chips intended to boost the computer game experience are selling particularly well and have accounted for a nice chunk of the company's growing revenue.
With these lucrative chips, the amount of money that the company charges can offset any decline in sales volume.
Intel's stock hit an all-time high at the end of last month, but it has since pulled back. There is still plenty of growth left in the stock, and the decline should be seen as an opportunity to get in at a discount.
---
Of course, high-flying tech stocks always carry a bit of risk. After all, this is an industry that moves fast. However, we've found a company with explosive growth potential... but with none of the risks that come with trendy tech stocks. Even better, it pays out steadily increasing dividend income. Click here for more information on this potential-packed play.
The author is an independent contributor who at the time of publication owned none of the stocks mentioned.