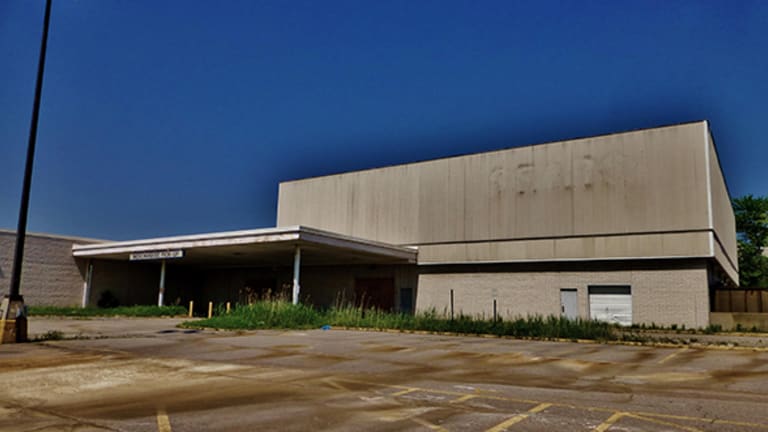 Here Comes the Next Big Store Closure Announcement
Get ready for it.
So much for trying to serve suburban America while one of your largest rivals virtually disappears from the outskirts of town. 
J.C. Penney (JCP) - Get J. C. Penney Company, Inc. Report  CEO Marvin Ellison said at a real estate conference Wednesday the company would move to close more stores -- after shuttering seven last year -- following a lackluster holiday season. "We have certain locations that we readily admit we have to downsize," Ellison said, adding, "There are some smaller market locations where we have to decide, does the mall or our store meet our brand standards?"
What could be a more aggressive store closure campaign by Ellison would mark a major shift in strategy. Up until now, J.C. Penney and long-time rival Macy's (M) - Get Macy's Inc Report have had two strikingly different philosophies on how many brick-and-mortar stores should be open in the age of digital shopping.
While J.C. Penney shuttered seven stores last year, Macy's exited 100 or so locations. Macy's is fresh off announcing the closure of 68 stores (as part of a plan to slash 100 more) by early spring in an effort to save money amid weak store traffic. 
For J.C. Penney, the decision to maintain a huge portfolio of stores reflects several fundamental beliefs of Ellison. "Leaving stores open helps to lower delivery costs for customers," Ellison told analysts in August. One way J.C. Penney has sought to lower delivery costs is by launching a buy online, pick-up in-store same-day capability across the chain in 2016.
Secondarily, Ellison has contended that about 50% of online sales touch a store in some way. For example, a person may see a bath mat they like while visiting a J.C. Penney store, but decides to head home to price check the mat with those found at rivals. If J.C. Penney ends up having the best deal, the consumer may choose to buy the item from its website.
If the local store isn't there, a sale could be lost.
Now, however, it looks as if J.C. Penney is willing to forego that sale at a low-volume store somewhere in suburbia in order to shore up its bottom line. It's a sad reality of the times but it does make Macy's more aggressive posture on closing stores look rather brilliant, even if it's short-term painful to employee morale and the stock price.
"I have said this before, but America is still over-stored -- my guess is that some rationalization of retail space needs to occur, and I think we were at the forefront of acknowledging that," Macy's Chairman and CEO Terry Lundgren toldTheStreet in an interview. "We have tried to look at the entire landscape of the U.S. and said if we were starting a new company today, where must we have stores," Lundgren added. 
Welcome to reality, J.C. Penney. 
Don't Let this Chart Ruin Your Day
Unfortunately, not much in the way of uplifting news to report on Thursday. Ahead of government retail sales data on Friday, take a gander at this depressing chart by economists at Bank of America/Merrill Lynch. Although there was a good deal of optimism among restaurant CEOs at this week's ICR Conference, the industry still seems to be stuck in the same recession that weighed on results of major chains last year. Reasons for continued weak spending on dining out are plentiful, ranging from deflation in supermarket food prices, to robust price increases by restaurants to offset minimum wages, to a pickup in the jobs market that have people pressed for time.
If you've been putting money to work in McDonald's (MCD) - Get McDonald's Corporation Report and other big-name restaurants ahead of fourth-quarter earnings, now may be the time to reassess.