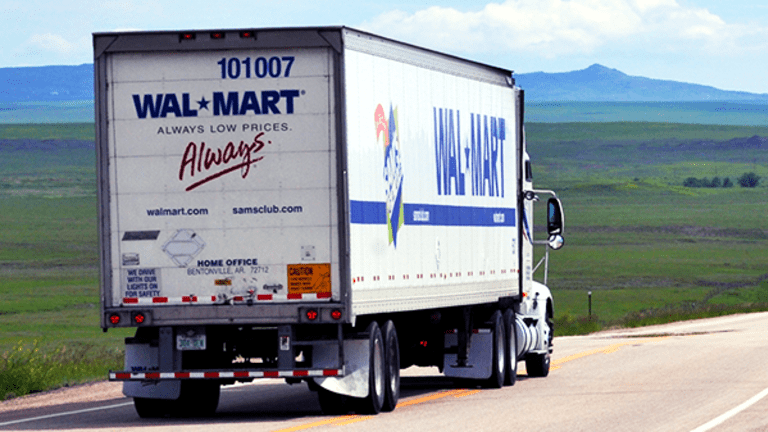 Publish date:
Here Are Walmart's 10 Biggest Moments
Walmart has been responsible for a number of innovations on its way to becoming the world's largest retailer.
Walmart has been responsible for a number of innovations on its way to becoming the world's largest retailer.
Walmart Corp.'s (WMT) - Get Report story is one of success as the company ascended from Sam Walton's single store in Rogers, AK. in 1962 to the largest retailer in the world.
Walmart's insistence on keeping prices low has drawn criticism from outsiders who say that the company's practices have resulted in depressed employee wages and the shuttering of mom and pop stores that can not compete with their prices.
In spite of all the criticism, the one group that seems to love Walmart is the most important group, its customers.
Here are some of the innovations that have helped Walmart become a world renowned brand.
1. Supplier Concessions
Supplier concessions are the key to Walmart's business model of offering below average prices on a wide variety of items.
"Sam Walton's basic idea was to get concessions from his suppliers and pass the savings on to his customers. In the 1960's that idea was unheard of. By contrast, Sears (SHLD) used to beat their suppliers down and keep the savings as profit. Sears is shrinking. Walmart is growing," Skip Carney of marketing innovation firm Carney & Co. recently wrote.
2. Interconnectivity
Sam Walton wanted his branches to have as much innovation as possible. To facilitate this, he made merchandise buyers spend time in the stores to understand the needs of hourly salesmen and customers, according to Quora. That interconnectivity helped foster stronger bonds among the store's hierarchy. 
3. Walmart Distribution Centers
Walmart operates over 150 distribution centers that service stores and provide direct to consumer deliveries.
Each of the company's distribution centers service between 90 to 100 stores in a 150-mile radius.
The distribution centers use more than 5 miles of conveyor belts to keep merchandise moving. 
4. Supercenters
Walmart opened its first Walmart Supercenter in Washington, MO. in 1988. The average supercenter is about 188,000 square feet and employs about 300.
Most of the company's supercenters are open 24 hours and feature everything from pharmacies to food courts.
5. Walmart's Truck Fleet
Walmart's fleet of trucks is the lifeblood of its operation. What good is having a large distribution center full of merchandise if you can't get the product efficiently to your stores?
Walmart transportation has a fleet of 6,100 tractors, 61,000 trailers and more than 7,800 drivers.
The company estimates that its entire fleet travels 700 million miles combined annually.
6. International Expansion
Walmart expanded to Canada in 1994. The company then opened up three value clubs in Hong Kong and operated 96 stores in Mexico.
Walmart opened its first stores in South America in Argentina and Brazil in 1995. It followed that expansion up in 1996, opening its first store in China that year.
Walmart now has nearly 3,000 stores outside the U.S. to go with the nearly 7,000 it has at home. 
7. Sam Walton
Co-founder Sam Walton received the Medal of Freedom from President George H. W. Bush in 1992. 
8. Jet.com
Amazon.com Inc. (AMZN) - Get Report is a disruptor whose reach seems unlimited. Walmart's dominance of retail was unquestioned until Amazon came along and started delivering food and merchandise cheaply and conveniently. 
Not one to take a challenge lying down, Walmart purchased grocery delivery upstart Jet.com for about $3 billion in cash last year.
9. Going Green
When a company as large as Walmart decides to rely on renewable energy, it's a large undertaking that is bound to reverberate throughout retail. If Walmart can do it given its size, others don't have an excuse. 
Walmart began its green initiative in 2005. Since then, the company reports that it is keeping 81% of its waste out of landfills. Additionally, the company says that the EPA has recognized it as the largest on-site green power generator in the U.S. three years running. 
10. Low Drug Prices
Walmart has made a concerted effort to extend is lower prices to all parts of its business, including its pharmacy. The company introduced its $4 prescription program in 2006, helping drive down the price of hundreds of generic medicines and influencing the competitive landscape.