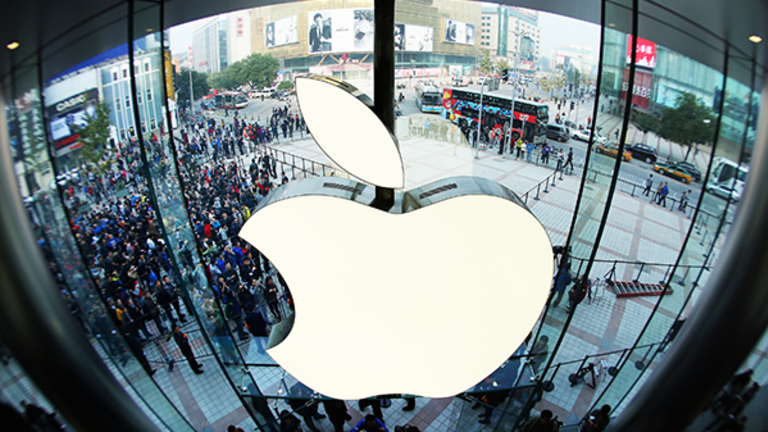 Here Are the Top 6 Things to Expect From Apple Over the Next 5 Years
Analyst Gene Munster predicts that iPhone sales will peak in 2019 and start to be replaced by an entirely new product.
Analyst Gene Munster predicts that iPhone sales will peak in 2019 and start to be replaced by an entirely new product.
Apple's  (AAPL) - Get Report  past and future milestones are under a magnifying glass this week with the attention surrounding the 10-year anniversary of the iPhone's release to the public on June 29. 
While the iPhone has sold 1.2 billion units for an estimated three-quarters of a trillion dollars since 2007, some Apple critics have pointed out that Apple hasn't come out with a truly revolutionary product since then. In other words, June 29 also marks ten years since Apple last sent waves through the tech sphere. 
In light of the speculation surrounding Apple's ability to innovate, here are the top six predictions top Apple analyst and Loup Ventures founder Gene Munster laid out for the company in a note on Tuesday morning. 
1. Revenue: $292 billion
Loup Ventures sees Apple generating $292 billion in revenue in 2022, up from $221 billion in the 2017 financial year. The firm sees Apple's profit coming in at $13.20 per share, up from $8.74 per share in 2017. 
In addition, Apple's gross margin should go from 38.9% to 38.4% in the next five years. 
2. Services: Expect steady growth
For the latest quarter, services accounted for 13% of Apple's revenue. In 2022, services will account for 21% of revenue, the firm said. In addition, services revenue growth will jump from 18% year-over-year in 2017 to 14% year-over-year in 2022. 
"Our confidence is supported by the predictability of Services over the past two years, along with our belief that AR apps will be a catalyst for consumer spending on apps over the next five years," Munster wrote. 
3. New product: Apple Glasses
Based on the heavy investments Apple has been making in artificial reality (AR), Munster expects its AR-focused Apple Glasses to be be released in the middle of the 2020 financial year for an average price of $1,300. 
While the glasses will initially make up just 2% of Apple's sales in 2020, that percentage will steadily increase for the next ten years. "We believe Apple sees the AR future as a combination of the iPhone and some form of a wearable," he wrote.  
At Apple's annual World Wide Developers Conference (WWDC) in early June, it announced a new augmented reality platform called ARKit, which is included in the new iOS 11 for the iPhone and iPad. The new tool will allow developers to use the built-in camera, processors and motion sensors in the two devices to design AR experiences. Possibilities include interactive gaming, immersive shopping, and industrial design. In addition, the latest macOS, High Sierra, will support virtual reality.
"This is a big deal," Munster told TheStreet at the time. "AR will be the OS of the future, and what Apple showed today is light years ahead of anything shown previously."
In addition, Apple recently purchased German computer vision companies SensoMotoric, which makes eye-tracking glasses. The deal was first reported by MacRumors on Monday. Apple has followed its tendency to remain secretive by refraining from confirming the acquisition. The company would boost Apple's efforts in both AI and VR. 
Apple is a holding in Jim Cramer'sAction Alerts PLUS Charitable Trust Portfolio. Want to be alerted before Cramer buys or sells AAPL? Learn more now.
4. iPhone: Growth will peak in 2019
Munster thinks Apple's flagship device -- the iPhone -- will see peak sales in 2019 before being cannibalized by Apple Glasses sales in 2020. iPhone sales have accounted for about 60% of Apple's revenue since 2011 but that will drop to 48% by 2022.
"In 10 years we expect the iPhone will be around, but be a much smaller part of Apple's business as Apple Glasses slowly gains market adoption," Munster said.
AirPods will continue to rise in popularity over the next ten years as they transform into a wearable, augmented audio device. 
5. The product that will continue to pick up speed: AirPods
The wireless headphones from Apple known as AirPods came out last fall and have an eyebrow-raising price tag of $159. But Munster sees the product becoming bigger than the Apple Watch over the next ten years as it transforms into a wearable, augmented audio device that will retail for around $200. 
By 2022, AirPods will be contributing the same percentage of sales for Apple as the Apple Watch, he predicted. 
6. A product that you might or might not see: Cars
Apple CEO Tim Cook finally confirmed that the company was working on an automobile in an interview with Bloomberg in mid-June. Cook referred to Apple's car efforts, known as Project Titan, as "the mother of all AI projects." 
Munster said Apple has three options for getting in on the car market: it can partner with a manufacturer to create an Apple-branded car, develop software to be used in cars from other manufacturers, or it can enter as a fleet service, although this last option is the least likely. 
While some people say Apple should acquire Tesla (TSLA) - Get Report to complete its car efforts, that's wishful thinking, Munster said. "So a $10 billion investment could make some sense, but the deal Tesla would accept, Apple wouldn't and the deal Apple would accept, Tesla wouldn't," he wrote in a note in late February. 
The most likely option is for Apple to become the "OS of the future of cars" by licensing its software to auto manufacturers.