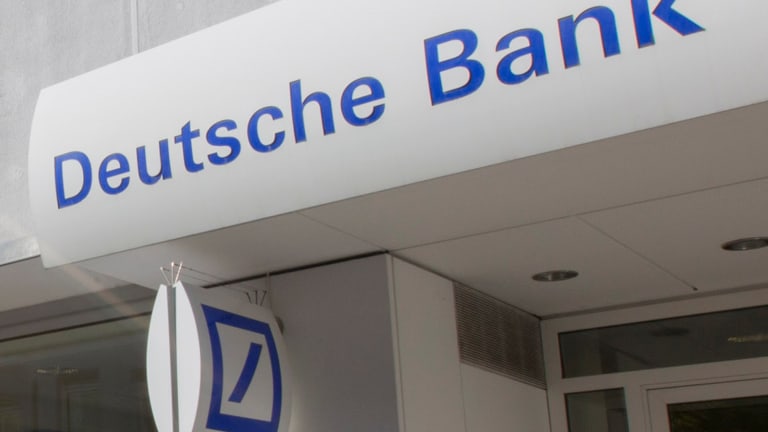 Here Are the Signs That Deutsche Bank Is in Big Trouble
Investors should worry when government ministers and executives insist everything is OK.
When it comes to trouble, there's a simple rule: The more someone -- whether it's your kid in the kitchen, your spouse after a fender bender or a government minister -- insists that there's no problem and that everything is OK, the bigger the problem.
By that measure, the second-largest bank in Europe, Deutsche Bank (DB) , is in a lot of trouble. And this is a big deal. Deutsche Bank is one of the world's 10 largest banks by asset, and the International Monetary Fund has said it's "the most important net contributor to systemic risks" to the global financial system. So, if Deutsche Bank gets into trouble, the entire global financial system will feel it like a hard punch in the gut.
Here are three reasons you should worry about the health of this major bank.
First, in February German Finance Minister Wolfgang Schauble, when asked his opinion about Deutsche Bank, replied that he had "no concerns." Of course, if he had said he was worried about Deutsche Bank there would have been mass panic.
If a high-ranking government minister feels obliged to tell the public that everything is fine with a major bank, it's not a good sign. It's worrying that a government minister has to say anything about it at all. (It's the same when a government minister has to talk up a country's currency, like we discussed here.)
Second, at about the same time that the German Finance Minister commented on Deutsche Bank, the bank's co-CEO John Cryan wrote a memo to employees saying the bank was "rock solid" and that its capital position was "strong."
If the chief executive has to reassure the staff that everything is fine, you can bet that it's not.
Third, Deutsche Bank's share price is sick. Since Cryan and Schauble made their comments, Deutsche Bank's stock has fallen 27%. But over the same time frame, the Bloomberg European 500 Index, which tracks a broad range of European shares, is up 10%.
While it sometimes pays to be a contrarian investor, the market, which reflects the combined wisdom of millions of investors, is often right. The "market" knows when a company has serious problems. So, when a company's share price collapses it normally means the company is facing big problems.
Deutsche Bank has been in trouble for some time, and a weak share price is nothing new for it. It's 85% below the all-time high set in 2007. Over the past 12 months, the shares have dropped 51%. Deutsche Bank's market capitalization (which is the price per share times the number of shares outstanding) is now just one-sixth that of rival global bank HSBC and only slightly larger that of Under Armour the workout apparel company.
There's not much going right for Deutsche Bank. Its business model and cost structure no longer make sense in the current banking environment, and the company is finding it difficult to adapt.
The banking industry has become a quagmire of rules and regulations. According to the Financial Times, Deutsche Bank is currently dealing with 7,000 lawsuits and regulatory actions. It also can't sell a key asset that would help strengthen its balance sheet. And negative interest rates make it difficult to profit from normal banking operations, in part as shown by last year's 6.8 billion euro loss.
Other European banks are being plagued by the same problems dragging down Deutsche Bank. As measured by the STOXX Europe 600 Banks Index, European bank share prices are down 28% over the past year. They are down 75% since their 2007 all-time high. The entire Italian banking sector is in as bad shape as Deutsche Bank.
Right now, Deutsche Bank's price-to-book value (P/B, which is the share price divided by the company's net asset value) is just 0.27. This means that if Deutsche Bank sold off everything it owned and paid off all its debts, it could return shareholders nearly four times the current market value of their shares ... at least in theory.
Of course, that's not going to happen. But what it means is that the market doesn't believe that Deutsche Bank is worth anything close to its book value, hence the dramatic drop in its share price.
The global banking system is tightly intertwined, and the collapse of any major bank would affect banks all over the world. One potentially enormous risk for Deutsche Bank is its estimated $70 trillion derivatives book. And almost no one, inside or outside of Deutsche Bank, can fully explain the nature of its derivatives portfolio.
So, what happens at Deutsche Bank matters. Lehman Brothers' collapse, which triggered the 2008-2009 global financial crisis, is nothing compared to what would happen if Deutsche Bank, a keystone of the global financial system, collapsed.
But the impact of serious wobbles at Deutsche Bank might not have as big as an impact as some investors might fear.
First, if an institution the size of Deutsche Bank starts showing signs of failure, the world's central banks will do whatever they can to stymie the damage (which would mean even more quantitative easing).
Second, the fact that people are talking about this -- and have been for several months -- means that any future problems won't come as a shock. It's much easier to deal with expected problems than unexpected problems.
Meanwhile, brave contrarians might be drooling over Deutsche Bank. But remember, a low stock price doesn't make a stock undervalued. Just because shares are down 85% doesn't make them a good buy.
Kim Iskyan is the founder of Truewealth Publishing, an independent investment research company based in Singapore. Click here to sign up to receive the Truewealth Asian Investment Daily in your inbox every day, for free.
This article is commentary by an independent contributor. At the time of publication, the author held no positions in the stocks mentioned.