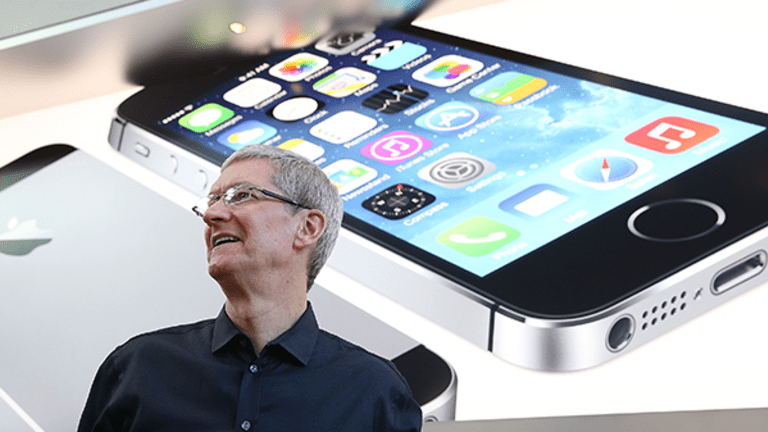 The 3 Biggest Surprises Apple Could Unveil at Its Huge iPhone Event on Tuesday
It may be unlikely, but Apple could bring some long-rumored products back from the dead, like the Apple Car and an Apple-branded flatscreen TV.
Rumors about the coming iPhone 8 have been trickling out practically ever since Apple Inc. (AAPL) - Get Apple Inc. (AAPL) Report released its predecessor, the iPhone 7, last September. 
Thanks to relentless leaking (enough that it elicited disgruntled comments from Apple chief Tim Cook), nearly all of the iPhone 8's expected features have already been divined. The 10th anniversary edition will likely represent a major form-factor change from the iPhone 7, featuring an edge-to-edge organic LED screen for the first time, along with a dual-lens camera, facial recognition technology, wireless charging and a stainless steel case. It'll probably cost more than $1,000.
That's in addition to the belief that Apple will release two other models -- which could be called the iPhone 7 and the iPhone 7S Plus -- that will have minor upgrades compared to prior iterations, but should still feature things like wireless charging, higher-quality cameras and faster processors. 
Separate from the iPhone, Apple is expected to drop an Apple Watch Series 3 that comes with 4G connectivity, enabling it to make phone calls, stream music and send messages without relying on the iPhone. A new Apple TV is also likely, with support for 4K TVs and high dynamic range content, which would put the device on par with other set top and streaming boxes from the likes of Alphabet Inc. (GOOGL) - Get Alphabet Inc. Class A Report , Amazon.com Inc. (AMZN) - Get Amazon.com, Inc. Report and Roku.
Apple and Alphabet are holdings in Jim Cramer's Action Alerts PLUS Charitable Trust Portfolio. Want to be alerted before Cramer buys or sells AAPL or GOOGL? Learn more now.
With all that information out there, it doesn't seem possible that Apple could be keeping any other launches under wraps -- the Apple Watch update was probably being guarded as an unexpected reveal by executives before getting leaked. Still, that hasn't stopped some people from dreaming up pie-in-the-sky scenarios that Apple could maybe somehow have up its sleeve for the Sept. 12 event.
More of What's Trending on TheStreet:
Working Mothers Shouldn't Feel a Twinge of Guilt
1. An Apple-branded TV might be in the works after all 
Expectations for an Apple-branded flatscreen TV have all but dissolved since they first popped up several years ago, even attracting support from legendary investor Carl Icahn, who also backed Apple moving into the electric car market. Apple reportedly considered building a TV with ultra high definition resolution and the ability to make phone calls. Analysts predicted that Apple might introduce revolutionary new features for the TV, like the possibility of a gesture-control system, where your hands would function as the remote. Morgan Stanley even conducted a survey to see how many consumers would be buy an Apple TV. It revealed that 47% of people would buy an Apple-branded TV. 
Drexel Hamilton analyst Brian White believes it's unlikely, but Apple could possibly surprise consumers with their own standalone TV. "They could say 'For a long time you guys thought we might make a TV and here it is," White said. "Something like that I could be surprised." 
Apple is likely sticking to its existing Apple TV product, however. Adding 4K capabilities to the Apple TV isn't revolutionary, but it helps Apple build out any ambitions it might have in offering original and licensed content, which is a much more stable bet than building brand new hardware like a flatscreen TV. Former Apple CEO Steve Jobs shot down those rumors long ago when, during one of his last meetings, he called the TV business "terrible" and said "the margins suck."
2. A better picture of what HomePod and ARKit can do
Apple is more likely to surprise us with some announcements catered around its two newest offerings -- aside from the iPhone 8 -- which are its HomePod smart speakers and ARKit, Apple's augmented reality platform for developers. Apple might give more color into how ARKit and the HomePod can be used, or as White points out, a way to use 3D sensing technology that "we've never thought about." 
"I think where they could surprise us is just offering more insight into what you already know," White explained. "If I were them...I would've held back some of the features or something about [the HomePod] and bring it to the table at this event." 
As Apple celebrates the 10-year anniversary of the launch of its flagship iPhone, a product that arguably kickstarted the smartphone revolution, it's probably also treating the milestone as a moment to reflect on how it plans to carry the iPhone into another decade, along with its complementary products and services. Known as the Apple ecosystem, this includes things like the App Store, the HomePod, the iPad, the MacBook and pretty much any other device or software that works in tandem with the iPhone. 
Apple might make some surprise announcements that give us a picture of how it plans to continue that story of the Apple ecosystem.
"I don't know how material that kind of announcement would be, but that's the way you keep the story going," White said.
3. The return of the Apple Car?
One of those ideas is almost too crazy to be true. Drexel's White said he'd be floored if Apple gave a glimpse into its long-rumored autonomous vehicle efforts, referred to internally as Project Titan. At one point, Apple engineers were working to build an Apple-branded autonomous vehicle, but due to a series of disagreements among top executives, the company scaled back its ambitions to focus solely on the underlying technology used to power self-driving cars.
"I would be surprised if something material with a new story came out, like if all of a sudden they brought a car on stage," White said.
Recent comments from Cook shed some light on what Apple might be thinking relative to the car. He's said previously that autonomous vehicles are the "mother of all" artificial intelligence projects but, on the company's latest earnings call, he made it seem like Apple might be reconsidering building a full-fledged self-driving car.
"The autonomous systems can be used in a variety of ways, and a vehicle is only one," Cook told investors. "There are many different areas of it, and I don't want to go any further than that."
Stick with TheStreet for updated storm coverage as Hurricane Irma moves the market:
Hurricane Irma: What Kind of Insurance Should You Have?
Hurricane Irma Will Make Orange Juice Unaffordable and Destroy Your Grocery Bill
Hurricane Irma: How Floridians Are Using Tech, Apps to Prepare for the Big Storm