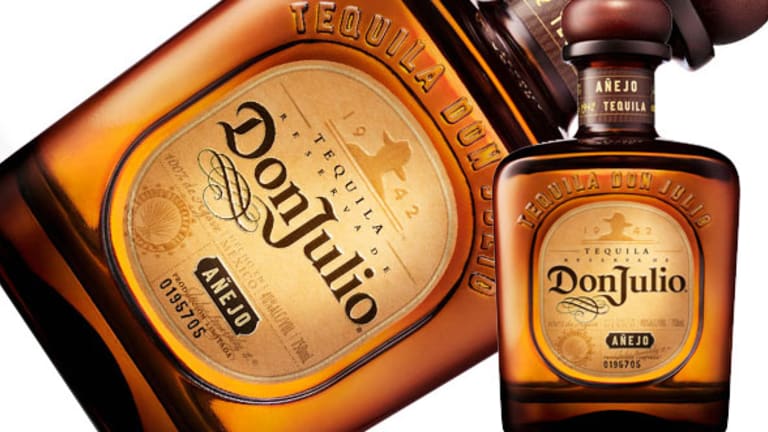 The 10 Best Tequila Bottles in the World
So what's the world's best brand of Tequila? Ranker conducted a poll of 6,025 voters to reveal the Top 10 brands.
So what's the world's best brand of Tequila? Ranker conducted a poll of 6,025 voters to reveal the Top 10 brands.
NEW YORK (TheStreet) -- National Hot Dog Day has come and gone, but lucky for you, National Tequila Day is here. Tequila conjures up thoughts of salty glasses, limes, frozen margaritas, and for some, stories about that one really bad night in college.
Here's a few fun facts about Tequila, courtesy www.NationalDayCalendar.com. Tequila is made from the blue agave plant, and is normally 38% to 40% alcohol - yikes! Tequila is made primarily in the areas near the city of - you guessed it - Tequila, Mexico. More than 300 million blue agave plants are harvested each year. Tequila was first exported to the United States in the late 1800's.
So what's the world's best brand of Tequila? Ranker conducted a poll of 6,025 voters to reveal the Top 10 brands.
10. Cazadores
The brand says it produces Tequila using the original recipe from 1922, but has added a new design on its bottle which reflects its "authenticity, masculinity and independence." The bottle features an elk (or is it a deer? We don't see much of either in Manhattan). He looks thirsty.
9. El Jimador
This brand is the official sponsor for Major League Soccer in the U.S., and its website features which shots you should drink, depending on your favorite team. Please drink and kick responsibly.
8. Milagro
Less than 20 years old, this brand was founded by two men who met in college and decided to start making tequilla. Hmm, what do we think they were drinking when they came up with that idea?
7. Tres Generaciones
Tequila companies like to talk about who created their brands and this one was founded by Don Cenobio Sauza, who apparently "achieved many amazing firsts that would change the tequila industry." He also looked a little bit like Santa Claus.
6. Corralejo
According to this brand's website, Teliqua has therapeutic and relaxing qualities, can reduce blood cholestorol levels and help dissolve fat, and it aids in digestion. I'm sold! Move over, Vitamin Water!
5. Herradura
Okay, at this point I'm ready for a margarita. 2 limes, 2 lemons, 2 ounces of Herradura Blanco Tequilla, 1 ounce of agave nector, 1 ounce of water. On the rocks, with salt. Salud! Women prefer this brand. And this drink.
4. Cabo Wabo
This is a "thick cut" tequila with an agave forward taste. Huh. Not sure what all that means, but the brand's website includes lots of grilling recipes so you both eat and drink your tequila.
3. 1800 Tequila
Distilled with masonry kilns and copper pots, with a crest on the label that reads "Work. Passion. Honesty." It's preferred by Men and Baby Boomers. Maybe the label should be changed to "If I keep drinking this I'll forget how much longer I have to work until I retire."
2. Patron
This brand is a favorite of millennials and Gen Xers. Patron's Facebook page is calling today National Tequila Half-Day, and recommends that we say "adios" to the office early and "hola" to Patron cocktails, which sounds like a pretty good idea.
1. Don Julio
The top spot goes to Don Julio, a brand created by Don Julio Gonzalez, whose life was defined by... drinking? No, passion, according to the company's website. Passion is apparently big in the tequila business. Don Julio claims to be the world's first luxury tequila.