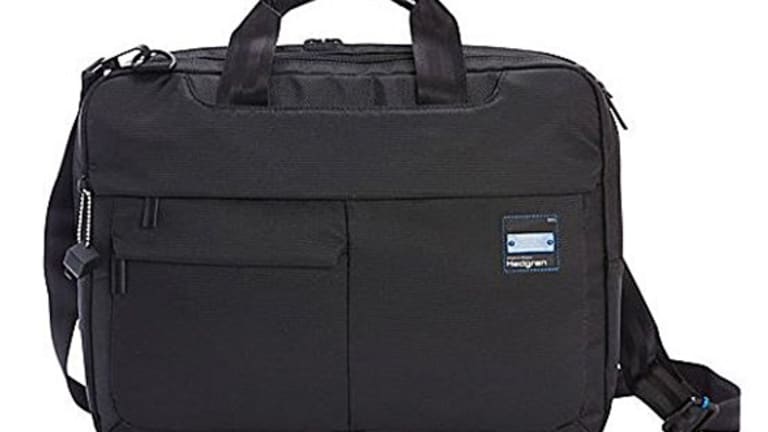 Here Are the 10 Best Man Bags to Carry to Work
Whether in a cubicle or in the field, work bags are becoming a mandatory accessory.
NEW YORK (MainStreet) -- Traveling to the office without a bag is next to impossible for most men. A much-needed arsenal of expensive laptops, smartphones, chargers, headphones and tools are required to get through a busy day. Whether in a cubicle or in the field, work bags are becoming a mandatory accessory.
According to both MarketWatch and research firm The NPD Group, all of this has resulted in a significant jump in sales of men's bags. In 2014 alone, men's bags sales rose 35%.
"Last year's double-digit unit and dollar sales increases clearly make the men's segment the one to watch in 2015," the NPD report reveals. "Men are purchasing more bags than ever before, and wearing bags of all types."
For those who dare to be bold and don the man bag, we have you covered. Or if you're just looking for simple and functional (or maybe something in between), take a look below at our picks of the 10 best bags for men to carry to work.
The Minimalist
Sold on Amazon, the Leather Envelope-Flap Clutch Case is great for the business professional who doesn't want to be weighed down while on the go. The lightweight clutch comes in three colors and can hold any tablet or a notebook up to 15".
Sleek and simple, the clutch also has a soft interior lining to protect your computer or gadget from scratches, as well as a fold over flap to keep your tablet safe within.  A side pocket makes for easy storage of a legal pad, notebook and pen to have handy for note taking. Sold by Mostwill, the leather clutch retails for $97.99 and is the perfect gift for the office professional in your family.


The Professional
Kenneth Cole's classic messenger bag is a top seller on Amazon. Stylish and reliable, the soft full-grain Columbian leather bag can help you keep your laptop, tablets, phones, business cards and credit cards by your side.
Don't let the bag's storage capabilities fool you, however. The Messenger manages to feel and look both sleek and compact, measuring 12" high and 16" wide.
The professional bag also contains a zippered inside pocket, is lined inside with single gusset construction and has a flap-over closure and two front pockets. Complete with a sturdy canvas cotton blend strap for carrying, the messenger bag retails at $87.26.


Back To Black
Great for use in any field, the Hedgren Tax is a bag made for the every man. It's sleek, black, and durable. It can hold your laptop, a lunch, text books and more. The inside features a cool grey lining and a water repellant exterior made with 100% nylon.
The Hedgren also comes with a smart sleeve so you can attach it to carts or other bags during travel and goes with just about any apparel. Sold by popular Belgian manufacturer Hedgren, the bag retails at $123.99.


The Weekender
This army green over-sized duffle tote bag is perfect for just about any occasion that takes you on the road. Use as a carry on or to store a change of clothes for evening events or work dinners, this tote shoulder handbag is well made, perfectly detailed and practical.
Trimmed with leather and featuring a weathered, masculine appearance, the S-Zone bag won't disappoint. The lightweight but durable weekend bag is just $68.88.


Undeniably Sporty
If the casual weekend tote isn't your style, Under Armour makes a great duffle. The Undeniable II is sporty, 100% polyester, ready to battle the elements and easy on the shoulders thanks to its padded strap. The large duffle also has a top grab handle and plenty of pockets for organization.
Available in six colors, the spacious piece is perfect for the man looking to head to a game after work or hitting the road for business. The sporty duffle is reasonably priced at $54.99.


The Grown Up Backpack
Still a fan of the backpack, but afraid it will make you look unprofessional? The Filson Tin Cloth backpack is perfect for any job and won't make you look like you're still living out your college days. It's a bag that can be used every day and is easy to clean.
Major selling points for this bag include its durability, secure buckles and straps, and removable three-pocket snap-closure sleeve for a tablet. The wide straps make it comfortable to wear and round out the classic look. The Filson retails for $260.00 on Amazon.


The Monofold
This bag has character. The Monofold is classic in color, but stylish in appearance with its front buckle closure and zipper pockets. Widely considered one of the best bags for men (editor's note: sentence initially read: Voted one of the best bags for men by Business Insider (http://www.businessinsider.com/stylish-laptop-bags-2015-5), this is a bag that will help keep you prepared with its organization capabilities.
It's water repellant and serves double duty as both a tote bag and a messenger. The interior is lined with mesh pockets and can hold a laptop up to 15" in size. Sold at Need Supply Co., the Monofold is a steal at $68.
The Gearbox Camo
For those on the go and working in the field daily, Oakley's Gearbox Camo makes a bold statement while keeping you on top of your game. It's a bag for the man's man, who isn't looking for fancy, but rather for pure function and longevity.
If the camouflage print is too bold, the Oakley pack is also available in two other colors. Throw your stuff in it and go for just $85.00.


The Cross Body
If you're not into the duffle, tote or backpack, Leabags London makes a great leather cross body satchel. It's made with 100% real buffalo leather and flaunts a vintage appeal. Just the right size, this shoulder bag has several compartments lined with an subdued olive green fabric.
If you're riding any type of bike to work, this is the way to go, as the cross body won't get in your way. Scoring high with consumers, the Leabags is just $87.98 on Amazon.


The Military Messenger
Looking for something extra masculine and rugged, but still professional with a subtle hint of vintage? The Military Messenger is made of with two-tone cotton, guaranteeing its quality. The bag's leather straps allow you to adjust it low to your waist or across your body.
The magnetic buckles are also a plus, as you don't have to fuss over trying to grab something when you need it. The Military Messenger is a great deal at $45.90.

-- Written by By Sarah Luoma

Disclosure: TheStreet has advertisers and partnerships; we may get a share of the revenue from your purchase.