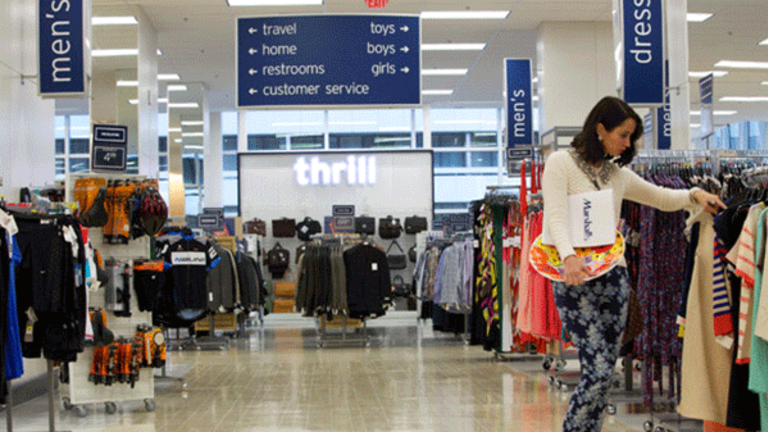 Here Are Black Friday's Biggest Winners and Losers
Although the holiday shopping season has started well, not every retailer was a winner.
Updated from 8:04 a.m. with Cyber Monday sales data
The holiday shopping season has started rather festive for the nation's retailers. 
Online sales for Thanksgiving Day and Black Friday reached $5.27 billion, up a strong 17.7% from last year, according to Adobe. Black Friday set a record by ringing up $3.34 billion in sales, a year-over-year increase of 21.3%.
A large portion of the online shopping was done on mobile devices. Black Friday became the first day in retail history to notch over $1 billion in mobile sales at $1.2 billion, up 33% from a year ago.
The results are based on aggregated and anonymous data from 22.6 billion visits to retail websites.
More than 154 million consumers shopped over Thanksgiving weekend, up from 151 million last year, according to a survey from the National Retail Federation (NRF). "It was a strong weekend for retailers, but an even better weekend for consumers, who took advantage of some really incredible deals," said NRF president and CEO Matthew Shay, who added that traffic to physical stores was "strong."
The survey, which asked 4,330 consumers about Thanksgiving weekend shopping plans, was conducted Nov. 25 and 26.
Additionally, the NRF reiterated its forecast for sales in November and December, excluding autos, gas and restaurant sales, to increase a solid 3.6%, to $655.8 billion. If achieved, that would be significantly higher than the 10-year average gain of 2.5% and slightly above the seven-year average of 3.4% since macroeconomic recovery began in 2009.
The shopping strength appears to have continued into Cyber Monday. About $540 million was spent between midnight and 10 a.m. ET, Adobe said today. It reiterated that sales on Cyber Monday will rise 9.4% from the prior year to $3.36 billion. To date, the holiday shopping season (Nov. 1-27) has totaled $36.5 billion in online revenue, a 7.1% increase from a year ago, with 26 out of 27 days generating over $1 billion in sales.
"I continue to be very optimistic on our position for the holidays," Target (TGT) - Get Target Corporation Report chairman and CEO Brian Cornell told TheStreet on a conference call with reporters Thursday evening. Most encouraging, said Cornell, was that people were shopping multiple departments after scooping up the typical Black Friday doorbuster deals. Cornell's sentiment was echoed by Macy's (M) - Get Macy's Inc Report long-time CEO Terry Lundgren.
"I got to the opening at Herald Square in New York City at 5 p.m. on Thanksgiving and it looked as strong as I have ever seen it at anytime," Lundgren said to TheStreet in a phone interview on Friday.
TheStreet takes a look at some of the biggest winners and losers from the start to the holiday shopping season. 
Winners
J.C. Penney
Absurdly early Thanksgiving Day openings and stores that stayed open around the clock into Black Friday once again worked wonders for J.C. Penney's (JCP) - Get J. C. Penney Company, Inc. Report cash registers.
For the second straight year, J.C. Penney swung open its doors (see video below) at 3 p.m. on Turkey Day at over 1,000 stores nationwide while mall rivals Macy's and Sears (SHLD) stuck to 5 p.m. and 6 p.m. respective Black Friday openings. J.C. Penney's stores stayed open through the night and into Black Friday morning, too.
Similar to last year, J.C. Penney was rewarded for its decision to open early and work late with lines snaking around the insides of its stores across the country. When finally inside, shoppers frantically scooped up $20 St. John's Bay puffer jackets, discounted home goods, $19.99 boots and $9 sweaters.
"There are about 600 people waiting outside, more than last year," said a J.C. Penney associate who worked the first shift of the day, and whom TheStreet interviewed inside a Long Island, N.Y., store ahead of the Thanksgiving opening. 
Said J.C. Penney chairman and CEO Marvin Ellison in a statement on Friday, "It's clear that customers made J.C. Penney their first choice for Black Friday shopping this year and in fact, we saw record-breaking online and mobile traffic with no service interruptions." He added, "the holiday season is just beginning, but we are highly encouraged that our customer feels confident to shop."
Without question, J.C. Penney has pulled out all the stops to win the holiday season, going so far as to replace thousands of antiquated cash registers in order to get shoppers checked out faster. So far, the efforts have paid dividends.
Target
People clamoring for Apple (AAPL) - Get Apple Inc. Report iPads, Apple Watches, hoverboards and giant stuffed bears helped Target get off to a solid start for the holiday shopping season.
The discounter said Friday its holiday season got off to a "strong" start, with a record-breaking day for its website on Thanksgiving. Traffic and sales beat Cyber Monday last year, according to Target.
CEO Cornell cautioned, however, that it remains very early in the holiday season for Target.
Target will try to keep the momentum going by offering a rare 15% off discount online and in stores on most products Sunday and Monday. 
Apple
Per the usual, many kids will find Apple products sitting under the Christmas tree.
The tech giant saw iPads and the MacBook Air among the top five products selling online on Black Friday, according to Adobe. Apple's Beats headphone brand saw its Solo line as one of the items most likely to be out of stock, Adobe noted. 
Apple is a holding in Jim Cramer's Action Alerts PLUS Charitable Trust Portfolio. Want to be alerted before Cramer buys or sells AAPL? Learn more now.
Sales were probably spurred by a litany of discounts on Apple's older products.  
Apple offered $50 gift cards with the purchase of an iPhone, $100 gift cards with iPads, $25 gift cards with Apple Watch Series 1 or Apple TV, and $150 gift cards for products bought on its site. It didn't offer gift cards for newer products such as the iPhone 7, Apple Watch Series 2 or the new MacBook Pro.
Meanwhile, Best Buy (BBY) - Get Best Buy Co., Inc. Report  offered $200 off many Macs, a $250 Best Buy gift card with the iPhone 7, and $125 off a 9.7-inch iPad Pro. Target sold the Apple Watch Series 1 for 27% off, offered 20% off iPods, 25% off Apple TVs, and steep discounts on iPads and Beats headphones.
Target's Cornell said Apple products such as the Apple Watch Series 1 were one the top early sellers by Thanksgiving night. 
Videogame Industry
The new mini Nintendo classic console wasn't the only gaming platform to be in strong demand by holiday shoppers. 
According to Adobe, Sony's (SNE) - Get Sony Corp. Report Playstation virtual reality bundle pack, Playstation 4 "Call of Duty Black Ops" bundle pack, the Nintendo 3DS XL, and the Microsoft (MSFT) - Get Microsoft Corporation Report Xbox One "S Madden NFL 2017" bundle pack were some of the products most likely to run of stock soon. For the entire holiday shopping season so far, the Playstation 4 is the best-selling videogame console, followed by the Xbox One. Nintendo's Pokemon Sun and Moon and Activision Blizzard's (ATVI) - Get Activision Blizzard, Inc. Report "Call of Duty" are the hottest-selling games. 
The rush of people buying consoles this holiday season may give publishers such as Electronic Arts (EA) - Get Electronic Arts Inc. Report and Activision Blizzard a sales boost in 2017 as gamers look to buy new games and download more content online for the titles they already own. 
The Big Makers of Toys
While upstart toymaker Spin Master has seen their creation Hatchimals become the must-have toy for the holidays, don't count out the big names such as Hasbro (HAS) - Get Hasbro, Inc. Report and Mattel (MAT) - Get Mattel, Inc. Report .
Hasbro's Nerf gun line and Mattel's Barbie Dreamhouse have been among the five best-selling toys online so far this holiday season, says Adobe.   
Toys "R" Us Freehold, N.J., store manager Dean Sirinakis told TheStreet on Black Friday the best-selling toys this holiday season have been Mattel's Fisher Price Think & Learn Code-a-Pillar and the company's Power Wheels products, while Barbie sales are doing only "OK."
He said sales of Hasbro's Trolls are doing well "because of the movie." DreamWorks Animation's (DWA) "Trolls" was released on Nov. 4.
Disney
Another Disney (DIS) - Get Walt Disney Company Report movie blockbuster has been born. 
"Moana" is shaping up to be Thanksgiving weekend's undeniable box office winner after hauling in $21.8 million at 3,875 locations on Black Friday. Since being released on Nov. 22, Moana's ticket sales estimate stands at just over $80 million. That puts it in rarified air: in 2013 on Black Friday, Disney's "Frozen" landed its best single day with $26.8 million on its way to a record $93.6 million five-day Thanksgiving opening.
The strength of the movie has filtered its way down Disney's hundreds of retail stores. 
Disney said it saw "strong" traffic at its stores from their 8 p.m. opening on Thanksgiving Day through 10 p.m. 
"The impressive box office results of the newly released "Moana" are driving interest for this property at Disney stores--we're seeing a strong lift across most categories, especially our Singing Moana doll and Pua pig plush which are flying off the shelves," said Elissa Margolis, senior vice president of Disney Store North America via email. 
U.S. Consumers
Retailers weren't shy in offering better discounts on many products this Black Friday and into the weekend compared to last year in a bid to take advantage of more confident, higher-earning U.S. consumers. Hence, there were some great deals to be had in the malls and the discount stores. 
The NRF estimates that 36% of shoppers it surveyed were able to buy something on discount, up from 11% a year ago. 
Some of the highest price drops were seen for tablets, with an average discount of 25.4% according to Adobe. TVs saw an average discount of 23.2%, while toys and computers were slashed by an average of 15% and 11.6%, respectively. Department stores such as J.C. Penney extended sub-$10 price points on many winter clothing items through the weekend.
Said Target CEO Cornell to TheStreet, "Sure, I would like to see 3% GDP growth but food prices and gas prices are down--it's a great time to be a consumer, which means it's a great time to be a retailer."
Pointed out Macy's CEO Terry Lundgren, "We and our vendor partners knew we had to have very sharp prices this holiday season, so we worked with our partners to get those very sharp prices--we wanted their best product at very, very good prices."
Losers
Macy's
The storied department store certainly got its fair share of business on Thanksgiving Day through the weekend, but there may be some concern as to how much. 
Macy's website experienced service disruptions on Black Friday due to an influx of traffic, which may have sent shoppers elsewhere for holiday deals. Some visitors to Macy's online business were directed to a page citing "heavier traffic than normal," with a countdown clock telling shoppers when they could return to the main site.
A Macy's spokeswoman said via email Sunday that the issues related to its website were resolved on Friday. Frequent visits to Macy's site by TheStreet since Black Friday haven't uncovered any disruptions, either. 
Meanwhile, Macy's nemesis J.C. Penney experienced robust crowds at its second consecutive 3 p.m. Thanksgiving Day opening. That strong response could have hurt Macy's sales. 
Not everyone was convinced on that, however.
"I think [us opening at 5 p.m.] all worked out best for our employees, and it appears to be that way for our customers as well," said Macy's CEO Lundgren in a phone interview with TheStreet on Black Friday. 
Sears Holdings
The struggling retailer may have forgotten to tell consumers it was open on Thanksgiving Day and through the weekend--hardly anyone showed up to the stores.
Kmart--which has opened for over 20 straight years on Thanksgiving Day--saw sparse crowds at several locations TheStreet toured in Long Island, N.Y. Most folks in the store were picking up last-minute items for their Thanksgiving Day dinner table, rather than the buy-one-get-one-free coats and sweaters Kmart had on offer. Kmart's electronics and toy sections were devoid of the deal-seekers that typically come out in force on Black Friday.
"Walmart (WMT) - Get Walmart Inc. Report has better deals," said one shopper TheStreet spoke with while waiting in line for the opening of a Kmart store. Another said she thought Best Buy and Target had better selections than Kmart in electronics and toys. Kmart's traffic remained weak straight on through the weekend, per TheStreet's store visits.  
Traffic wasn't much better over the four-day holiday weekend at Sears stores, as consumers snapped up better deals on apparel at J.C. Penney and Macy's. 
If this was Sears' final Black Friday, it certainly didn't make it one to remember.
Abercrombie & Fitch
The company came out swinging with a 50% off the entire store promotion at its Abercrombie & Fitch chain on Thanksgiving Day. Hollister offered 40% off the entire store. Each chain maintained those promotions on Black Friday. Both then switched to 40% off the entire store promotions on Saturday. Online, each chain was generally 50% off everything on the weekend.
While traffic looked OK at Hollister stores TheStreet visited in Long Island, N.Y., throughout the four-day weekend--continuing the brand's comeback amid stronger styles and prices--the Abercrombie division was lacking in the traffic department. TheStreet's U.K. office also noted (see picture below) weak traffic at Abercrombie's flagship store in the area on Black Friday.
Ultimately, both divisions may have been hurt during the kick-off to the holiday shopping season by several things. 
First, department store such as J.C. Penney and Macy's unleashed some aggressive promotions on winter apparel and denim for young adults. Secondarily, Aeropostale was holding store closing sales--offering up to 80% off on some things--at many of its locations. And lastly, fast retailers such as H&M and Forever 21 offered very sharp prices on basic apparel--the former also debuted a sharply priced special Black Friday collection.   
Action Alerts PLUS, which Cramer co-manages as a charitable trust, is long AAPL.