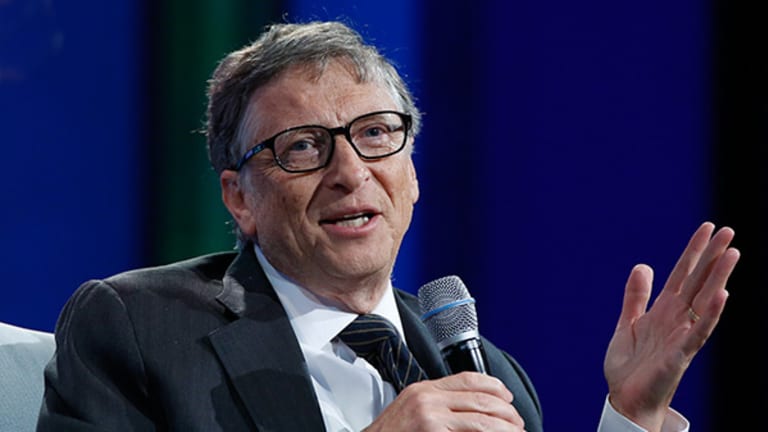 Here Are Bill Gates' 4 Highest-Yielding Dividend Stocks
See the richest man in the world's favorite income plays.
As investors, we all seek access to the best minds, the most creative thinkers, people who have had repeated success. There is no disputing that Bill Gates is one of the world's most successful people, so we looked at the portfolio of the Gates Foundation Trust for some clues. You can read analysis on all of Bill Gates' dividend stocks here.
We scoured the portfolio thoroughly and came up with four top dividend-paying stocks by yield that are especially worthy of consideration. Some are included already on our Blue-Chip Dividend list or they are Dividend Aristocrats. Each company is No. 1 in its business.
1. Crown Castle International (CCI) - Get Free Report
This company has a series of 39,600 wireless communication towers in the U.S. and 1,700 towers in Australia. In urban areas, the company leases rooftops everywhere they can be found and provides a variety of antenna and cell network services.
Crown Castle is the largest tower operator in the industry with an 18.5% market share. It has 40% more towers than it nearest rival, America Tower. The company's largest customer is Verizon Wireless (which has only 1,400 of its own towers).
If you are concerned about new entrants, you shouldn't be. According to StatisticBrain.com, the odds of getting a new tower build approved are 0.8% and then each one costs $150 million.
When the company was founded back in 1994, the initial capital cost and relatively limited wireless usage made the cellular tower business attractive only to long-term dreamers. Today, these towers and their rooftop partners are the gatekeepers of wireless communication. They generate cash like an ATM with a high degree of predictability and low level of risk.
The current annual payout of $3.54 per share offers an above average yield of 3.8%. During the high-growth, capital spending-intense period of previous decades, the payout ratio ranged between 2%-8%. But with some leveling out of spending, things are changing. The current payout has risen to 82% of EPS, indicating the rate of future payouts is likely to be less robust.
2. Caterpillar (CAT) - Get Free Report
If a task involves anything to do with construction or mining, chances are Caterpillar is involved. It is the world's leading maker of construction equipment. It also makes diesel and natural gas engines, industrial gas turbines and diesel-electric locomotives.
The company's huge $47 billion in global revenue is organized based on end-user markets. The Construction Industry segment (35% of sales) was the cornerstone of the company's 1925 founding in Peoria, Ill.
Energy and Transportation segments (38%) along with the Resources (16%) are geared to both the energy and mining industries. The Financial segment (6%) provides financing to customers for the company's heavy machinery products as well as other related financial services. The remaining diverse business represents the rest of revenue (5%).
Other manufacturers in the construction and mining equipment market include Volvo (Sweden), CNH Industrial (U.K.), Komatsu (Japan), and Hitachi (Japan), to list just a few.
Each of these companies has a strong market presence in its home region, but only Caterpillar is present virtually everywhere. In addition, having CAT Financial as a partner aids sales efforts, especially on the major capital equipment that Caterpillar specializes in.
The last few years the company's global success has been challenged by slow economic conditions and the translation penalty from a strengthening of the dollar. Until commodity markets sustainably recover, demand will likely remain depressed..
The current $3.08 per share payout offers investors an above average 3.7% yield. Despite the cyclical nature of operations, the company has increased its dividend for more than 20 years. Caterpillar's dividend has compounded by 12.4% per year over the last decade and 11.3% over the past five years.
The payout ratio is a moderate 52% of free cash flow, which is about average for a heavy equipment industry company and adequate to provide excess capital beyond operational needs. Caterpillar held its dividend flat in June but could bump up its payment later this year to keep its growth streak alive.
3. United Parcel Service (UPS) - Get Free Report
UPS has been around as long as the automobile. Or in this case we should say, the delivery truck. Founded in 1907, UPS is the biggest package delivery company worldwide.
However, there is more to UPS than just package delivery. It provides a multitude of technology-driven logistics services for its corporate customers that are designed to create savings in warehousing and delivery costs. In a world of global trade, companies like UPS play a key role.
UPS groups it business into three segments based on location. US Domestic Package is the big gun at 63% of revenues and profits. International contributes 21% and 28%, respectively. The balance comes from UPS Logistics Solutions. This is where UPS really cements its relationship with corporate customers.
Since the dawn of the consumer internet, e-commerce has been growing at big double-digit rates, taking market share from old-time traditional retailers. In the beginning, online retailing was nothing more than a novelty for a few geeks. These days e-commerce is no longer an arrogant little upstart. Now it is very much a powerful force.
According to the U.S. Census Bureau, e-commerce accounts for nearly 10% of retail sales. That totals $350 billion, good for a gain of 15% in 2015. UPS is on record forecasting this total will double by 2020. Online purchases have now reached the tipping point. Giant retailers such as Macy's, Kohl's and Target are increasingly reaching out to customers on their smartphone's, tablets and laptops to stay relevant. 
UPS may be the world's largest package shipping company, but it's not the only one. Federal Express and the United States Postal Service are noble participants in the battle. There are also numerous regional and local delivery companies that play a role.
UPS has been around for over a century and made its public ownership debut in 1999 when it paid its first dividend. It hasn't missed a quarterly payout since, growing dividends at a compound annual rate of 8.3% over the past decade and 9.2% over the past five years.
The current $3.12 per share payout offers an above-average 2.8% yield. The quarterly payout was last increased 6.8% in November 2015. The company's habit is to make increases annually in November. The current payout ratio at 61% of free cash flow is about average for a major corporation such as UPS. This means the company should easily finance operations while providing a reasonable income for shareholders.
4. Wal-Mart Stores (WMT) - Get Free Report
The distinction of the world's largest retailer goes to Wal-Mart Stores with its 11,000-plus stores, $480 billion-plus in sales and $200 billion in assets. No one else in the public record comes anywhere close to matching what Sam Walton founded in July 1962.
The company behind the Walmart retail chain employs a staggering 2.3 million worldwide, making it the biggest single employer anywhere. The shift to online shopping has somewhat slowed Wal-Mart, but it is adapting with its own internet order and shipping capabilities.
Wal-Mart has never been shy about using its leverage to force the lowest prices from suppliers. The company maintains the respect of its many suppliers by guaranteeing prompt and timely payment and providing access to millions of consumers. Low prices and Wal-Mart go hand-in-hand. The company nurtures this low-cost image and it helps keep loyal customers coming back again and again.
The days of rapid growth are well behind the company as the market for big-box stores is largely saturated. Over the past few years, earnings per share have been growing less than 1%, but that does not mean an end to dividends or growth. Wal-Mart has $8 billion in its bank account, and debt is a mere 34% of total capital. The company's payout ratio is also healthy, providing some flexibility.
The current $2.00 per share annual payout offers a yield of 2.8%. Wal-Mart is a case where taking a bit lower current yield may work out better in the long run. Here is why. Dividend growth has compounded at 12.6% annually over the past decade and 10.1% over the past five years. Due to the flattening in earnings just noted, the payout ratio has inched up. But after starting from 26% in 2011, it is still only 47%. If not needed for capital expansion, management will be under pressure to return more cash to shareholders.
This article is commentary by an independent contributor. At the time of publication, the author was long CAT.