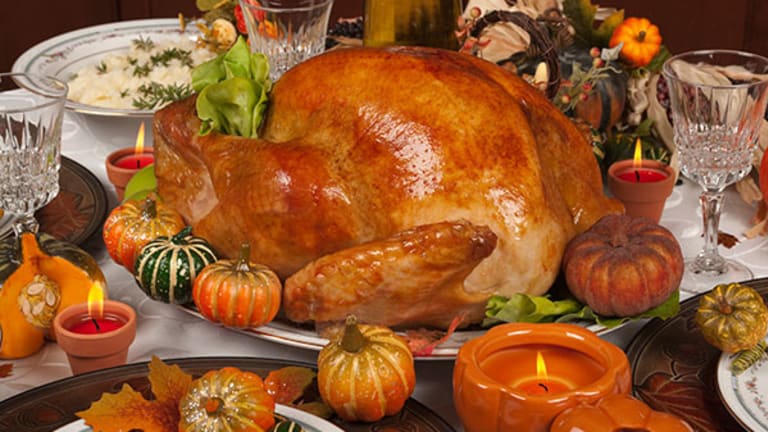 Here are 6 Things to Help Make Your Thanksgiving Easier
These time-saving kitchen devices will let you spend more time with loved ones.
Thanksgiving, for hosts and hostesses, can be an incredibly hectic and stressful time. But this year, the November holiday can be a little easier with a few time-saving gadgets.
From savvy cooking apps to high-tech kitchen supplies, affordable Thanksgiving help is easy to find and can carve out some time spent in kitchen so you can spend it with friends and family.
Thanksgiving is a hectic holiday for the cooks, but cutting down on measuring cups, mixing bowls and cocktail creations can make for a more relaxing holiday, no matter who's entertaining.
Here are six helpful technology-based devices to get your Thanksgiving efficiently underway:
The Perfect Drink Scale
Cost: $49.99
When it comes to being an at-home bartender, forget the sloppy measuring when you're making your favorite holiday cocktails this year. With The Perfect Drink Scale, you simply need your smartphone -- no fumbling around with jiggers.
With this device, available at Amazon, you simply rest your glass on the scale and pour your ingredients to perfection. With each pour, your smartphone will tell you when to stop. And if you accidentally pour too much, it will adjust for the other ingredients. Plus, the accompanying app provides more than 100 drink recipes.

How to Cook Everything App
Cost: $9.99
Among the highest rated cooking apps, How to Cook Everything from New York Times columnist Mark Bittman has about 2,000 recipes including more than 400 illustrations.
For Thanksgiving newbies, this app can serve as a speedy go-to instructional on how to cook traditional staples like a pro.

Buy How to Cook Everything on Amazon.

Dual Digital Turkey Thermometer
Cost: $34.36
More than your average digital meat thermometer, the Williams-Sonoma Dual Probe Thermometer can measure two areas of your turkey at once, ensuring that no part is underdone or overdone.
You can also monitor two separate dishes at once, streamlining the baking process with one smart device. The thermometer has a digital display and gives three alarms -- pre-alert, alert and overdone - so you can easily monitor your cooking.
Drop Kitchen Scale
Cost: $69.99
Minimize your time in the kitchen by avoiding all those measuring cups. The Drop Kitchen Scale one-stop scale, compatible with iPhones and iPad devices uses "smart-scaling" to follow recipe instructions.
By using just one bowl instead of several, you can reduce cleanup time as well as measuring time. Reviewers hail this device as compact and easy-to-use "great buy." The accompanying app includes hundreds of interactive recipes for a range of cooking levels.

Buy the Drop Kitchen Scale on Amazon.

AnyList App
Cost: Free, $19.95 for Premium Subscription
The AnyList App can be a major time-saver when planning and preparing your Thanksgiving meal. You can quickly create organize lists as the app automatically categorizes items for faster.
Better yet, the app syncs with family and friends devices so you can instantly share lists and recruit grocery shopping help.
The Perfect Carving Set
Cost: $45
When your perfectly cooked turkey emerges from the oven, the last thing you want is to butcher the servings with a sloppy carving.
The Perfect Carving Set
comes complete with a meat grip pad -- which catches all the meat juices -- as well as an 8-inch carving knife with a 7.5-inch carving fork. The knife, which stores compactly with the fork thanks to magnetic handles, is made from Japanese stainless steel.
This article is commentary by an independent contributor. At the time of publication, the author held no positions in the stocks mentioned.