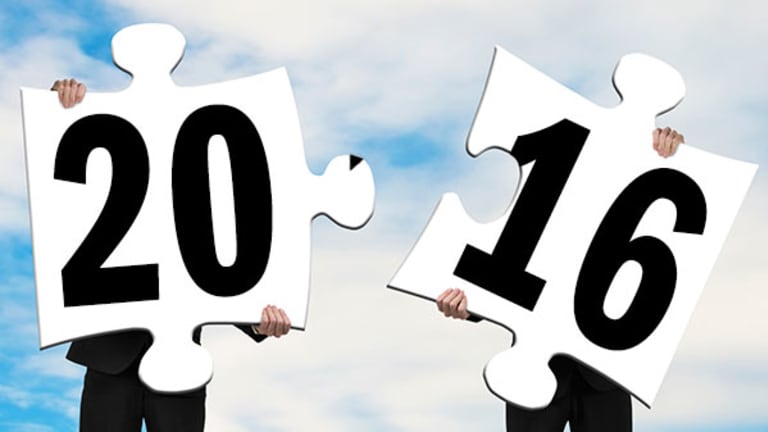 Here Are 6 Mega M&A Deals From 2016 -- Are There More to Come?
Market volatility put a major damper on corporate dealmaking in the first quarter, but some really big deals still managed to happen.
Editors' pick: Originally published April 1.
Market volatility in January put a major damper on corporate dealmaking in the first quarter, quieting the mergers-and-acquisitions frenzy seen over the past two years.
Following a record two years, global dealmaking volume totaled $718 billion at quarter's end, down 16% compared with the first three months of 2015 and down 55% compared with the fourth quarter of last year -- the largest quarter for M&A since 1980, according to Thomson Reuters Deal Intelligence. At quarter's end, there were 9,247deals globally, down 10% from last year's first quarter.
Acquisitions of U.S. companies totaled $261 billion, down 34% from the first quarter of last year.
Last year's historic global $4.76 trillion in deals was fueled by mega deals. More than 70 deals (a total of $1.92 trillion) entailed more than $10 billion each -- the most in at least the past 20 years, according to Thomson.
The M&A environment is "strikingly different than last year," Matthew Toole, director of Deals Intelligence at Thomson Reuters, said in a phone interview. Toole noted changes in deal pace, deal size, sector breakdown and regional breakdown in the first quarter.
Market volatility, along with a troubling macro environment -- from China to lower commodities prices to terrorism to the election year cycle -- is fueling a lot of uncertainty and slowing the pace of activity. "I wouldn't be surprised to see continued muted deal-making activity" in 2016, Toole said.
Additionally, many companies are either working to complete or digesting their recent acquisitions. Last year, large-scale deals occurred across industries, and as those corporate mergers reshape how each industry looks, it wouldn't be surprising to see M&A activity take a breather, Toole said.
This year, Thomson Reuters noted that just four of the 12 sectors it follows saw year-over-year gains in M&A activity. Last year, health care was the top sector for deals. This year, thanks to lower energy and commodity prices, the resources, industrials, materials and energy and power sectors have been the major ones to experience M&A. "We have seen quite a bit of activity this year in all those spaces," Toole said.
Here are six of the biggest announced deals to date in 2016, according to data provided by The Deal, which is owned by TheStreet. (We did not include Honeywell's (HON) - Get Honeywell International Inc. Reportwithdrawn $90 billion offer for United Technologies (UTX) - Get n.a. Report .)
Valspar
Sherwin-Williams (SHW) - Get Sherwin-Williams Company Report said on March 20 that it would acquire Valspar (VAL) - Get Valaris Ltd. Report for a total enterprise value of $11.3 billion. Sherwin-Williams will pay Valspar shareholders $113 per share, all in cash. The deal is expected to be completed in early 2017.
The two paint companies have "highly complementary paints and coatings offerings," according to the press release announcing the merger.
With roughly 58,000 employees, the combined company is expected to have revenue of approximately $15.6 billion and an adjusted EBITDA (earnings before interest, taxes, depreciation and amortization) of $2.8 billion, according to the release.
By putting another brand under its umbrella, the merger will help Sherwin-Williams get better access to consumer customers, such as do-it-yourselfers who purchase their paint and supplies at big-box retailers like Lowe's (LOW) - Get Lowe's Companies, Inc. Report , where Valspar is a big seller. Sherwin-Williams is typically found in more independent, contractor-oriented stores, The Wall Street Journal noted. The deal will also help it expand abroad since Valspar has a presence in Asia and Europe, the Journal said.
"Valspar is an excellent strategic fit with Sherwin-Williams," Sherwin-Williams CEO John Morikis said at the time of the announcement. "The combination expands our brand portfolio and customer relationships in North America, significantly strengthens our Global Finishes business, and extends our capabilities into new geographies and applications, including a scale platform to grow in Asia-Pacific and EMEA. Customers of both companies will benefit from our increased product range, enhanced technology and innovation capabilities, and the transaction's clearly defined cost synergies."
Valspar shares are up 27.6% since the day prior to the deal announcement. Sherwin-Williams shares are down 1.4%.
ITC Holdings
Canadian electric and gas utility Fortis plans to acquire electric power line company ITC Holdings (ITC) , for $11.3 billion, the companies jointly announced in early February. Fortis will pay ITC shareholders $44.90 per share in cash and stock ($22.57 in cash and 0.752 Fortis shares per ITC share). The deal is expected to be completed by the end of the year.
ITC owns and operates high-voltage transmission facilities in Michigan, Iowa, Minnesota, Illinois, Missouri, Kansas and Oklahoma, according to the press release announcing the deal. The Novi, Mich.-based utility serves a combined peak load of more than 26,000 megawatts along approximately 15,600 miles of transmission line, the companies said.
The deal will make Fortis, which already serves approximately 3 million customers across Canada and the U.S., one of the top 15 North American public utilities ranked by enterprise value (roughly $30 billion after the acquisition), the press release said.
"The predictable returns of a transmission business, with no commodity or fuel exposure, are very compelling," Fortis CEO Barry Perry said in the release. "We take a very disciplined approach to acquisitions and are focused on businesses that have experienced management teams, provide geographic diversity in favorable economic regions, and possess significant growth prospects."
ITC will benefit from "a broader platform that will support its mission to modernize electrical infrastructure in the U.S.," the release said.
However, shares of ITC sagged nearly 6% after the announcement, despite U.S. utilities spiking since August of last year due to the potential for takeovers. Bloomberg suggested that the reason ITC shares fell was that the market was hoping for a higher price tag. ITC shares have rebounded nearly 13.3%, even with the stock slide on the day the deal was announced.
Shares of Fortis are traded on the Toronto Stock Exchange. (The company plans to also list on the New York Stock Exchange once the deal is completed.)
Columbia Pipeline Group

TransCanada (TRP) - Get TC Energy Corporation Report , the Canadian energy company behind the controversial Keystone XL oil pipeline blocked by President Obama in late 2015, is acquiring Columbia Pipeline (CPGX) for $13 billion, inclusive of debt.
The cash and debt transaction, announced March 17, is expected to be completed in the second half of 2016. Columbia shareholders will receive $25.50 per common share, an 11% premium based on Columbia's closing stock price the day before the deal was announced.
The acquisition will be TransCanada's biggest-ever deal and will expand the Canadian company's reach in the U.S., according to Bloomberg.
"The deal helps TransCanada grow its largest business, gas pipelines, as it faces challenges building new oil conduits. The acquisition includes more than 15,000 miles (24,000 kilometers) of gas pipelines as well as underground storage and processing facilities owned and operated by Columbia," Bloomberg said.
Russ Girling, TransCanada's president and CEO said the acquisition "represents a rare opportunity to invest in an extensive, competitively-positioned, growing network of regulated natural gas pipeline and storage assets in the Marcellus and Utica shale gas regions."
Shares of Columbia Pipeline are up 9.1% since the deal's announcement. TransCanada's stock is up 7.1%.
Starwood Hotels
Until yesterday afternoon, Starwood Hotels & Resorts Worldwide (HOT)  was tied up in a good old bidding war.
In November, the Stamford, Conn.-based hotel chain had agreed to be acquired by Marriott International (MAR) - Get Marriott International, Inc. Class A Report for $12.2 billion in cash and stock. However, a competing bid emerged -- and now has been withdrawn.
Starwood announced that on March 10 that it received an unsolicited acquisition proposal from a "consortium of companies" to acquire all shares of common stock for $76 a share, which was then upped to $78 a share a few days later. The consortium was later identified as a group of investors led by Anbang Insurance Group, a Chinese holding company with insurance, banking and financial services businesses under its umbrella, which also bought the iconic Waldorf Astoria Hotel in 2014. The group also included Primavera Capital Management and J.C. Flowers.
On March 21, Starwood and Marriott signed an amended merger agreement upping the price tag to $79.53 per share, or $13.6 billion.
But Anbang and crew were not to be deterred. Earlier this week, Starwood said it received a "non-binding proposal" from the consortium that was determined to be likely leading to a "superior proposal." As a result, Starwood formally engaged in discussions with the investor group, which led to an increased purchase price of $82.75 a share in cash, or $14 billion. In addition, Starwood shareholders were entitled to receive $5.91 a share from the spinoff of Starwood's vacation ownership business, Vistana Signature Experiences. The combined current value of the offer totaled $88.66 per share.
Starwood shares are up 21% over the past month. Marriott shares are up 4.5% in the same time period.
Late Thursday, the bidding war ended, leaving Marriott in the clear to continue its takeover of Starwood but sending shares of both stocks tumbling in after-market trading. According to The Wall Street Journal, the Chinese firm has decided to withdraw its $14 billion proposed takeover bid.
Shareholders are set to vote on the Marriott-Starwood merger on April 8. Starwood had said in the March 28 release that it continued to recommend to shareholders to approve Starwood's merger to Marriott.
Earlier this week, Bloomberg Insider analyst Margaret Huang said any short-term value from an Anbang/Starwood merger would be overshadowed by the long-term value of a Marriott tie-up. "Anbang's all-cash offer for Starwood may appeal to the short-term investors, yet the long-term growth potential with Marriot offers Starwood the resources it needs to accelerate its growth," wrote Huang. "For both [Starwood and Marriott], the combined entity would likely broaden their networks, bolster their brands, enhance their pricing power and reduce their costs. Anbang would face obstacles to achieve these benefits."
Johnson Controls
Moving to the industrials sector, Johnson Controls (JCI) - Get Johnson Controls International plc Reportis merging with Tyco International (TYC) , an Ireland-based fire and security provider. The two companies announced their merger agreement on Jan. 25 for approximately $14.35 billion in cash and stock.
As another example of the increasing amount of corporate tax inversions within the M&A world, the deal has received criticism.
The combined company brings together "technology and service capabilities across controls, fire, security, HVAC, power solutions and energy storage, to serve various end-markets including large institutions, commercial buildings, retail, industrial, small business and residential," while providing opportunities for cross-selling and expanding the global reach for the businesses, the two companies said in a joint press release.
"We believe this transaction will allow us to better capture opportunities created by increased connectivity in homes, buildings and cities," Tyco CEO George Oliver said in the release.
While the businesses will be combined under Tyco International, once the merger is completed the company will be renamed Johnson Controls plc. It will continue to trade under the "JCI" ticker but will be headquartered in Cork, Ireland. Operational headquarters will remain in Milwaukee, where Johnson Controls is based. Johnson Controls shareholders will own approximately 56% of the equity of the combined company, while Tyco shareholders will own approximately 44%.
Before the merger completion, Tyco will effect a reverse stock split so that Tyco shareholders will receive a fixed exchange ratio of 0.9550 shares for each of their existing Tyco shares, the companies said. Johnson Controls shareholders have the choice in receiving either one share of the combined company for each of their Johnson Controls shares or cash equal to $34.88 per share.
Once the merger is completed, Johnson Controls will carry out its plan to spin off its automotive experience segment, which will be called Adient, a move that will further benefit shareholders.
Johnson Controls shares have risen 10.3% since the merger was announced. Tyco's shares on the NYSE are also up. The stock has risen 20% since the deal's announcement, with an 11.6% jump on the day of the announcement.
Baxalta
After a long uphill battle, rare disease drugmaker Shire (SHPG) - Get Shire PLC Sponsored ADR Report is buying rival biopharmaceutical spin off, Baxalta (BXLT) , for $32 billion, or $45.57 per share.
The cash and stock transaction, announced on Jan. 11, offers Baxalta shareholders $18 in cash and 0.1482 Shire ADS per Baxalta share.
The merger is the biggest deal for a U.S. target to date, following Honeywell's withdrawn $90-billion offer for United Technologies.
"This proposed combination allows us to realize our vision of building the leading biotechnology company focused on rare diseases. Together, we will have leadership positions in multiple, high-value franchises and become the clear partner of choice in rare diseases," Flemming Omskov, Shire's CEO, said in the joint press release.
Baxalta hasn't had much time as an independent company. Baxter International (BAX) - Get Baxter International Inc. Report spun off its drug division last year as Baxalta, and it was a big win for shareholders, according to TheStreet's Jim Cramer. The company was soon in talks to be acquired.
Shire made a hostile all-stock bid for Baxalta in July 2015, just weeks after the spinoff, but the unwilling target had "ironclad takeover defenses," according to The Wall Street Journal. Shire added cash to the deal, which is what Baxalta wanted and talks ensued, the article said.
Pending shareholder approval, the deal is expected to be completed mid-2016.
Baxalta is currently a $27 billion market cap company. Its shares are up 1.1% since the merger announcement. Shares of Shire on the Nasdaq are down 7.2%.