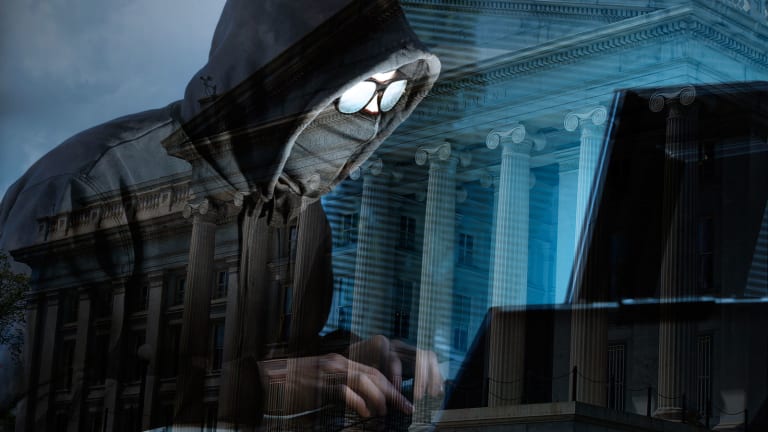 Publish date:
Here Are 4 Ways to Profit From the Growing Need for Cybersecurity
The battlefield of the 21st century is cyberspace. Check out these four powerful investments in this booming industry.
The battlefield of the 21st century is cyberspace. Check out these four powerful investments in this booming industry.
It is clear from the daily headlines that the U.S. is under attack but not by conventional military forces.
Shadowy cyberarmies are hacking into supposedly secure systems to steal secrets from corporations and intelligence agencies.
Perhaps even worse, the presidential election showed that foreign powers such as Russia have the wherewithal and the will to compromise and hack our electoral process. This war is being fought not with bullets but with bits and bytes.
As a global cyberwar rages, the following three companies and one exchange-traded fund are well positioned to reap outsize profits.
These plays aren't among the familiar technology names routinely covered on CNBC. Their valuations range from mid- to small-capitalization, and they tend to fly under the radar.
This is the time to scoop up these investments, as corporations and governments plow ever-greater sums into detecting and deterring cyberattacks. All four are poised for growth.
1. Booz Allen Hamilton (BAH) - Get Booz Allen Hamilton Holding Corporation Class A Report
This company provides management consulting and technology solutions for private- and public-sector entities in the U.S. and worldwide.
Booz Allen Hamilton is sometimes associated with the scandal over Edward Snowden, the contractor who briefly worked at the firm and then leaked U.S. government secrets. He is in Russia, which granted him asylum, and Booz Allen Hamilton has moved on from the incident.
The company's forte is to help clients sift through a torrent of data and to provide interpretive analysis for decisive action. The company's capabilities extend to cloud-based storage, and its clients operate in the niches of command, communications, control, intelligence, reconnaissance and surveillance.
Booz Allen Hamilton leverages these myriad capabilities into forging cybersecurity programs.
With a market cap of $5.2 billion, the company is based in McLean, Va., which is the heart of the military-intelligence complex that rings the Washington Beltway. As such, the firm benefits from its entrenched and loyal client roster in the Pentagon and U.S. spy agencies.
The average analyst expectation is that Booz Allen Hamilton's earnings growth for the fiscal year ending March 31 will reach 4.8%. For fiscal 2018, it is estimated to hit 8.7%.
Over the next five fiscal years, average earnings growth is projected at 8.39% on an annualized basis.
The stock's trailing 12-month price-earnings ratio is a reasonable 17.22, lower than the trailing P/E of 20.9 for the industry.
2. Fortinet (FTNT) - Get Fortinet, Inc. (FTNT) Report
With a market cap of $6.53 billion, Fortinet provides cybersecurity solutions for government agencies and service providers around the world. The company's security products are familiar to anyone in the information technology field.
They include FortiAnalyzer provides a single portal for log data aggregation; FortiAP strengthens wireless access points; FortiGate wards off attempted breaches of firewalls, virtual private networks and wide area networks; and FortiManager provides centralized administration of security solutions. 
Fortinet's stock spiked Friday in the wake of the release of fourth-quarter operating results that exceeded expectations for both earnings and revenue.
The average analyst expectation is for earnings growth this year to reach 19.2%. Next year, it is estimated to hit 20.7%.
Over the next five years, earnings growth is projected at 21.34% on an average annualized basis.
Fortinet's shares have risen 25.23% year to date and 50.22% over the past 12 months. On Friday alone, the stock soared 13.68%.
Shares are pricey, so wait for pullbacks to buy the stock.
3. ManTech International (MANT) - Get ManTech International Corporation Class A Report
With a market cap of $1.51 billion, ManTech International is another IT firm along the lines of Booz Allen Hamilton, but it is more narrowly focused on providing solutions for mission-critical national security programs in the U.S. and internationally. ManTech International's specialty is cyberwarfare and cyberdefense security, especially in pinpointing and countering external cyberattacks.
ManTech International provides software and hardware to support tech infrastructure such as cloud services, data centers, and email or desktop computing. As with Booz Allen Hamilton, the company is based in Washington's Beltway metro-plex, in Fairfax, Va.
The average analyst expectation is that ManTech International's earnings growth this year will reach 8.1%. Next year, it is estimated to hit 4.1%.
Over the next five years, earnings growth is projected at 8.11% on an average annualized basis.
The stock's trailing P/E is 26.37, slightly higher than its industry but worth the premium, in light of its growth prospects.
4. PureFunds ISE Cyber Security ETF (HACK) - Get ETFMG Prime Cyber Security ETF Report
To get safe exposure to Fortinet, consider buying this ETF.
Founded in November 2014, this ETF tracks the performance of companies worldwide that are direct service providers of cybersecurity solutions. Fortinet is a top holding in the ETF's portfolio, as well as cybersecurity stalwarts such as Cisco Systems.
Cisco Systems is a holding inJim Cramer's Action Alerts PLUS Charitable Trust Portfolio. See how Cramerrates the stock here. Want to be alerted before Cramer buys or sellsCSCO?Learn more now.
With net assets of $857.03 million, the fund has racked up a year-to-date return of 7.6%, compared with 1.79% for the S&P 500. The expense ratio is 0.75%.
---
Trump claims he can keep his business interests out of the White House. But let's be honest...The Donald is a businessman. Making deals is who he is. I don't expect that to change just because he's president now. In fact, he dropped a big hint about the first big payday he's arranging when he tweeted: "The only way to fix the infrastructure of our country is me: roads, airports, bridges. I know how to build, pols only know how to talk!" But airports, roads, and bridges are only part of his trillion-dollar masterplan. Click here for the full story.
John Persinos is an analyst with
Investing Daily.
At the time of publication, he owned stock in CSCO.