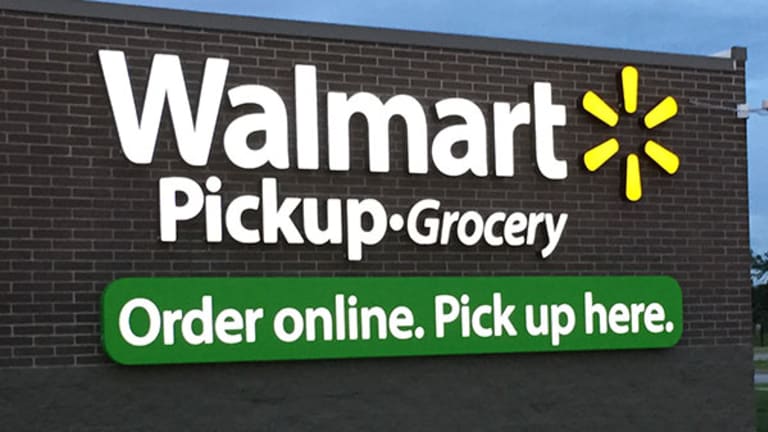 Publish date:
Here Are 4 Factors to Watch for as Walmart Continues Its Rebound
The mega-retailer is coming back with a vengeance. There are four variables working in the company's favor.
The mega-retailer is coming back with a vengeance. There are four variables working in the company's favor.
The entire brick-and-mortar retail sector has been severely affected by the rise of ecommerce superstar Amazon, and Walmart (WMT) - Get Report has been no exception.
For the better part of the past three years, Walmart's stock has taken a hit as consumers increasingly choose to do their shopping online.
However, the past few months have seen Walmart making a turnaround on Wall Street.
Up nearly 18% year to date, the mega-retailer's shares have actually come close to the 19% returns delivered by Amazon. None of the other brick-and-mortar stores, such as Costco (down 5.17%) or Target (down 5.58%), have shown signs of sustainable recovery.
Are Walmart's recent gains a sign of things to come? Or are they just a mirage before the company's final meltdown?
Here are four factors in Walmart's favor.
1. Diversification. As supermarkets and even dollar stores lose their luster, Walmart's diversified business has been gaining back favorable investor interest.
Sprouts Farmers Markets recently issued weak guidance. And even dividend-friendly Kroger has been hit by worries and is down 26% this year.
Dollar stores, once a sweet spot for retail profits, are also feeling the burn. Dollar General and Dollar Tree both reported disappointing second-quarter earnings that paled by comparison with Walmart's.
Walmart's strengths of scale and wide product offerings give it a better position in this changing market. The company showed a 1.6% growth in U.S. comparable sales in the second quarter, outpacing Dollar General's 0.7% and Dollar Tree's 1.2% rates.
2. Dividend growth. Forget the 2.7% yield and 41 years of rising dividends. Thus far, Walmart has disappointed in terms of dividend growth.
Despite generating $10 billion to $16 billion in free cash flow for years, dividend growth for Walmart's roughly 3 billion outstanding shares has been paltry.
Between 2010 and 2013, dividends rose by almost 50%. But the past two to three years have seen about 7% growth annually.
By comparison, Best Buy has increased dividends by 14% in the past three to four years. And Target has increased its dividend by a compound annual growth rate of 17.8% during the same period.
However, as earnings improve, Walmart should start giving out chunky dividend hikes. This would reassure dividend investors and push the stock higher.
3. Earnings upgrades. Last fiscal year, Walmart reported a drop in sales. This year, analysts expect top-line growth of 1.1%.
Walmart is expected to reach the $500 billion sales mark in fiscal 2018 by increasing revenue 2.8%.
In addition, after an expected 5.4% drop in earnings to $4.34 a share this fiscal year, they are expected to increase 3.2% in fiscal 2018.
Earnings revisions over the past 30 days have been trending downward, but this should change.
With Walmart spending big and realigning its business, short-term profit dips can happen. If analysts upgrade earnings, little by little, that would boost the company's stock.
4.Online penetration. Walmart was admittedly taken aback by the Amazon rush. The company's physical stores started seeing marked lower sales and foot traffic.
Walmart's recent acquisition of Jet.com, though not a threat to Amazon's position, has given the company a speed advantage in boosting online growth by leveraging Jet.com's ready-made platform.
This month, analysts at Cowen upgraded Walmart's stock to outperform. Factors that led to the upgrade include the company's focus on investments, efforts to integrate physical and digital platforms, and the Jet.com acquisition.
---
85% Accurate Trader gives his Personal Guarantee: "Give Me 9 Minutes a Week and I Guarantee You $67,548 a Year." What if I told you I know a way you can see a $67,548 per year - or more - in profitable trades just by following this simple step-by-step process? The trader who is sharing this secret has been right more than 8 out of 10 times, turning $5,000 into more than $5 million for himself. Click here to see how easy it is to follow his lead and collect thousands of dollars in "Free Money" every month.
This article is commentary by an independent contributor. At the time of publication, the author held no positions in the stocks mentioned.