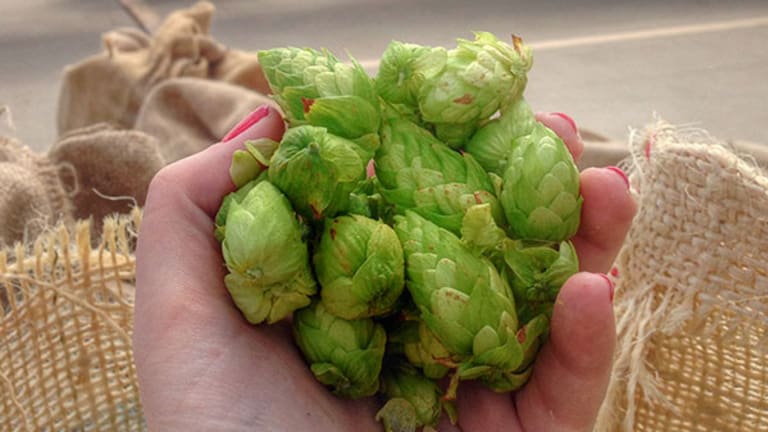 18 Rare Beers That You Can Only Find Right Now
Wet hop beers are a rare treat that only come out in the fall. They are made by using hops right off the vine. Here are 18 you should try.
NEW YORK (TheStreet) -- Some beers are available all-year-round. Others are seasonal and only available at certain times, but there is an even rare brew that is only available in the fall and in very small batches: "wet" or "fresh" hop beers.
Wet hop beers are those made using hops that have just been picked off the vine. Most beers are made with dried hops that are preserved in kilns immediately after they are harvested. Due to growing interest for new and interesting brews, an increasing number of breweries are using wet hops to make beers. Using wet hops to make beer is like using fresh herbs and spices as opposed to dried ones. Brewers use wet hops to get more robust flavors, sharper aromas and more bitterness. 
While most wet hop beers come from small craft breweries, the larger ones like Sierra Nevada and Lagunitas make wet hop beers, too. For those who like interesting, strong-tasting beers, those made from wet hops should be on the list of ones to try. Because they're only available in the fall, you have to act fast. 
Here are 18 wet hop beers you should try that you can only get right now. 
Amarillo Fresh Hop Pale Ale, 6.0% ABV
Reuben's Brews, Seattle
Born Yesterday Pale Ale, 6.2% ABV
Lagunitas Brewing Co., Lagunitas, Calif.
Breakside IPA, 6.4%
Breakside Brewery, Portland, Oreg.
Day Trip, 7.5% ABV
Wildcard Brewing Co., Redding, Calif.
Fresh Hop Red Ale, 7.4% ABV
Liquid Mechanics Brewing Co., Lafayette, Colo.
Gargoyle IPA, 7.3% ABV
Stone Brewing Co., Escondido, Calif.
Green Magic, 6.0% ABV
Mazama Brewing, Crovallis, Oreg.
Heavy Handed IPA, 6.7%
Two Brothers Brewing Co., Warrenville, Ill.
Journey to Planet Fresh-Hop, 6.1% ABV
Wild Ride Brew Co., Redmond, Oreg.
Northern Hemisphere Harvest, 6.7% ABV
Sierra Nevada Brewing Co., Chico, Calif.
Putah Creek Wet Hop Lager, 6.0% ABV
Sudwerk Brewing Co., Davis, Calif.
So Fresh & So Green, Green, 6.6% ABV
Terrapin Beer Co., Athens, Ga.
Sticky Fingers Fresh-Hopped Ale, 6.3% ABV
Crazy Mountain Brewery, Edwards, Colo.
Superdamp, 6.9% ABV
Comrade Brewing, Denver
Toad the Wet Hop Ale, 5.6% ABV
Green Man Brewing Co., Asheville, NC
Volume 4, 7.5% ABV
3 Sheeps Brewing Co., Sheboygan, Wisc.
Warrior IPA, 7.3% ABV
Left Hand Brewing Co., Longmont, Colo.
Wet Hop Ale, 6.4% ABV
Rogue Ales and Spirits, Newport, Oreg.
More Slideshows You Might Like
Billionaires' Bad Bets: Their Worst Performing Stocks of 2014

Pets and Space: What Toy Retailers Hope Will Be Hot This Holiday