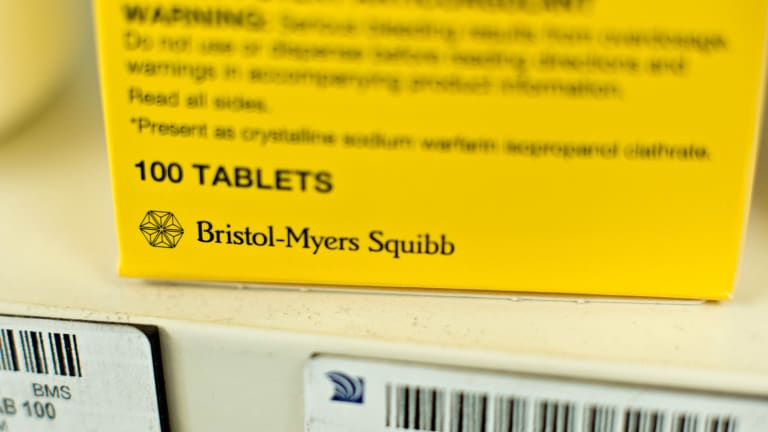 Hep C Business Slow-Down Could Hamper Bristol-Myers' Future
The company's hepatitis C drug division is expected to see losses in the second half of the year.
Bristol-Myers Squibb's (BMY) - Get Report  shares fell 2% Thursday thanks to investor doubts that its hepatitis C drug division can maintain the banner levels of sales growth posted in the second quarter.
Bristol was trading at $75.14 per share midday Thursday, down 1.75% from market's open.
The New York-based company's hepatitis C franchise raked in $546 million in revenue for the three months ending June 30, an increase of 14% compared to the second quarter of 2015.
"U.S. revenues are expected to significantly decline in the second half of 2016 due to lower demand resulting from increased competition," Bristol wrote in its form 10-Q filed July 28. "International revenues decreased in both periods and are expected to continue to significantly decline in 2016 from the prior year comparable periods due to lower demand resulting from increased competition, primarily in Japan."
The pharmaceutical company's competitors, like Gilead (GILD) - Get Report , Abbvie (ABBV) - Get Report and Johnson & Johnson (JNJ) - Get Report are expected to pose a threat to Bristol's hold on the market in the coming months. And, in some countries, they already have.
"International revenues decreased 6% primarily from lower Hepatitis C Franchise sales in Japan and France," the company wrote in its earnings report. "When adjusted for foreign exchange impact, international revenues decreased 4%"
"The hepatitis C decline was as anticipated, if a little higher than expected," said analyst Damien Conover of Morningstar Inc. in an interview.
According to Conover, investors could also be driving down Bristol's share price over concerns about Opdivo, its immuno-oncology drug, because it saw sequential growth that was "lighter than expected.
Still, though, Bristol's CEO was confident on the drug.
"During the second quarter we delivered strong sales and earnings growth, achieved important regulatory milestones with Opdivo across multiple types of cancer, and further advanced our leadership in Immuno-Oncology through the breadth of the clinical data we presented at ASCO," said Giovanni Caforio, the company's CEO in a statement.
Despite investor concerns, Bristol beat the street's expectations, reporting adjusted earnings per share of 69 cents, as compared to consensus expectations of 67 cents per share.
Bristol-Myers also reported revenues of $4.87 billion, beating last year's second quarter by 17% and analysts projects by $200 million.
The company also boosted projected earnings for the year, from a range of $2.50 to $2.60 to a range between $2.55 and $2.65.
Jim Cramer, founder of TheStreet Inc. said he disagreed with investor perspective on the earnings.
"Bristol-Myers should not be down," he said.
Other companies within the biopharmaceutical sector saw better-than-expected earnings Thursday, including
Celgene
(CELG) - Get Report
and
Astrazeneca
(AZN) - Get Report
.