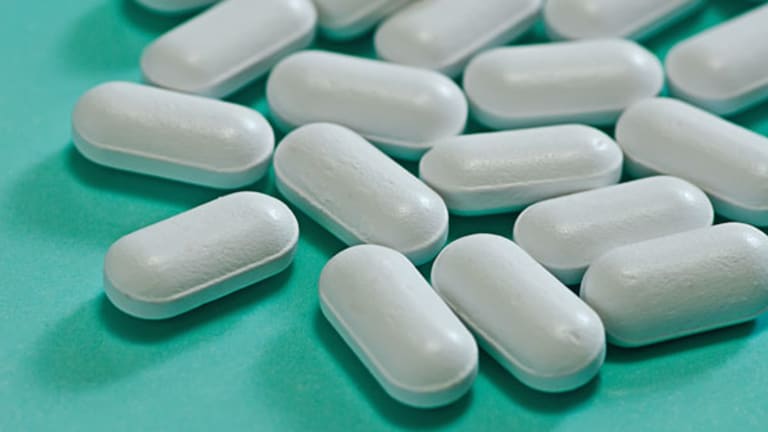 Hemispherx's CFS Drug Is a Long Shot
Too many red flags are flying over Hemispherx's chronic fatigue syndrome drug to be confident the FDA will approve it.
Editor's note: This story was originally published Thursday, May 28.
Too many red flags are flying over
Hemispherx Biopharma
(HEB)
to be confident in the pending U.S. approval of the company's drug for chronic fatigue syndrome.
Retail investors are looking for the next biotech long shot to pay off just like
Vanda Pharmaceuticals
(VNDA) - Get Vanda Pharmaceuticals Inc. Report
did with the surprise approval of its schizophrenia drug. And so they've selected Hemispherx, a micro-cap drug company waiting for the U.S. Food and Drug Administration to render an approval decision on Ampligen for the treatment of patients with chronic fatigue syndrome (CFS).
This speculative mania has done wonders for Hemispherx's stock price. Shares traded for around 50 cents for most of the year, but zoomed to a high of $1.93 on May 18. The stock was up 2.4% to $1.73 in recent Thursday trading.
All these gains will disappear, or should disappear, if the FDA rejects Ampligen. After digging into the drug's history over the past few days, I'm hard-pressed to find any strong rationale for regulators giving Ampligen the green light.
I applaud Hemispherx's efforts to promote Ampligen and extend the suspense of the FDA review, which has allowed the company to raise money twice in the past month and pay out nice bonuses for the company's executives, but I fear that the end is near and it will not be pretty for Ampligen.
Ampligen in its current form has been around since the late 1980s, touted for its antiviral and immune system-boosting properties. At various times, Hemispherx has promoted and tested Ampligen as a treatment for smallpox, HIV, ebola, avian flu and most recently, swine flu, or the H1N1 virus.
The company's biggest push has been in CFS, a poorly understood disease with no known cause that starts with flu-like symptoms and progresses to chronic weakness and fatigue (hence the disease's moniker.)
The first and only published study of Ampligen in CFS dates back to 1994 and looked quite promising. The study enrolled 92 CFS patients (45 randomized to Ampligen and 47 assigned to a placebo) and treated them for 24 weeks. Patients treated with Ampligen reported a statistically significant improvement in their functional impairment compared to placebo, as measured by the Karnofsky Performance Scale, which was the primary endpoint of the study.
Patients treated with Ampligen started the study with mean Karnofsky scores in the low 50s, which means they could not work and required considerable assistance and frequent medical care.
After 24 weeks of treatment, these same Ampligen patients had mean Karnofsky scores in the low 60s. They still couldn't work, but now needed occasional assistance and could care for most of their own personal needs. Placebo patients' Karnofsky scores moved only into the mid-50s.
The authors of the study, published in the journal
Clinical Infectious Diseases
, called the improvement in functional status "modest" but also "clinically significant."
Secondary endpoints of the study, including improved cognition and exercise ability, were also improved with Ampligen treatment compared to placebo.
Based on these results, Hemispherx pushed Ampligen into a larger, phase III study of 230 CFS patients. The study used the same dose of Ampligen as in the smaller, phase II study but extended treatment to 40 weeks and changed the primary endpoint from improvement in Karnofsky scores to improvement in exercise treadmill performance.
The phase III study began enrolling patients in 1998, and the study was completed in 2004. It's also where Ampligen's problems started.
On May 3, 2004, Hemispherx issued a press release announcing positive results from the phase III study. The company stated that Ampligen patients demonstrated a 17.4% improvement in exercise treadmill duration compared to a 4.3% improvement for placebo patients.
The result was statistically significant with a "p value" of 0.047 and was derived using an intent-to-treat (ITT) analysis, which means all patients in the study were counted even if they stopped treatment early. The FDA typically gives much more credence to ITT analyses because they're the most conservative and stringent.
Looks good for Ampligen, but here's where the data get weird.
On Oct. 11, 2004, Hemispherx once again issued a press release about the phase III study, but this time the data had changed. Based on an ITT analysis, Ampligen patients demonstrated a 19.3% improvement in exercise duration compared to a 4.1% improvement in placebo patients. The result was even more statistically significant, with a p value of 0.037.
Then, on May 3, 2006, another press release from the company on the Ampligen study results:
This time, the company only disclosed that the net difference in exercise duration between Ampligen and placebo patients was 12.9% by intent-to-treat analysis, which was lower than it had been in the previous two announcements. Hemispherx also did not state in its press release whether this updated and "audited result" (Hemispherx's description) was statistically significant.
It wasn't.
I was able to find a research abstract for the Ampligen study presented at the Fifth International Conference on Human Herpes Virus in May 2006. The abstract clearly states that the 12.9% improvement in exercise performance between Ampligen and placebo patients was not statistically significant, with a p value of 0.052. Any result with a p value of greater than 0.05 is deemed not statistically significant.
You can find the abstract
here
.
Simply put, Hemipsherx's phase III study of Ampligen in patients with CFS was a failure.
Why did the Ampligen data from the phase III study change so frequently? And why did the company assert in various public statements that the study's results were statistically significant when the only peer-reviewed publication of the data suggests otherwise?
Good questions to ask Hemispherx except the company won't return my phone calls.
I have some other questions for Hemispherx if they'd call, like why is so little information disclosed about Ampligen's safety?
The company states repeatedly that "no serious safety issues" have resulted from Ampligen treatment, but there is no listing or accounting of any specific adverse events related to the drug from the phase III study in any of the company's announcements.
Hemispherx does say the following about Ampligen's safety on its corporate Web site:
"A mild flushing reaction has been observed in approximately 15% of patients treated in our various studies. This reaction is occasionally accompanied by erythema, a tightness of the chest,
tachycardia
, anxiety, shortness of breath, subjective reports of 'feeling hot,' sweating and nausea. The reaction is usually infusion-rate related and can generally be controlled by slowing the infusion rate.
"Other adverse side effects include
liver enzyme level elevations
, diarrhea, itching, urticaria (swelling of the skin), bronchospasm, hypotension, photophobia, rash,
bradycardia
, transient visual disturbances,
arrhythmias
, decreased platelets and white blood cell counts, anemia, dizziness, confusion,
elevation of kidney function tests
, occasional temporary hair loss and various flu-like symptoms..."
The italics are mine. CFS is a serious disease, but it's not life threatening. And Ampligen, if approved, is designed to be a chronic, long-term treatment -- a drug that patients will be given by intravenous infusion twice a week.
Yet the side effects that I highlight above are potentially serious drug-related cardiac and liver problems that the FDA tends to take very seriously, especially for a drug designed to address a non-life threatening disease.
Hemispherx was expecting the FDA to hand down an approval decision on Ampligen on Tuesday. Instead the company issued a bizarrely worded press release citing a "brief delay" in the FDA action.
The FDA "may require up to 1-2 additional weeks to take action" on the Ampligen application, said Hemispherx. Why?
"Reason for the possible delay was attributed by the Agency
FDA to certain staff scheduling changes which might (or might not) delay the report," according to the Hemispherx press release.
What kind of mealy mouth language is that? Clearly, Hemispherx's legal team spent a good amount of time crafting those sentences. It's true that the FDA has dragged out drug reviews recently due to staff shortages, but I've never heard of a case where the agency asks for a couple of more weeks to get its work done.
Besides that, Hemispherx's statement makes no sense because the FDA's Ampligen review is either delayed or it isn't. With the clock now ticking past the scheduled May 25 approval-decision date, the review is clearly delayed, so perhaps it's incumbent upon Hemispherx to provide a better explanation.
I step back and look at the entire picture -- the shifting Ampligen efficacy data, a 5-year-old phase III study that appears to have failed, no clear accounting of the drug's safety, wishy-washy explanations for a delay at the FDA -- and it raises too many red flags.
Ask my opinion, and I'm happy to offer it: Ampligen will not be approved.
Adam Feuerstein writes regularly for TheStreet.com. In keeping with TSC's editorial policy, he doesn't own or short individual stocks, although he owns stock in TheStreet.com. He also doesn't invest in hedge funds or other private investment partnerships. Feuerstein appreciates your feedback;
to send him an email.