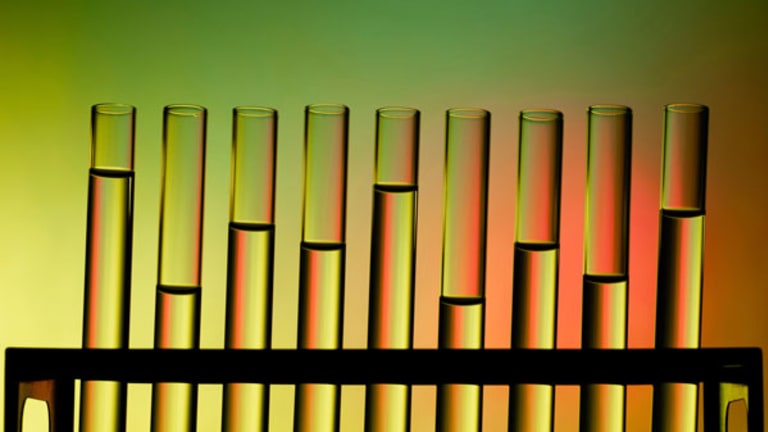 Hemispherx Builds False Hope on Old Data
Hemispherx continues to use old data to assure investors that Ampligen will be approved soon.
In today's Biotech Stock Mailbag, I write about how the CEO of
Hemispherx Biopharma
(HEB)
regularly uses a government report written eight years ago to assure investors that the company's chronic fatigue syndrome drug will be approved soon.
On Thursday, Hemispherx's William Carter went back to the future again.
This trip in the wayback machine resulted in a press release from Hemispherx touting a "new peer reviewed publication" that calls the company's drug Ampligen "the most promising adjuvant candidate for mucosal vaccines."
But while the press release carried a June 4 dateline, the study highlighted was actually
.
The publication of this Ampligen study was so important that it warranted a press release, yet Carter sat on the news for three months.
The evidence is mounting that Carter is seeking to divert investors' attention away from the delayed approval of Ampligen as a treatment for chronic fatigue syndrome. The U.S. Food and Drug Administration was supposed to announce its decision May 25, but on May 26, Hemispherx said the FDA asked for a "brief delay" of one to two weeks.
Since then, Carter has spent a lot of time changing the subject -- issuing three press releases in seven working days touting Ampligen as a potential flu vaccine booster. Hemispherx is just one of a chorus of small drug companies seeking to may hay from the recent outbreak of the H1N1 virus.
The article highlighted in Thursday's release was published in March in the
of
Therapeutic and Clinical Risk Management
, an open access research journal. The study itself is not so much new scientific work as it is a review of previous clinical work on flu vaccine boosters.
In fact, the section of the article highlighting Ampligen is a
republication of scientific work
done in mice in 2007, published in the journal
Microbes and Infection
by many of the same authors.
Meantime, Hemispherx's stock price continues to rise. Thursday, the stock jumped 47% to $3.75 a share. More than 38 million shares traded hands, more than 9 times the stock's average daily trading volume.
But this prompts another question: If Ampligen's approval for chronic fatigue syndrome is imminent and the drug is also garnering so much international attention as a potential flu vaccine booster, then why did Carter choose to raise cash last month when the company's stock price was so low?
On May 11, Hemispherx raised $15 million by selling stock at $1.10 a share. On May 19, the company raised $16 million with another sale of stock at $1.34 a share.
The timing and terms of those stock sales seem odd for a CEO like Carter, so confident in his company's future prosperity.
But then, there's a lot odd about Hemispherx and its decades-long quest to win FDA approval for Ampligen:
A regulatory package that contains data from a phase II study completed 15 years ago in 92 patients and a larger phase III study done five years ago that appears (by my latest count) to have four different sets of results, one of which clearly showed Ampligen failed. (The others indicate the drug barely met its primary endpoint with statistical significance.) Both studies, in fact, used different primary endpoints, and the latter study enrolled patients using outdated criteria for chronic fatigue syndrome.
The FDA going against its own rules by not convening an advisory committee meeting to discuss and review Ampligen's application. This is especially odd since Hemispherx claims Ampligen works through a newly discovered mechanism of action not used by any other approved drug. Likewise, Ampligen would be the first approved drug to treat chronic fatigue syndrome.
If the FDA is taking Ampligen and chronic fatigue syndrome so seriously, then why hasn't the agency granted fast-track status to the drug? To date, the only confirmed communication made public between Hemispherx and the FDA are two letters sent in 1998 and 2000 by the agency admonishing the company for illegally promoting Ampligen as safe and effective when the drug wasn't approved for sale.
Recent press releases boasting of Japanese and Italian government support for Ampligen as a flu vaccine booster. Yet Ampligen has no established intellectual property for such a use and no human clinical data.
Add all this up and throw in Carter's penchant for gussying up old historical data as new news and you get the picture of a company desperately trying to pump up its stock price before the FDA rejects Ampligen.
Adam Feuerstein writes regularly for TheStreet.com. In keeping with TSC's editorial policy, he doesn't own or short individual stocks, although he owns stock in TheStreet.com. He also doesn't invest in hedge funds or other private investment partnerships. Feuerstein appreciates your feedback;
to send him an email.