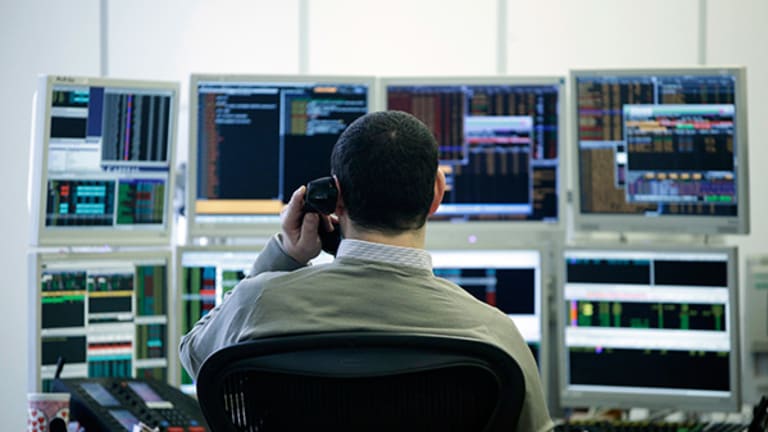 Hedge funds are pumping the brakes in 2017--as financial details from the first quarter start rolling in, early-filing funds have taken a cautious approach to the markets as the S&P 500 has powered onto new all-time highs.
Early-filing funds pared down their positions in six sectors during the quarter, only adding meaningfully to the consumer discretionary sector, technology sector and ETFs.
But that increased selectivity is sending an important message to investors right now: pay attention to the few stocks fund managers love in this environment ...
Think of hedge funds' list of favorite stocks like an investing shortcut--by leaving the hard analysis to the pros, you get all the perks of a well-staffed equity research department, without paying the hefty management fees the world's most successful hedge funds charge.
And believe it or not, you don't have to guess to figure out what the funds are buying right now--they'll tell you.
That's because institutional investors with more than $100 million in assets are required to file a 13F, a form that breaks down their stock positions for public consumption. From hedge funds to mutual funds to insurance companies, any professional investors who manage more than that $100 million watermark are required to submit a form 13F to the SEC.
Want to know which stocks are pro investors' favorites? Those 13F filings hold the key ...
By comparing one quarter's filing to another, we can see how any single fund manager is moving their portfolio around. And by looking at those changes collectively, we can see which stocks the pros are betting on as a group. In other words, we can see which stocks Wall Street loves. While the data is generally delayed by about a quarter, that's not necessarily a bad thing--research shows that applying a lag to institutional holdings can generate positive alpha in some cases. That's all the more reason to crack open the moves being made with pro investors' $23 trillion under management.
Here's a look at four of the stocks the pros love the most early-on in 2017 ...
Facebook Inc.
Topping funds' list of favorite stocks is social networking giant Facebook Inc. (FB) - Get Facebook, Inc. Class A Report. It's not hard to see why fund managers are buying this stock with both hands right now--Facebook has been a stellar performer so far in 2017, rallying more than 21% since the calendar flipped to January. That performance has also made it one of the biggest market value boosts' in early-filing funds' portfolios, gaining $377.9 million during the quarter ...
Facebook is the biggest social network on the internet, counting more than 1.6 billion monthly active users worldwide. That huge userbase comes with an even more valuable component: data. Because the social platform is built around knowing users' interests and friend networks, Facebook automatically owns a deeply valuable database of user network data that it can use to sell incredibly targeted ads at higher rates.
Advertising cmakes up more than 97% of total revenues, with about half of those coming from the U.S. and Canada, a region that only accounts for about 15% of web traffic. As the ex-North America business plays catch-up in terms of revenues, Facebook has a major growth opportunity ahead of it. Another major revenue unlock comes in the form of opening up its advertising platform in its core market--applying data science techniques to Facebook demographic data is bearing significant fruit for advertisers, boosting the value behind the business.
Buyers are clearly in control of Facebook's price momentum right now--it makes sense to bet on this stock alongside the funds ...
Ambev SA
Brazil-based brewing company Ambev SA (ABEV) - Get Ambev SA Sponsored ADR Report is another stock that ranked high on funds' buy list in the last quarter--and another one that's been outperforming year-to-date. Since the start of the year, ABEV has nearly tripled the return in the S&P 500, charging 13.4% higher in that timeframe. Early filers reported buying 6.98 million shares of ABEV during Q1.
Ambev is the fourth-largest beer brewer in the world. Beyond Latin America, Ambev has big exposure to Canada (14% of 2016 revenues), and beyond beer, the firm has big exposure to soft drinks (8.3% of 2016 revenues). The firm distributes PepsiCo (PEP) - Get PepsiCo, Inc. Report products in countries like Brazil and Argentina--though that business has taken a decreasing share of sales as beer revenues have climbed.
From a macro standpoint, Ambev's enormous exposure to Brazil has been a blessing and a curse--Brazil sales account for around 55% of its consolidated total, and weakness in Brazil's economy has taken a toll. That said, after several quarters of declining beer volumes in Brazil, there's some evidence for a rebound in 2017, particularly if U.S. policy changes translate into dollar devaluation in the near-term. In the meantime, Ambev remains one of the most profitable beer companies on the planet, and funds are betting on higher ground for this brewer.
Check Point Software Technologies Ltd.
A big market for IT security has been benefiting industry players like Check Point Software Technologies Ltd. (CHKP) - Get Check Point Software Technologies Ltd. Report lately. Check Point sells cybersecurity hardware and software, with a particular focus lately on protecting mobile devices through the cloud. The firm's customers tend to be sticky--deploying a Check Point solution involves deep integration with a customer's IT infrastructure, and they tend to remain customers. That's a big factor in why 67% of sales came from subscriptions, software updates and maintenance.
Check Point's market positioning is attractive. The firm owns a leading share in the network firewall equipment segment, adding to its moat given the high switching costs of moving from an incumbent security provider. While operating in the fast-moving cybersecurity area comes with some big reputational risks (a publicized failure to stop an attacker could be a big blow to shares), the firm's 24-year track record helps to mitigate that risk.
Early-filing funds have been picking up shares of Check Point in a big way lately, boosting their holdings by 1.38 million shares. That's a $143 million buy operation at current price levels. Meanwhile, momentum is clearly on buyers' side this spring--shares are up 22% so far since the start of 2017 ...
Visa Inc.
Last on hedge funds' buy list for the first quarter was Visa Inc. (V) - Get Visa Inc. Class A Report. Visa doesn't need much in the way of an introduction. The firm is the biggest name in the electronic payments business--Visa's open-loop network counts more than 16,800 financial institutions as clients, with more than 3.1 billion Visa cards issued worldwide.
Visa operates in a positive-feedback loop: the firm attracts merchant accounts because Visa-branded cards are the most popular choice for consumers, and it attracts consumers because it's accepted pretty much everywhere, with 44 million merchant locations at last count. That big scale is also critical from a profitability standpoint: because the firm processes 83.2 billion transactions a year, the company can spread regulatory, technology, and administrative costs across a massive number of users, keeping fees low.
Here at home, in Visa's most established markets, increasing consumer spending provides an important tailwind--because Visa's revenues are tied to dollars spent on its network, higher discretionary spending levels directly correlate with its performance. Meanwhile, ex-U.S., the push towards electronics payments and away from cash provides a big macro tailwind for Visa. Visa was one of funds' favorite names in the first quarter, ramping up in value to the tune of $177 million in early filing funds' portfolio--they added another 89,000 shares during Q1.
At the time of publication, the author had no positions in the stocks mentioned.
Action Alerts PLUS, which Cramer manages as a charitable trust, is long FB and PEP.