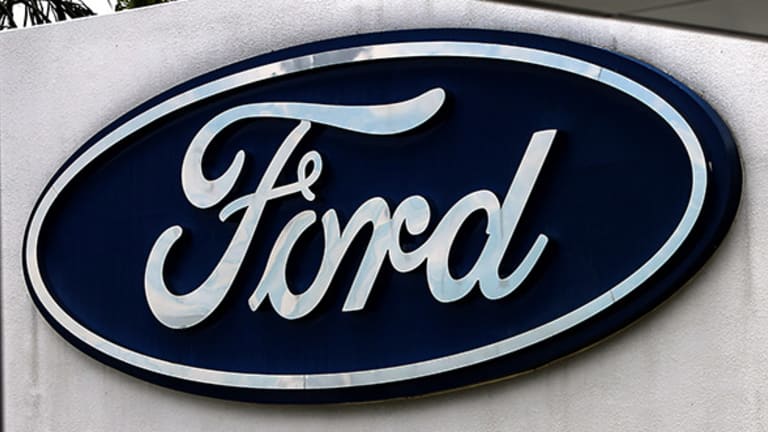 Hedge Funds Are Dumping These 5 Huge Stocks Right Now -- Should You Sell Them?
Funds are unloading shares of these five big stocks -- but their timing looks suspect on a few of them.
Big funds like Greenlight Capital, Renaissance Technologies, and Korea's sovereign wealth fund are sending an important message about stocks right now - and it's probably not what you think.
Typically, investors fixate on the stocks that professional investors are buying. But buys are only half the story.
Instead, there's a much bigger message coming from the stocks they're selling. And in 2017, as the stock market plows into new all-time highs this winter, hedge funds are sending a message by dumping shares in a handful of big stocks. The question here is whether you should join them.
When institutional investors unload stocks, they're sending a big message. After all, admitting to their "sell list" is often an act of contrition for hedge funds - and even the most disciplined investors don't like spotlighting the names they're getting hammered on.
Taking a close look at fund managers' hate list is valuable for two important reasons: it includes names you should sell too, and it includes names that could actually present buying opportunities.
Why would you buy a name that pro investors hate?
It's because, often, when investors get emotionally involved with the names in their portfolios, they do the wrong thing. The big performance gap between hedge funds and the S&P 500 index in the last couple of years is proof of that. So that leaves us free to take a more sober look at the names fund managers are capitulating on.
Luckily for us, we can get a glimpse at exactly which stocks top hedge funds' hate lists by looking at 13F statements. Institutional investors with more than $100 million in assets are required to file a 13F, a form that breaks down their stock positions for public consumption. From hedge funds to mutual funds to insurance companies, any professional investors who manage more than that $100 million watermark are required to file a 13F. Today, we'll take a look at five stocks that are getting the most selling from institutions as a group based on the 13F filings that have rolled in so far for the last quarter.
Without further ado, here's a look at five stocks fund managers hate.
Ford Motor
Up first on the list of most-hated stocks is Ford Motor  (F) - Get Ford Motor Company Report. Early-filing funds dumped 33.7 million shares of Ford during the fourth quarter, a sell operation that adds up to about a 12% reduction in overall holdings from a quarter prior. That's a conviction sell - and it adds up to a $418 million net sell at current price levels.
Ford is one of the world's biggest automakers, selling cars under the Ford and Lincoln brands. Ford got a big shot in the arm post-election, as investors speculated that Donald Trump's presidency could translate into protectionist policies in the U.S., the world's biggest market for cars. Meanwhile, Ford's execution has been outstanding, the firm has managed to build better quality cars on common vehicle platforms that keep costs low through economies of scale. While the automotive industry faces some macro challenges in the near-term, Ford's ability to wring bigger margins from its production should offset those temporary headwinds.
Ford's long-term strategic plan has the potential to give the automaker an important moat, as the firm steps outside its core business with plans to offer fully autonomous vehicles for ride sharing in 2021. In the more immediate term, Ford's technical trajectory looks excellent - shares have been consolidating for much of 2017 following a rally from November's lows, but zooming out on the stock chart shows that Ford's recent uptrend is still very much intact this winter. It looks like hedge funds were premature to sell Ford; shares are pointed higher from here.
LM Ericsson Telephone Co.
$18.6 billion Swedish telecom provider LM Ericsson Telephone  (ERIC) - Get Telefonaktiebolaget LM Ericsson Report - better known in Stockholm as Telefonaktiebolaget LM Ericsson - is another stock that ranked high on hedge funds' sell list last quarter. Funds dumped 20.7 million shares of Ericsson in Q4, shedding more than two thirds of their positions in the firm versus the prior quarter. It's not hard to see why funds' lost patience in Ericsson, though: shares have lost 36% of their market value in the last 12 months...
The question now is whether funds got it right - or whether they bailed at the bottom.
Ericsson is one of the telecom sector's biggest providers of network equipment and services. Major cellular carriers buy Ericsson's equipment to build out their mobile infrastructure, a business that's been booming in recent years. As more consumers move to mobile connectivity, global cellular infrastructure spending should continue to rise. At the same time, Ericsson has been leveraging its expertise to expand its reach to media networks and connectivity for non-traditional devices.
Competition from extremely low-cost Chinese manufacturers remains a big challenge for Ericsson on the lower end of the pricing spectrum, while consolidations in Europe have pressured the higher-end. The firm's technical capabilities, plus partnerships with deeply integrated technology infrastructure providers like Cisco Systems (CSCO) - Get Cisco Systems, Inc. Report should help mitigate some of those challenges. Meanwhile, shares are holding onto their downtrend over the course of the last year as management works to restructure the business.
Cisco and Apple (see item below) are holdings in Jim Cramer's Action Alerts PLUS Charitable Trust Portfolio. Want to be alerted before Cramer buys or sells CSCO or AAPL? Learn more now.
It's entirely possible that hedge funds sold near the bottom in Q4, but at this point, it's too early to call the selling in Ericsson over. Until this stock can break free of its downtrend and start making some higher lows, it makes sense to heed the pros' advice and avoid buying Ericsson.
Pitney Bowes
2017 is off to a rough start for shares of $2.4 billion mailing technology stock Pitney Bowes  (PBI) - Get Pitney Bowes Inc. Report - shares are down almost 14% since the calendar flipped to January, a big part of which came in reaction to fourth quarter earnings results at the start of this month. The question now is whether Pitney Bowes is a rebound trade, or whether hedge funds were right in dumping shares in the final quarter of 2016 - so far, it looks like the latter.
Pitney Bowes helps customers sell and ship products and communications. Global mailing, production mail, and presort services made up 77% of the firm's revenues in 2016 - and 94% of EBIT. Small and medium-sized businesses are a sweet spot for Pitney Bowes; the firm's offerings streamline mailing operations at a reasonable cost. The firm has been pushing to shift its focus from selling equipment and services that help customers mail to become a bigger part of customers' e-commerce operations. So far, that's been more difficult to execute than many investors expected.
Technically speaking, Pitney Bowes looks like a stock to avoid in the near-term. Shares have been selling off in a well-defined downtrend since last April, plunging on every test of trendline resistance in that ten-month stretch. At this point, it looks like funds timed their selling well when they cut 16 million shares from their collective portfolios last quarter. Until PBI breaks free of its downtrend, it's best avoided by buyers.
Apple
Apple (AAPL) - Get Apple Inc. Report, on the other hand, has been a black eye for sellers in 2017. Since the start of the year, Apple has rallied almost 14%, fueled by a record first quarter announced at the end of last month. That means sellers (like Greenlight Capital and Renaissance Technologies) are missing out on a lot of upside following a 15 million share net sell operation from funds in Q4.
It's worth noting that unloading shares of Apple is nothing new - this tech behemoth was one of funds' most-sold holdings in three of the last four quarters...
Apple doesn't need much in the way of an introduction here - the company is a consumer electronics giant whose products range from mobile devices, such as the iPhone and iPad, to computers to the world's biggest music store, and everything in between. Apple's collection of products and services create an ecosystem that encourages consumers to own other Apple products, creating a virtuous sales cycle.
Despite hovering near all-time highs this winter, Apple remains cheap - especially compared to other tech sector stocks right now. For instance, the firm's $158 billion in net cash and investments works out to about 22% of Apple's total market capitalization, giving the firm an ex-cash P/E ratio of about 12. Buyers are clearly in control of Apple's price momentum this winter - and that means investors shouldn't be heeding hedge funds' suggestion to sell Apple in 2017. Shares are on the verge of breaking through a $700 billion market capitalization for the first time in two years.
Annaly Capital Management
Last on our list of funds' most-hated stocks is $10.7 billion mortgage REIT Annaly Capital Management (NLY) - Get Annaly Capital Management, Inc. Report. It's not very difficult to figure out why funds headed for the exits on Annaly last quarter - as a real estate investment trust, Annaly is basically a play on interest rates. The firm's huge 11.5% dividend yield is a major component of its overall value, which means that, as rates climb, Annaly's value should fall.
And with the Fed finally actively hiking interest rates again, investors have been expecting prolonged declines in rate-sensitive stocks like Annaly Capital Management.
Only that isn't exactly what's happened here. Annaly is one of the biggest mortgage REITs on the market, investing in credit products designed to generate yield with minimal risk. The firm's biggest investments are agency and non-agency mortgage-backed securities, but the firm also has operations buying and financing commercial mortgages loans and properties. And while the firm has dealt with some volatile price action in the past, management has proven skilled at generating stable income for yield-seekers.
More importantly for investors in 2017, the thesis of higher rates crushing sources of yield like Annaly hasn't been playing out here. While shares of NLY initially corrected this fall, this stock has been recovering more recently, making its way back toward prior multi-month highs at $10.60. While hedge funds unloaded 15.66 million shares of NLY last quarter, the timing looks poor - look for a breakout through $10.60 as a new buy signal in this high-yield REIT.
At the time of publication, author was long AAPL.