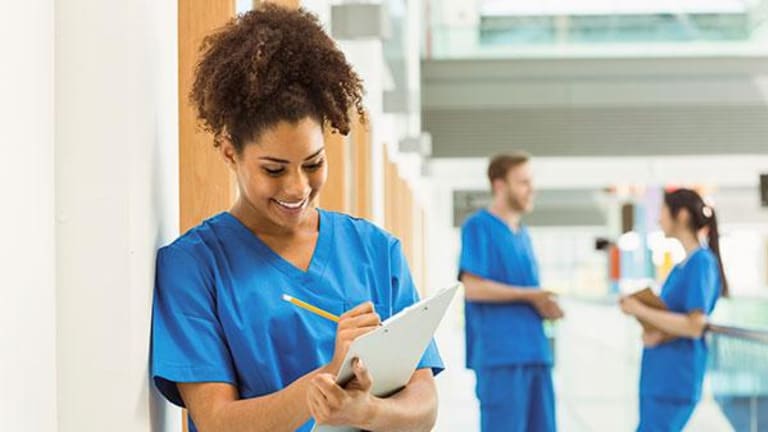 Healthcare Opportunities in Light of Brexit-Driven Selloff
The sharp declines seen across the healthcare sector could present buying opportunities in companies such as Aetna, HCA, Icon and Paraxel.
The sharp declines seen across the healthcare sector could present buying opportunities in companies such as Aetna, HCA, Icon and Paraxel.
Britain's decision to leave the European Union has sent stocks across the healthcare sector down broadly speaking alongside those in other industries, but some losses arguably aren't warranted, including those seen by health insurer Aetna (AET) and contract research organization Icon (ICLR) - Get Report .
"There's still so much uncertainty over what's going to transpire, but potentially because of the [market's] bloodbath, there are some buying opportunities," said Jeffrey Loo of S&P Global Market Intelligence, part of S&P Capital IQ. 
Though some investors may have caught on to the market's over-reaction, the surprising Brexit vote might even present some positive implications for certain subsectors. Those that may benefit include contract research organizations, or CROs, which offer support to the pharmaceutical, biotechnology and medical device industries, according to Loo.
CROs such as Icon, Paraxel International (PRXL) , Quintiles (Q) , LabCorp (LH) - Get Report subsidiary Covance and Charles River Laboratories (CRL) - Get Report are among those that could be potential beneficiaries in the sector, according to Loo, who also cited Thomas H. Lee Partners-backed inVentiv Health, the $2 billion-in-sales company that filed for an IPO in April. 
CRO companies, whose outsourced services help improve the efficiency of clinical trials, drug discovery, preclinical research and drug approval, have seen robust activity in recent months as pharma players and other healthcare companies seek ways to trim costs.
Joining inVentiv, Cinven-backed CRO Medpace disclosed on Friday plans to take its shares public. Also this month, Synexus backer LDC announced that Jaguar Holding Co. Luxembourg had acquired the CRO in a deal valuing it at £178 million ($264 million), just weeks after The Deal, a sister publication of TheStreet, reported it had opted for a sale instead of an IPO. 
If there are going to be different regulations and rules adopted in the U.K. as opposed to existing EU standards as a result of Brexit, it may potentially lead to more work and consequently more business for CRO firms, explained Loo. 
The largest of global CROs is Quintiles, whose $9 billion merger with IMS Health Holdings remains pending. Shares of Quintiles lost about 3.2% of their value Monday, finishing the trading session at $61.32 and adding to Friday's 2.6% loss. Shares ticked up about 1.7% Tuesday morning to $62.31 but did not erase two days of losses.
The broad based sell-off in healthcare might also create buying opportunities across companies that have limited-to-no exposure to the UK, said Loo, who described the reaction of managed healthcare and health care facilities stocks as "unjustifiably battered".  
The declines seen by managed healthcare companies such as Aetna, Cigna (CI) - Get Report , Anthem (ANTM) - Get Report , Humana (HUM) - Get Report as well as Medicaid-focused Molina Healthcare (MOH) - Get Report weren't necessarily warranted, he said.
Among other things to keep in mind is the anticipated relocation of the European Medicines Agency, or EMA, which is currently based in London. The headquarters could move to Paris, suspects Loo, who believes the change might result in the U.K. losing some of its influence on European healthcare debates.