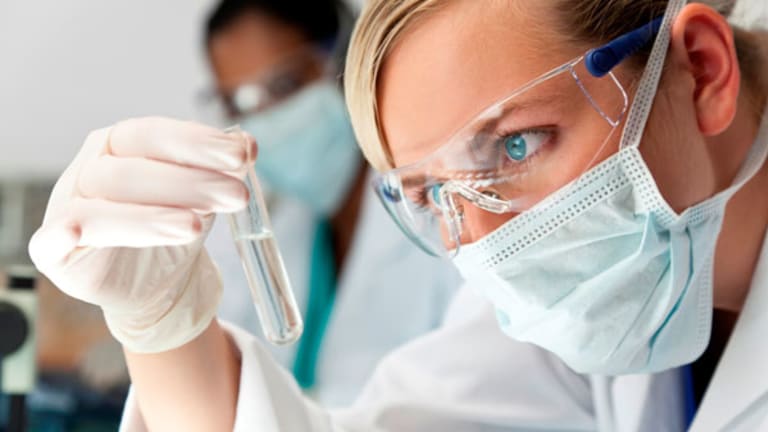 Health Care Winners: Cerner
Health care information stock Cerner is up early on Wednesday, but even its strong earnings do not seem to be sparking a sector rally.
NORTH KANSAS CITY, MO. (
) --The healthcare information sector was looking for a big bookings quarter from
Cerner
(CERN) - Get Free Report
to reverse a recent disappointing trend, and Cerner delivered.
Cerner had a record bookings number of $680 million in the fourth quarter, was up close to 3% early on Wednesday, while eclipsing its average daily trading volume within an hour of the market open.
The level of Cerner's rise after its record bookings, and what seems like a lack of a boost to the health care sector -- at least early on Wednesday -- suggests that investors may continue to have concerns about current valuations in these health care IT shares, even after a big January selloff.
The health care information sector was one the best-performing group of stocks in 2009. The big selloff in health care IT stocks at the outset of 2010 hit stocks including Cerner,
Allscripts-Misys Healthcare Solutions
(MDRX) - Get Free Report
,
Athenahealth
undefined
,
Eclipsys
( ECLP) and
Quality Systems
undefined
.
The
health care information stocks were punished by investors even after in-line earnings, after expectations for the stocks reached an all-time high. These stocks had share price declines in the double digits in January.
Cerner had been down as low as $75 -- from a 52 week high above $90 -- after its January selloff. After a pre-earnings bump on Tuesday and Wednesday morning's rise, Cerner was back above $82.
Analysts had thought that the Cerner earnings might give a boost to the sector, but so far on Wednesday morning, the positive impact from Cerner was muted. Allscripts-Misys, Quality Systems and Eclipsys were up marginally, and it's hard to call this type of reaction to the Cerner earning a sector rally. Athenahealth, which had to restate earnings last Friday, a move that is bringing down analyst estimates for 2010, was down more than 1% on Wednesday morning.
Investors still seem to be uncertain about valuations, including Cerner's valuation, even after a strong earnings report.
Even though Cerner had a record level of bookings in the fourth quarter, $200 million was from two big deals with
Universal Health Services
(UHS) - Get Free Report
and
Tenet Healthcare
(THC) - Get Free Report
. Cerner's guidance for first quarter 2010 bookings is in line with expectations excluding one-off deals of the size of Tenet. Cerner expected bookings between $380 million and $410 million in the first quarter 2010.
The most important aspect of the Cerner earnings was that it was not a disappointment. After the January selloff in the health care information stocks, another earnings disappointment from the bellwether stock Cerner could have crushed the peer stocks.
Most interesting in the Cerner earnings may have been Cerner management commentary on the federal stimulus act that includes $45 billion for hospitals and physician groups that make the move to electronic records systems offered by Cerner and peer stocks. Speaking about 2010 guidance, Cerner management said that it did not expect anything "heroic" from the stimulus.
Investor action in these health care information stocks in 2009 may have reflected the fact that some investors did expect heroic earnings as a result of the federal money, although Cerner clearly sought to temper those expectations in its guidance.
Anthony Vendetti, an analyst at Maxim Group, said the Cerner management commentary also lends credence to the belief that the gains to be made by Cerner from the stimulus will be incremental and spread out over the next few years, as opposed to front-loaded in 2010.
"The realization is starting to set in that although the federal stimulus will be beneficial, it is going to be more incremental, and it might be because of this that the other health care information stocks are not seeing a boost from Cerner's strong earnings," Vendetti said.
Analysts still have concerns about Cerner's valuation. Maxim's Vendetti has a hold on the stock because even with the record bookings in the fourth quarter and in line guidance for 2010, he believes Cerner is fully valued.
Stifel Nicolaus' Todd Weller concurs, saying that the Cerner earnings were strong, but writing in a research note on Wednesday morning that the key issue remains valuation: "the question for Cerner and others continues to revolve around the timing and magnitude of stimulus impacts. Despite the recent pullback in Cerner shares, we would still characterize valuation as being tilted more to the expensive side and we believe that in order to sustain these types of multiples and for the stock to work higher, the top line growth outlook will need to be meaningfully higher than 10%."
-- Reported by Eric Rosenbaum in New York.
RELATED STORIES:
>>Health Care Information Stocks to Watch
>>Health care Dogs are Best Bet in 2010
>>Health Care Stocks to Watch in 2010
>>Allscripts Dips, Final Buying Opportunity
>>See our new stock quote page.
Follow TheStreet.com on
and become a fan on
Copyright 2009 TheStreet.com Inc. All rights reserved. This material may not be published, broadcast, rewritten, or redistributed.