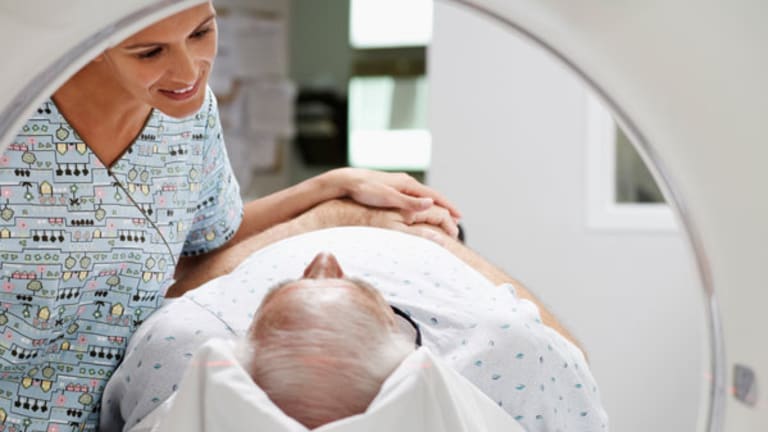 Health Care Takeover Targets: Rumors Run Rampant
The health care sector is speeding into the information age, and the trend is poised to spur another year of active deal-making.
(Health care information M&A report updated for valuation plays, Emdeon, Omnicell; top M&A pure-plays, Quality Systems, Cerner)
NEW YORK (
) -- Last year was a big year for health care sector M&A activity focused on the theme of information technology, but don't fret if you missed the investment opportunity. This year may showcase an even larger parade of M&A deals based on the health care IT play, and ever-bigger deals as the industry consolidates its arguably scarce commodity.
In 2011, "M&A activity in the health care IT industry will rise to dizzying heights," says Leo Carpio, health care analyst at Caris & Company.
Last year, the HITECH program (the federal stimulus system intended to spur the evolution of an information age medical industry) fueled healthy M&A activity. Interest in deals should be sustained with the first HITECH program checks actually being cut and mailed out to recipients in 2011.
The 2010 deal-making culminated in
Allscripts Health Solutions'
( EM) $1.3 billion acquisition of Eclipsys.
In 2011, Caris & Company expects large deals like the Allscripts/Eclipsys transaction to stand out to a greater extent, as transactions in the range of $250 million to $1 billion will be the sweet spot for health care IT M&A in 2011, and some deals will rise to the $1 billion to $3 billion range. Small deals will continue to be pursued, as health information companies are bulked up for eventual spin-offs and become even larger acquisitions candidates, too. At the top of this list, according to Caris, is takeout target
Emdeon
( EM).
HMOs will continue to migrate operations to the cutting edge of the information age --
UnitedHealth Group's
(UNH) - Get UnitedHealth Group Incorporated Report
subsidiary Ingenix was the health care IT consumer on the biggest shopping spree in 2010, making five deals and spending roughly $2 billion.
Aetna
(AET)
acquired
Medicity
for $500 million this past December.
The tech giants will continue to expand their scope in the health care space.
Oracle
(ORCL) - Get Oracle Corporation Report
acquired
Phase Forward
in 2010, a provider of applications to life sciences companies and health care providers. Michael Dell was talking up acquisition opportunities this week at the Davos World Economic Forum, and Dell already has a "dating relationship" with privately held eClinicalWorks.
Outgoing
Google
(GOOG) - Get Alphabet Inc. Class C Report
CEO Eric Schmidt was talking up the need for cloud-based health care information technology at the recent JPMorgan health care conference. Even though the Google chief was clearly on the side of open source technology, his comments stoked never-ending rumors about software as service (SasS) solutions already in the health space, like Dell's partner eClinicalWorks, and the only publicly traded, pure-play cloud computing health care IT company,
Athenahealth
(ATHN) - Get athenahealth, Inc. Report
.
The stock premiums to result from M&A activity may be realized in some pure-play health information stocks, like Athenahealth and
Quality Systems
(QSII)
, but there's health care IT M&A value embedded in the shares of the HMOs and the broader health care stocks universe -- for example, a diversifying health care vendor like
McKesson
(MCK) - Get McKesson Corporation (MCK) Report
.
Yet with many of the health care information plays trading at or near 52-week high levels already, classic big spenders in the space like
Siemens
(SI) - Get SILVERGATE CAPITAL CORP. Report
and
General Electric
(GE) - Get General Electric Company (GE) Report
may be reluctant to spend big bucks on acquisitions, unless the health care IT stock multiples contract significantly.
As Auriga Securities health care analyst Gene Mannheimer noted recently, "the 'good news' may be in health care IT stocks already, as we enter the first full year in which stimulus funds will be awarded under the HITECH act. If true, upside could be limited, unless buyers are willing to award a step-up in valuation while simultaneously justifying the premiums to their boards."
It's also possible that scarcity of top quality health IT properties and a ticking clock will trump the skeptical valuation argument. In any event, here are some health care companies and health care M&A themes that should be in play as M&A rumors run rampant, again, in 2011...
UnitedHealth Group
UnitedHealth Group
(UNH) - Get UnitedHealth Group Incorporated Report
HMO UnitedHealth Group makes a good case for the argument from the M&A skeptics that valuations are already too high in the health care information space, and the pure-plays won't be snatched up at every higher takeout levels. Instead, HMOs and other consolidators of health information companies will reap the rewards of spinning off the health care IT companies that they have been busy acquiring at current frothy valuations.
Here's what UnitedHealth subsidiary Ingenix acquired in 2010:
Private outcome measurements company QualityMetric, March 2010 (price N/A)
High acuity (hospital) IT systems vendor Picis, July 2010 ($400 million)
Medical necessity compliance company Executive Health Resources, August 2010 ($1 billion)
Health information exchange Axolotl, August 2010 ($400 million)
Private medical claims coding tools company A-Life Medical, September 2010 (price N/A)
UnitedHealth wasn't the most aggressive spender on health care IT in 2010 because, unlike a private equity firm, its end game isn't to make a quick-flip profit. Rather, UnitedHealth is betting that the Ingenix buying spree will provide an advantage over its competitors, with health care IT improving quality of care, controlling medical costs and reducing administration inefficiencies.
Nevertheless, as noted by Caris analyst Leo Carpio, "this could be the year for the HMOs and private equity firms that have been building critical mass in health care IT to spin it out and cash in on the health IT valuation."
Auriga's Gene Mannheimer agrees. "I do think it's possible that there's more spinoff activity." Private equity players like Francisco Partners, whose health IT company Healthland has been rumored since last year as a likely IPO candidate, however, may opt for outright acquisitions as opposed to testing the public markets, in the opinion of the Auriga analyst.
On the other hand, Mannheimer thinks a UnitedHealth spinoff of Ingenix, which he said has been "generous with its checkbook," could happen in 2011, and raise billions for the HMO. "It's certainly a good time for an IPO in the health care IT space," the analyst said.
In any event, the value of health care IT is turning up in more and more places within the public stock universe, and a good example is
Stanley Black & Decker
(SWK) - Get Stanley Black & Decker, Inc. Report
, the stock synonymous with your handy backyard deck-building drill, but which this month acquired health care information company
InfoLogix
. Stanley Black & Decker executives recently told the
Philadelphia Business Journal
that the acquisition was part of a master plan to grow revenues from its health information business from $250 million to $1 billion in the next few years.
Yet frothy market valuations could prove alluring to the toolmaker, too. "If I just bought this, I'd want to spin it off and get a better multiple," said Caris' Carpio.
McKesson
McKesson
(MCK) - Get McKesson Corporation (MCK) Report
If valuation is the biggest impediment to more mega-deal making in the health care information space in 2011, McKesson is a good stock with which to discuss the valuation question. McKesson has historically been one of the biggest acquirers of companies in the health care information space, and yet in 2010, the company more or less put a hard stop on buying health care IT companies, saying with a market prudence that was part Warren Buffett (and maybe also part negotiating tactic) that valuations had simply gotten too rich in the space.
It wasn't that McKesson lacked the cash to continue its acquisition campaign within health care IT. In fact, the company implemented a $1 billion stock repurchase plan in 2010 because it had too much cash on hand and too few fairly priced acquisition candidates on which to spend its war chest in the short-term.
It isn't that health care IT doesn't remain a strategic priority for McKesson, either, or that its stock has suffered as a result of its acquisitions. In fact, the
Wall Street Journal
noted this week that McKesson CEO John Hammergren has sold roughly 65% of his insider shares in McKesson since June, as the stock has rallied to successive 52-week high levels.
McKesson has also been steadily diversifying away from the pure drug distribution model and now has as broad a portfolio of health information services as any company, with health care IT roughly 20% of its profit base now, according to Auriga Securities data.
McKesson doesn't just want to hold onto the health care IT profit pool, but increase it, says Leo Carpio at Caris. Carpio thinks that a natural marriage between health care IT pure play
Quality Systems
and McKesson could work, though Quality Systems has a long-standing relationship with Siemens. It's not just that Siemens has shied away from recent deals, like McKesson, and some of its conglomerating peers, but that Siemens' market share in health care is relatively small, says the Caris analyst.
"It opens Quality Systems up to someone coming in and doing a deal, and McKesson would be the likely one here. Having a strong ambulatory solution partnership is important," Carpio says.
Auriga's Mannheimer is sticking with Siemens as a more likely acquirer of Quality Systems, and noted that Siemens scrapped its own attempts to build an ambulatory solution back in 2006. As the analyst recently noted, "In QSII's case, the company is really the only "pure-play" left in ambulatory EMR.... Its longstanding relationship with Siemens is interesting to us, particularly since Siemens does not have an ambulatory solution of its own."
Yet the Auriga analyst is convinced that something has to change before McKesson, or any historically aggressive acquirer in this field, comes back to the table, and the thing that has to change is the current valuations.
The health care information group today is trading at 27 times current year earnings, and that was roughly the acquisition multiple in the space last year, according to Auriga Securities data. Any buyer of these stocks, therefore, would need to be willing to pay 30 times to 35 times current earnings to create a takeout premium. "I'm not saying it won't happen, but the McKesson case is instructive. They've said they are not interested in further health IT acquisitions at current valuations, and they chose to invest in their own currency in 2010 rather than paying acquisition multiples. Eight of their prior 13 acquisitions were in this space," Mannheimer points out.
"The traditional health care acquirers, the McKesson's and GE's, have left the market. As the stocks go higher, the number of buyers gets smaller, and that's why we are near a peak in health care IT valuation," says one health care M&A analyst who did not have compliance clearance to speak for attribution.
If that's the case, it raises the question, could a sudden compression in health care IT multiples send these stocks back to levels at which a cash-rich McKesson would be ready to change its recent tune and pounce on takeout candidates? And what could cause such a haircut to current trading ranges...?
Athenahealth
Athenaheath
(ATHN) - Get athenahealth, Inc. Report
The poster-child for the valuation dilemma is Athenahealth, the only publicly traded cloud computing solution in the health care IT space, and the fact that it's taken health care IT to the cloud means it has been given a
Salesforce.com
type multiple, and of course, attracted its fair share of short bets also.
Athenahealth shares have come back down some from a new 52-week high hit on Jan. 19, but it was still trading at 58 times next year's earnings as of Thursday morning.
Rumors about an Athenahealth takeout are already built into shares, and with tech giants like Google talking up the opportunity to transform health care IT by moving it to the web, the headlines and rhetoric are positive, yet the rumors about Athenahealth as a takeout candidate haven't yet panned out.
A tech giant like Google may want into this market, but it could build its own solution, it could partner with any one among a number of private companies in the space, as Dell did with eClinicalWorks, and if it were not to build a solution from scratch, it might want to wait until the dust settles and the winners and losers are declared in the sector.
As Auriga analyst Gene Mannheimer said about the tech giants and their interest in this space, "If it were a horse race, they would be 10-1 odds in 2011 to make a big deal."
The analyst adds, "Eclipsys was acquired at an 11% premium and they are a major beneficiary of the HITECH program and the question is, why didn't a Microsoft or Dell bid higher? That may remain a mystery but the message is that they didn't think it was worth more," Mannheimer contends.
Athenahealth, even with its impressive performance of late, has seen its shares swing with extreme volatility due to questions about its ability to maintain momentum and build sales relationships among the largest enterprise deal opportunities in the health care space.
Yet the valuation issue reflects all the health care IT stocks, from Cerner to Allscripts and Quality Systems, and so the question is relevant to each company: is multiple compression on the horizon that could make a takeover opportunistically timed?
It's been mostly onwards and upwards for these health care IT stocks since 2009, when fervor about the HITECH stimulus program catapulted the sector, even as the rest of the health care stock universe traded based on fears related to Obamacare.
The prevailing view, therefore, is that with stocks reaching to ever-new 52-week highs, there is room for a pullback, and between earnings season and the Republicans in Congress concerned about spending levels across the board, and singling out health care spending, there are potential -- if long shot risks -- to the existing frothy multiples in the sector.
Earnings from Quality Systems and a smaller player in the health care IT space,
Computer Programs & Systems
(SI) - Get SILVERGATE CAPITAL CORP. Report
, will be released on Friday, setting the tone for sector, and providing a first read on the pace of sales and pricing. Ever since the HITECH stimulus plan was put in place, the industry has debated whether the sales would come in a flood, the "hockey stick theory", or slowly over a period of years, and that's made the stocks vulnerable to any signs of potential weakness in adoption of health care information systems.
The Friday earnings from Quality Systems, and to a lesser extent Computer Programs & Sciences, will be important to monitor for any signals that the health care sector isn't moving as quickly as expected to adopt the latest technology, or that pricing has fallen off as competition has increased, both which could serve as triggers for compression in a space that has run up to all-time high stock prices.
"Either numbers have to reflect the promise or the stocks have to adjust in valuation," Auriga's Mannheimer said.
Analysts also note that politics is always a wildcard, and there are many sectors across the market where fears of subsidy reductions during austerity budget discussions can take a big toll on stocks whose valuations are predicated on government support. The HITECH program fits this profile, especially as Republicans looks for ways to take a knife to spending.
Granted, the HITECH program had bi-partisan support, but analysts in the sector say that the usual rumblings have begun that HITECH could be on some emboldened budget hawk's radar. The rumors about the government potentially pulling back on HITECH don't have to be true, either, to take the stocks down. Plenty of sectors have seen multiples compress during periods of regulatory uncertainty, uncertainty which later turned out to be unfounded.
The plug wouldn't literally have to be pulled on the HITECH program either for the stocks to take a hit based on political risk. For example, if the pace of sales seems ever greater than anticipated in 2011 among the major players, the government could make the case that health care doesn't need as much help as the government originally offered -- $40 billion in stimulus payments -- and even if the government suggests a reduction in the program, it could be enough to cause multiple compression across all the health care IT stocks.
In the least, investors interested in triggers for M&A activity in the space should monitor the reaction to the upcoming earnings and any rumblings from Washington D.C. that too much money is being doled out to the health care sector at a time of need for greater fiscal restraint.
"There's no rush to buy at these levels, but if stock multiples compress, that's when the historic buyers sharpen their pencils, and investors betting on M&A can buy into the stocks," said Auriga's Mannheimer.
In any event, there have to be at least a few stocks in the space that make for good takeover targets regardless of the debate about high valuations, right?
Emdeon
Emdeon
( EM) and
Omnicell
(OMCL) - Get Omnicell, Inc. Report
Emdeon is the one of the exceptions to the valuation rule in health care IT, having hit its 52-week high way back in March. It has climbed back up considerably from a September bottoming, but it's still attractively valued for a takeout, says Caris analyst Leo Carpio. Emdeon is Caris & Co.'s best bet for health care IT takeout company in 2011, trading at 15 times next year's consensus earnings. The analyst pegs UnitedHealth as a potential acquirer of Emdeon, continuing its 2010 buying spree in the health care IT space.
Carpio sees a few key reasons for an Emdeon deal. First, Emdeon has been an active acquirer itself. As a result, it is now positioned as an attractive asset that would be a good cornerstone for a large health information business consolidator. Secondly, recent sales of Axolotl and Medicity show that health connectivity, Emdeon's sweet spot - it services 90% of the nation's providers, 100% of pharmacies and payers, and its revenue and payment cycle software processes over 25% of all U.S. health care expenditures -- is a valuable asset.
Finally, Emdeon's private equity investors (Hellman and Friedman and GeneralAtlantic) are likely to be ready to "monetize their ownership stake," Carpio noted. "Per our estimates, EM's private equity investors purchased their ownership stake in the low teens share range."
Emdeon was among the acquiring companies in 2010 as the big boys put the brakes on in the health care IT space, and Carpio expects selective acquisitions of a small size to continue for Emdeon, but for the big deal in 2011 to be Emdeon seeing its own acquisition spree lead to a takeout premium.
For Auriga's Mannheimer, the inexpensive takeout play in this space is
Omnicell
(OMCL) - Get Omnicell, Inc. Report
, which reports after the close on Thursday.
Omnicell is the No. 2 player in a field of three companies serving the automatic medication and supply management market, a space in which
CareFusion
(CFN)
remains the dominant force with a 65% market share, compared to Omnicell's 20% to 25% market penetration.
Omnicell is trading at 14 times earnings, similar to the multiple afforded by the market to Emdeon, and Auriga's Mannheimer thinks that McKesson, which has said it doesn't want to pay for the stocks at high multiples in the space, would be a natural acquirer for Omnicell. McKesson already has 20% of the automated medication management market, and the Auriga analyst says that they are the "shoe-in" to acquire Omnicell because the deal would automatically vault them into the No. 2 position in the market, relative to CareFusion.
The Auriga analyst also argues that while the Cerner's, Allscript's, and Athenahealth's have been bid up based on stage 1 of the HITECH payments, Omnicell's market of automated medication delivery and improving the safety of the medication system will become a larger focus for health care information system buyers in stage two of the health care industry's information age evolution beginning in 2012 and 2013.
"A closed loop medication administration is growing in importance and is going to be among strategic acquisition themes in the space," Mannheimer adds.
The analyst notes that a financial carrot for an Omnicell play is that the company's has $5.50 per share in net cash.
The biggest knock on the theory for an Omnicell takeout, however, is the most typical in a space where takeout rumors run rampant. The Auriga analyst concedes that 2011 is not the first year in which he has expected Omnicell, which the Auriga analyst rates a buy, to be acquired.
Mannheimer says that the macroeconomic environment and unemployment worked against Omnicell in the past few years as hospitals spent carefully, so their growth was not as robust as the growth for the electronic medical records players like Cerner and Quality Systems. However, that means the Street hasn't put a premium on Omnicell shares, and the company remains under the radar of lots of investors.
Additionally, the government may begin to penalize medical providers that don't adopt automated medication management systems in 2015. While the exact nature of the system hasn't been set in legislative stone, hospitals might lose out on a portion of Medicare revenues - the largest revenue base - if they don't adopt a medication supply and management solution designed for the information age.
These health care information stocks may be exceptions to the rule in terms of being snubbed by the markets, but when it comes to health care M&A rumors running rampant, the most highly valued stocks in the space continue to be just as often referenced as 2011 M&A activity awaits...
Quality Systems
Quality Systems
(QSII)
and
Cerner
(CERN) - Get Cerner Corporation Report
Quality Systems is on every health care analyst's screen as a takeout target in 2011, even though it's trading at a 52-week high. The logic is pretty straightforward when valuation is put to the side. After the big deal between Allscripts and Eclipsys last year, and considering the fact that Cerner has opted to organically build its set of market services as opposed to make acquisitions, Quality Systems is the biggest of the big players in the health information space left to be included in a major integration play.
In the case of Quality Systems - as noted earlier in relation to its long-standing relationship with Siemens, it's the only "pure-play" left in ambulatory electronic medial records area.
One analyst who can't be quoted because he does not have compliance clearance to speak on M&A in the space, says that if he had to rank the takeout candidates regardless of valuation, it has to be Quality Systems at number one and Cerner in the number two position.
Analysts say the more interest dilemma for a Quality Systems, though - and for Cerner too - is whether they make for better acquirers in 2011 than takeout candidates. If high multiples in the health information space mean that buyers will shy away from these pure plays, it also means that their stock can be used as currency in deal-making. This was the case last year with Allscripts and Eclipsys, analysts noted.
"An IBM going after a Cerner isn't out of the question, but Quality Systems is at the top of the list for me, and they just extended their contract with Siemens," one analyst noted.
Cerner has historically chosen to build its business organically, but with the historic acquirers in the space taking a breather and Cerner's stock at an all-time high, it's not out of the question to imagine Cerner breaking with its tradition and growing through an acquisition.
Caris & Co.'s Carpio comes back to the scarcity argument. While plenty of private equity players are trying to put together a Cerner, there are very few assets out there that actually resemble a Cerner or which have its critical mass, established technology and customer base.
"Cerner is expensive as a target, but its stock has currency now. They have been against acquisitions, but they made two strategic alliances last year with CareFusion and MedAssets. These could be pre-cursors to larger deals," Carpio said.
As for Quality Systems as an acquirer, Carpio thinks that the company will continue to fill in the gaps in its business using its stock as currency.
The highly value health care information stocks may have no choice but to focus on their role as acquirers in 2011. Even if consolidation in the space will be the rule yet again, 90% of the market of roughly 300 companies are privately owned, and often sold at lower multiples than the public companies. The small cross section of health care IT that is publicly traded companies already has an acquisition premium embedded in stock priced, M&A naysayers contend.
"Why pay billions for Quality Systems when you can buy a private company with almost as many physician users for a fraction of the price?" one analyst asked.
One thing is certain. "This sector will continue to consolidate," says Auriga's Mannheimer. "From a fundamental standpoint, IT in the health care space has lagged for a long time and still has lots of catching up to do."
-- Written by Eric Rosenbaum from New York.
RELATED STORIES:
>>Big Pharma Stocks: Biy Yawn or Bigger Opportunity?
>>Big Pharma: Pipeline Potential or Potential Bust?
>To contact the writer of this article, click here:
Eric Rosenbaum
.
>To follow the writer on Twitter, go to
.
>To submit a news tip, send an email to:
.