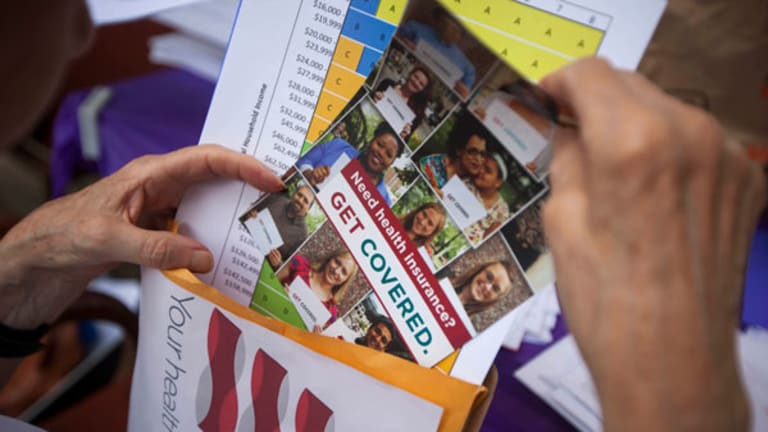 Health Care Stocks Steam Ahead Even as Sector Growth Slips
Market-leading gains could be even more impressive if the trend reverses.
NEW YORK (
) -- Health care stocks are leading the
S&P 500
this year despite slower growth in the sector, suggesting gains could be even more impressive if the trend reverses.
Despite a popular perception health care spending continues to rise inexorably, it has actually been on a
or
, depending upon which health care economist you choose to follow. The recent slowdown stands in contrast to growth that has consistently eclipsed gross domestic product, with few interruptions,
Whether the slowdown in health care spending growth will continue, however, is up for debate, with "responsible people on both sides," said Brookings Fellow Henry Aaron.
Though Aaron is in the camp that believes the slowdown will endure, he nonetheless argued that the underlying fundamentals are good for the health care sector, which is why he conceded that he has "a significant fraction" of his savings in health care mutual funds.
These fundamentals boil down to three main points, according to Aaron.
First, research has shown that as people grow wealthier they want more and better health care.
"You can draw that inference from comparisons across countries at different income levels and in individual countries over time. And if you just look at the effect of income all by itself it looks like we want health care spending to grow at least as fast as incomes do," Aaron said.
Second, he said, "You consume more of it as you get older and on average populations are getting older -- they're going to keep on doing that for a long time."
The final point, according to Aaron, is most important and most difficult to forecast. It's all the exciting new innovations that come out of the medical field, aided by funds from governments and foundations.
"I got asked three or four years ago to serve on the visiting committee for the Harvard Medical School and boy oh boy is that ever eye-popping. You spend the time hearing about what's going on. Admittedly Harvard's special, but it's not unique. We're going to have things that we're going to want, and that's going to tend to push up health care spending," Aaron said.
Excitement around new innovations has lit a fire under biotech stocks of late. While the
Vanguard Health Care
(VHT) - Get Report
ETF was up more than 28% year to date through Friday, it still doesn't match the more than 47% gain posted by the
iShares NASDAQ Biotechnology Index
(IBB) - Get Report
ETF. Some top-performing biotech stocks have included larger players like
Celgene
(CELG) - Get Report
and
Gilead Sciences
(GILD) - Get Report
up 88% and 67%, respectively, year to date, as well as emerging names like
NPS Pharmaceuticals
(NPSP)
, shares of which have more than tripled this year.
"The biotech industry has been pretty successful in bringing new products to market over the last few years and investors have recognized that in 2013," said John Sullivan, director of equity research and health care strategist at health care-focused investment bank Leerink Swann.
The Food and Drug Administration has played an important role in the industry's success, approving more new drugs in 2012 than in any year since 1996.
While some might say the FDA has become more permissive, Sullivan argued it has been "more transparent and communicative to drug sponsors," which he said "has benefited drugs and biotech companies in that they've been able to more reliably put the information in front of the FDA that the FDA needs to make a decision."
M&A has been another factor driving the health care sector's strong performance.
Thermo Fisher Scientific's
(TMO) - Get Report
acquisition of
Life Technologies
(LIFE) - Get Report
, for example, and
Warner Chilcott's
(WCRX)
sale to
Actavis
(ACT) - Get Report
have both been lauded by investors.
"Investors, I think, are responding to what they see as the benefits of consolidation in the specialty pharmaceutical industry and the likely earnings growth that can come as you eliminate redundant functions and things like that," Sullivan said.
Another strong performing area within the sector has been health insurance. Once thought to have the most to lose from the Affordable Care Act of 2010, better known as Obamacare, health insurers have only added to strong gains they posted in 2012. Year to date through Friday, shares of
UnitedHealth
(UNH) - Get Report
were up 36.53%,
Cigna
(CI) - Get Report
was up 51.20%,
WellPoint
(WLP)
was up 43.28%,
Aetna
(AET)
40.6% and
Humana
(HUM) - Get Report
39.35%.
Leerink Swann's Sullivan said he believes the re-election of President Obama in 2012 and the Supreme Court's decision last year to uphold the main provisions of the health care reform law have boosted the stocks.
Insurers have complained nonetheless.
"We remain concerned about the impact some provisions of the law will have on the affordability of coverage," wrote Robert Zirkelbach, a spokesman for industry trade group America's Health Insurance Plans (AHIP)
Of particular concern, according to Zirkelbach, is a tax on health insurance set to go into effect in 2014. According to AHIP's Web site, "the amount of the tax will be $8 billion in 2014, increasing to $14.3 billion in 2018, and increased based on premium trend thereafter. The Joint Committee on Taxation estimates that the health insurance tax will exceed $100 billion over the next ten years."
Health insurers face "abundant systemic anger," according to Brookings' Aaron, leading me to ask him whether their continuing profit growth and equity market outperformance might make the industry vulnerable to additional taxes.
But he doesn't think that makes sense.
"That will simply raise the price overall. They will charge more for whatever they do for you or for whatever insurance coverage they give and it won't materially have an impact on the incentives you face at the time you go in for health care," he said.
Nonetheless, and despite his long-term bullishness on the health care industry's overall profit potential, Brookings' Aaron said he believes over the medium term the sector may very well face pushback on pricing.
"A lot of of health care analysts believe that one of the reasons
the U.S. spends dramatically more than anybody else in the world is that our prices are sort of crazy," Aaron said.
Price cuts would hurt profitability in every segment of the health care industry, Aaron believes, with the exception of nursing services. Nurses, he argued, are "indispensable," he said. "We're not overpaying and we're not overstaffed."
A full-blown recovery is another potential obstacle to the health care sector's outperformance, according to Tim Ghriskey, who oversees investment firm Solaris Asset Management. Ghriskey said he believes health care's strong performance in 2013 has partly been a reflection of defensiveness on the part of investors who are uncertain about the state of the economy. If the recovery gains full steam, he expects health care stocks to underperform the market. He said Solaris is market weighted in health care stocks on the view the sector "has very good growth but the valuations to us are a bit stretched."
Despite these pitfalls, if health care stocks can lead the market even in a rare period of slowing sector growth, their potential if that trend should reverse appears to be even greater. As a result, it's hard to bet against the sector's long-term prospects.
--
Written by Dan Freed in New York
.
Disclosure: TheStreet's editorial policy prohibits staff editors, reporters and analysts from holding positions in any individual stocks.