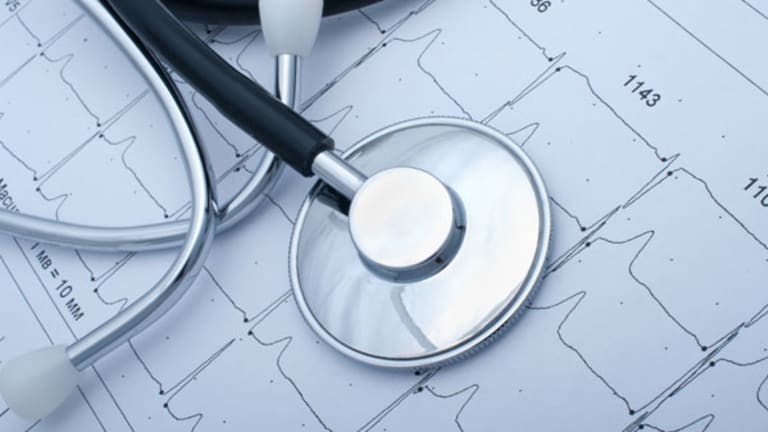 Health-Care Stocks Double S&P 500 Returns
This time it's for real -- managed-health-care firms finally take flight.
BOSTON (TheStreet) -- How many times have we heard that U.S. managed-health-care stocks will rally when the government removes uncertainties surrounding state and federal programs that have mandated expanded coverage?
Well, this time that may be true -- at least in the case of a handful of large insurers that manage Medicaid health-care plans. Their shares have jumped an average of 13% this year, double that of the benchmark
S&P 500 Index
.
A reason for investor interest is that cash-strapped states and the federal government have acknowledged that the private sector can better manage outsourced medical programs than a government agency.
Underlying that, the industry demographics are compelling. There's a glut of aging Baby Boomers just entering retirement and becoming eligible for Medicaid. And the recently enacted federal health-reform legislation will expand Medicaid eligibility to 16 million new individuals, all of whom can become customers of private health-care-management plans.
But as usual in health care, there's an overhanging issue regarding control for private companies. State governments have the power to set Medicaid premium rates and change benefits covered by such programs, and so the programs can vary state by state, creating management headaches. And some have even talked recently of setting specific limits on underwriting margins, all of which can hurt profitability.
A Standard & Poor's health-care analyst says the fundamental outlook for the managed-health-care sub-industry for the next 12 months is "positive, as a number of health insurers are guiding for higher earnings in 2011, despite cost pressures from the new health-care-reform law."
Managed care is still a highly fragmented industry and another potentially big upside in the share-price outlook for several of these companies is that they have been rumored to be acquisition targets for one or more of the much bigger, diversified managed-care companies looking to broaden their Medicaid exposure.
Here, then, are the five largest Medicaid-program-management companies:
WellPoint
(WLP)
is the largest U.S. health insurer based on membership. That gives it significant leverage in bargaining with health-care providers and so helps keep costs down.
WellPoint's 2010 earnings were $6.94 per share. Management has projected earnings of at least $6.30 per share in 2011, and analysts see that growth pattern continuing as important provisions of the health-reform legislation take effect, and the company becomes more effective in dealing with those issues.
"We see WellPoint's economic moat becoming increasingly valuable in the post-reform marketplace. Our fair-value estimate implies more than 50% upside to the current stock price," wrote Morningstar analyst Matthew Coffina in a recent research note.
Investors have driven up shares 17% this year. Last year, they fell 2.5%. The company has a market value of $26 billion.
The company's biggest institutional investor, BlackRock, has been building its stake over the past year and now holds 7%. The next-largest shareholders,
State Street
(STT) - Get State Street Corporation Report
, and Orbis Investment Management, both holding around 4%, have also been recent buyers.
But this week, Appaloosa Management, the hedge fund run by investor David Tepper, reported that it eliminated its once-hefty WellPoint stake in the fourth quarter, according to a Securities and Exchange Commission filing.
Standard & Poor's analysts give its shares a "buy" rating with four stars, one of its highest ratings. Their 12-month price target is $70, about an 8% premium to current share prices.
Centene
(CNC) - Get Centene Corporation Report
, a managed-care organization focused on state-sponsored Medicaid programs, has seen its shares rise 18% this year and 66% over the past 12 months.
Its 1.5 million insured-plan members are located primarily in Georgia, Indiana, Ohio, Texas and Wisconsin. Centene provides behavioral health, pharmacy, vision, nurse triage and related care benefits.
Company management's outlook for 2011 is for earnings per share of around $2.05, while revenue is seen increasing 17%, to around $5 billion.
It has a forward price-to-earnings ratio of 12.9 companied to the Standard & Poor's 500's average of 14, meaning it's a relatively cheap stock.
Among the big buyers of Centene shares over the past half year is BlackRock. It had a 7.6% stake at year-end. The biggest shareholder is Fidelity, with a 9.4% stake. It also added slightly to its holdings over the course of last year. The top 10 institutional investors own about 55% of its shares.
Its market value is about $1.5 billion.
A Thomson Reuters poll of analysts found three "strong buy" ratings, three "buy," nine "hold" and two "reduce." Their consensus 12-month price target is $30.90. Its recent share price was $29.52.
Amerigroup
( AGP) is a Medicaid-focused managed-care organization. It provides health-care benefits to 1.9 million individuals through contracts with 11 states, including Texas, Florida, Georgia, Tennessee, Maryland, New York and New Jersey. The coverage is through publicly sponsored programs, such as Medicaid, Children's Health Insurance Program and Medicare Advantage.
Its shares have gained 27% this year and are up 115% over the past 12 months. The company has a market value of $2.8 billion.
Thomson Reuters says that of the analysts who follow the company, five rate it "strong buy," four "buy" and 10 "hold."
T. Rowe Price and Fidelity each hold about a 10% stake in the company, followed by BlackRock at about 8%. BlackRock added heavily to its stake late in 2010.
WellCare Health Plans
(WCG) - Get WellCare Health Plans, Inc. Report
provides managed-care services targeted exclusively to government-sponsored health-care programs, focusing on individuals and their beneficiaries eligible for both Medicaid and Medicare.
Its shares are down 1% this year and were down 18% in 2010, but rose 186% in 2009. The company has a market value of $1.5 billion.
For fiscal 2010, analysts estimate it will earn $2.48 per share and that will grow 11% to $2.76 in 2011, Standard & Poor's reports.
Analysts give it two "buy" ratings, one "buy/hold" and nine "hold." Their consensus price target for the next 12 months is $36, about what it is now.
Standard & Poor's has it rated "hold."
Mutual fund investors are led by the outperforming
Fairholme Fund
(FAIRX) - Get The Fairholme Fund Report
, which recently held about a 9% stake.
Molina Healthcare
(MOH) - Get Molina Healthcare, Inc. Report
is a Medicaid-focused managed-care organization that provides health benefits to more than 1 million people through contracts with 10 state governments. Its largest markets are California, Washington, Michigan and Ohio. The company began as an operator of primary-care clinics in Southern California.
Its shares are up 10% this year after gaining 22% last year. The company has a $1 billion market value.
A Standard & Poor's analyst writes that the growth prospects for the company are positive. "We think its focus on quality and accreditation, customer service and transparency will help it gain more managed-care contracts."
For fiscal 2010, analysts estimate the company will earn $1.92 per share, and that that will grow by 15%, to $2.20 in 2011.
Analysts' views tracked by S&P finds four "buy" and nine "hold" ratings.
Fidelity is its largest institutional investor with a 7% stake.
Readers Also Like:
Health Care Stocks Double S&P 500 Returns
Paulson's 10 Best Investment Ideas
Disclosure: TheStreet's editorial policy prohibits staff editors and reporters from holding positions in any individual stocks.