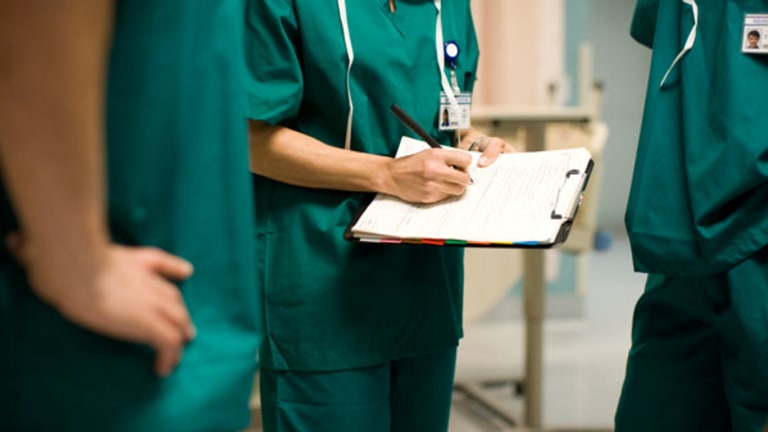 Health Care Poised to Weather Obamacare's Fate
Even health care stocks exposed to the possible failure of Obamacare would be fundamentally strong in the long run.
Editor's note: As part of our partnership with Nightly Business Report, TheStreet's Joe Deaux will join NBR Monday (check local listings) to look at health care stocks ahead of the Supreme Court's decision on Obamacare.
NEW YORK (
) -- Investors will soon realize not all health care stocks are equal as the Supreme Court prepares to decide Obamacare's fate.
The good is for companies like
Aetna
(AET)
,
Cigna
(CI) - Get Cigna Corporation Report
and
Coventry
( CVH), which profit across the three major segments of Medicare, Medicaid and commercial health insurance. The bad is for the Medicaid HMOs like
Amerigroup
( AGP),
Molina
(MOH) - Get Molina Healthcare, Inc. Report
and
Centene
(CNC) - Get Centene Corporation Report
.
"The companies that would be worst affected if the law were thrown out entirely ... you'd expect probably the Medicaid players, which would be Molina, Amerigroup, Centene, to fare poorly, given that they were hoping to take advantage of Medicaid expansion, which almost certainly wouldn't be resurrected if the law were thrown out," said Matthew Coffina, senior health care analyst at Morningstar.
Some estimates have found that between 16 million to 20 million new Americans would be eligible to enroll in Medicaid if the Supreme Court upholds Obamacare.
If Obamacare as a whole gets thrown out, Medicaid HMOs would lose a large revenue opportunity they had expected to begin in 2014.
Medicaid enrollment would rise in 2014 because the law stipulated a shift in income eligibility; simply, the government would extend its low-income health insurance program to earners with a higher annual income than what is currently allowed.
The catch here is that these companies exposed to Medicaid expansion likely already have the possibility of Obamacare's failure baked into their stocks, but fundamentally it's not going to hurt the business model.
"So that's not currently in their earnings -- they're not going to benefit today in their actions -- but come 2014 it would be a tailwind to revenue growth and profit," said Chris Rigg, senior health care analyst at Susquehanna Financial Group. "In the investment community there's a discounted value of that future revenue stream in the share prices today, and that discounted value goes away ... if health reform is overturned."
Rigg pointed out that about 32 million people would receive health coverage because of reform. Almost half comes from small group and individual insured.
This is where Aetna, Cigna and Coventry enter. These companies wouldn't lose out on as much revenue because small group and individual insurance make up relatively small percentages of revenue for them.
"There aren't any companies anymore that sort of make 100% bet on small group and individual business," said Dave Shove, health care analyst at BMO Capital Markets. "Almost 30% of
WellPoint
(WLP)
is small group and individuals; a company like Humana it's about only 5% or 6% of their business; Cigna it's maybe 1% or 2%."
Rigg said he thinks the diversified health care stocks could move 10% higher or more if Obamacare is struck down entirely.
"Because of all of these things we talked about at the outset: minimum medical loss ratio, the uncertainty around exchanges, rate review -- just that regulatory burden is lifted," Rigg said.
Minimum medical loss ratio is like the inverse of gross margin, or your cost of goods divided by revenue. The percentage in the small group and individual business has to be at least 80% and in a large group market at least 85% or else the company has to rebate the money to consumers, Rigg said.
In this case, the law would have capped the gross profit percentage of these companies.
So what if the whole law is upheld?
"I would probably speculate that the
health care stocks would trade up in that scenario," says Morningstar's Coffina. "We think the companies are worth, in general, more than they're trading for."
Coffina said uncertainty surrounding the fate of Obamacare is one factor holding these stocks back.
If Obamacare survives June, it looks like investors won't have much to worry about, and even if it falls, the long-term outlook for the sector would appear to be fine. Just watch out in the near-term for those companies that stood to benefit from the expanded base of Medicaid participants.
-- Written by Joe Deaux in New York.
>Contact by
.