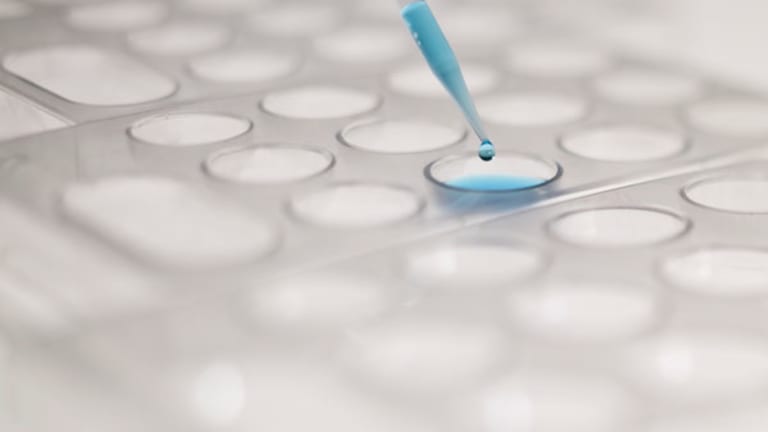 Health Care: Obamacare M&A Trumps Weak Earnings Outlook
The healthcare sector may be dominated by long-term M&A optimism rather than short-term earnings gloom.
NEW YORK (
) -- As health care sector earnings season begins, a key focus will be on industry consolidation after the Supreme Court's confirmation of the Affordable Care Act. Disappointing near-term revenue and profit trends could take a back seat to optimism about Obamacare leading to mergers and acquisitions.
The nation's top court upheld Obamacare in June, and on July 9 managed care giant
WellPoint
(WLP)
said
Amerigroup
( AGP), a managed care specialist focusing on Medicaid and Medicare plans, for $4.9 billion. That deal sparked speculation other sector giants, including
Humana
(HUM) - Get Humana Inc. (HUM) Report
,
Cigna
(CI) - Get Cigna Corporation Report
,
Aetna
(AET)
and
UnitedHealth
(UNH) - Get UnitedHealth Group Incorporated Report
, would also look to make acquisitions.
In the least, with a weak earnings outlook for health care providers as they brace for the impact of Obamacare, M&A is expected to be one of two key topics of discussion for CEOs, alongside post-health care reform policy loss ratio estimates.
"
Medical loss ratios will once again be the area of primary focus although we will also be looking for further insights into the M&A environment (particularly in Medicaid) following WellPoint's announced acquisition of Amerigroup," wrote Deutsche Bank analyst Scott Fidel in a sector earnings outlook.
WellPoint's near $5 billion deal for Amerigroup in early July came at a 43% premium and will give it 4.5 million new state-sponsored health care accounts and some dual eligible managed care customers, in a move that will add to the company's existing 65-plus million health care customers including those under Blue Cross and Blue Shield private plans. Managed care stocks plummeted after the Supreme Court decision, but WellPoint's shares have rallied since the deal was announced.
"From the consolidators' perspective, attention has now shifted over to Aetna given its arguably sub-optimal platform in Medicare & Medicaid and to Humana since investors are showing skepticism around their duals strategy to partner with local Medicaid plans," added Fidel in his Wednesday outlook. Fidel said CEOs may try to talk down M&A efforts in second quarter earnings conferences, however, "investors should recall that WellPoint's CFO also complained vigorously about high valuations in Medicaid right up until agreeing to pay a hefty valuation for Amerigroup."
Since WellPoint's acquisition, Medicaid and Medicare-exposed healthcare providers like
Molina Healthcare
(MOH) - Get Molina Healthcare, Inc. Report
,
Centene
(CNC) - Get Centene Corporation Report
and
WellCare
(WCG) - Get WellCare Health Plans, Inc. Report
have surged over 15% on speculation they will be the next takeover candidates.
"Expect other companies with government exposure to see greater investor interest," wrote Credit Suisse analyst Charles Boorady in a July note to clients, highlighting Centene, Molina Healthcare,
Humana
(HUM) - Get Humana Inc. (HUM) Report
,
Coventry Healthcare
( CVH) and
Health Net
(HNT)
as other healthcare providers with high Medicaid and Medicare exposure.
Also in early July, Goldman Sachs analysts raised their price targets for Centene and Molina Healthcare, citing the likelihood of healthcare sector consolidation. "
We see further consolidation likely following the announcement of WellPoint's proposed acquisition of Amerigroup, which reflects the push by the larger 'diversified' managed care names to broaden exposure to public sector managed care growth opportunities," wrote analyst Matthew Borsch in a July 11 note to clients, which upped Molina's price target 8% to $29 and Centene's by 12% to $39.
The court confirmed the Act's ability to force Americans to carry health insurance and compel insurers to cover people with pre-existing health conditions. It limited the extension of Medicaid, however, deeming it unconstitutional for the federal government to withhold money from states that don't comply with the Act. Some estimate that between 16 million to 20 million new Americans would be eligible to enroll in Medicaid through the Affordable Care Act.
While Medicaid players may be takeover targets, large scale merger efforts may be less likely after a generation of consolidation among healthcare giants. "We continue to assign a low probability ranking to UnitedHealth, WellPoint, and Aetna, as we think these companies are too large to merge with one another, owing to antitrust limits, among other factors, while we think an acquisition of one of these 'Big 3' by a company outside of managed care is also unlikely," Borsch said.
The M&A speculation comes amid a cloudy health care earnings profile. In the first quarter, diversified healthcare providers like Humana and Aetna and Medicaid-focused providers missed earnings per share estimates. Second quarter earnings concerns from Wall Street analysts center on how high loss ratios could go now that providers are mandated to accept customers with pre-existing medical conditions.
"WellPoint's announcement provided a welcome 'change of topic' from the post-SCOTUS ruling gloom in the managed care sector. However, our broaderoutlook remains mixed and we maintain our Neutral coverage view," noted Borsh of second quarter earnings expectations. "Beyond 2012, the longer-term growth story remains attractive, in our view, particularly at these valuations."
Deutsche Bank expects average revenue growth of 17.6% in the second quarter (up from 8.0% in the first quarter) due to Medicaid expansions, while average EPS is expected to decline by 13.1% due to a nearly 50% average decline for Medicaid MCOs.
Fidel said Aetna's current share prices may already reflect an earnings per share miss, signaling that a reported EPS of $1.26 -- the current Wall Street consensus -- could drive shares higher. He expects a second quarter earnings miss from Health Net and notes that among Medicaid-exposed names, WellCare may contain the biggest earnings surprise after Molina and Coventry Healthcare pre-announced negative revisions.
The Obamacare M&A chatter shouldn't obscure the fact that health care companies were busy before the decision putting together
to position themselves for key earnings opportunities, amid the prospect that profit margins fall throughout the health care sector.
"There is a very basic level of consolidation that is taking place," Marc Cabrera, head of the health care investment banking practice at
Morgan Joseph TriArtisan
, said in a late June interview that came before the court's ruling.
Cabrera highlighted a consistent drum of mergers among physician practices, hospitals and pharmacy benefits managers (PBMs) -- -- the companies that fill drug prescriptions -- as indicative of the needs for companies in the health care sector to grow their scale in the face of margin pressures.
In June,
Walgreen's
(WAG)
of European pharmacy giant
Alliance Boots
highlighted big changes to the earnings prospects for drug store and PBMs.
Last October,
Cigna
(CI) - Get Cigna Corporation Report
bought
HealthSpring
( HS), a health care provider with a big pharmacy unit, in a near doubling of its PBM business.
Cabrera pointed to recent deals like dialysis specialist
DaVita's
(DVA) - Get DaVita Inc. Report
$4.42 billion acquisition of privately held physician practice
HealthCare Partners
and Humana's acquisition of hospital chain
Concentra
in 2010 as signs of the health care sector in an M&A mode of scaling operations.
For more on healthcare M&A, see why Obamacare isn't the sole trigger for
and why M&A among drug stores and pharmacy giants like
Express Scripts
(ESRX)
could
underestimate synergies
in the sector.
-- Written by Antoine Gara in New York