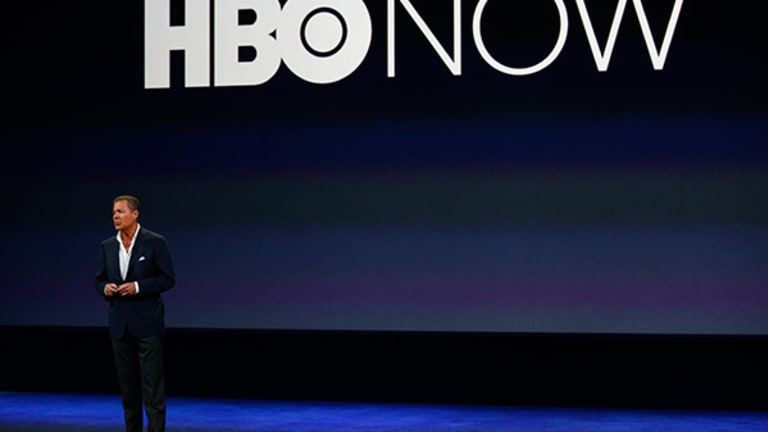 HBO Now's Success Is Forcing Cable TV Operators to Loosen Up
HBO's standalone streaming service HBO Now appeals to young people ditching cable and satellite, and is forcing cable TV operators to become more flexible.
LOS ANGELES (TheStreet) -- It took Time Warner (TWX) HBO's Internet stand-alone service HBO Now for Lacy Beam and her husband to finally cut the cord. Now the 26-year-old administrative assistant from Texas says she has chopped her monthly pay-TV bill by two-thirds and won't look back.
"Once HBO Now came out, we decided to break up with DirecTV (DTV) ," said Beam, who also subscribes to Netflix (NFLX) and Hulu Plus, a joint venture of Comcast (CMCSA) , 21st Century Fox (FOXA) and Walt Disney (DIS) .
Beam and other young cord cutters -- those who don't have pay-TV service -- represent promise for networks such as HBO. But those networks must also be careful to assuage the cable and satellite-TV providers that furnish the bulk of their revenue and worry that online services will cannibalize pay-TV subscribers.
"If you're Time Warner, you have to be flexible on this," Andy Hargreaves, an analyst at Pacific Crest Securities said.
At a Time Warner investor conference in October, HBO CEO Richard Plepler repeatedly rejected the notion that an HBO stand-alone service will cannibalize pay-TV operators by convincing subscribers to replace their pay-TV contracts with a collection of online offerings. Plepler insisted that HBO Now is focused on going after the millions of U.S. homes that have an Internet connection but don't subscribe to pay-TV. 
But satellite-TV provider Dish Network (DISH) made clear it's worried that Time Warner's plans for its stand-alone HBO service would pick off subscribers like Beam and was a factor in holding up a deal on what Dish pays Time Warner for its channels, The Wall Street Journal reported. Time Warner compromised with the satellite provider, allowing Dish to offer HBO on its own online service, Sling TV, and earning the "incentive to sell HBO more actively," according to the newspaper.
HBO Now launched on April 7 on Apple (AAPL) TV, which will have an exclusive three-month window on the service. Cable operator Cablevision Systems (CVC) also plans to offer HBO on its own over-the-top service.
Whether HBO Now -- which competes for online viewers with Netflix and later this year will compete with traditional rival CBS's (CBS) Showtime -- will make money or cut into its own traditional pay-TV subscriber base isn't clear, said Steve Ridge, president of the media strategy group at consultant Frank N. Magid Associates.
"There's going to be higher consumer demand as awareness and success continues to build on itself," Ridge added. "People feel like they have the independence to secure content without cable, and psychologically it's very fulfilling."
Networks with over-the-top aspirations are looking at the more than 10 million households in the U.S. who have broadband Internet but not pay TV, as well as the growing number of households who are either ditching pay TV or not signing up at all.
Last year, some 1.4 million U.S. households either cut the cord or never signed up for pay TV, according to analyst Craig Moffett of MoffettNathanson.
"I don't know if anyone knows exactly what's going to happen," Hargreaves said about networks' efforts to court millennial cord cutters like Beam. "But we do know that having a better relationship with your customers is probably a good thing." 
CBS unveiled its CBS streaming package to consumers last year, and Viacom (VIA) launched children's online network Noggin last month. Other networks are expected to join the over-the-top game before the year is up.
Like rival Netflix's political thriller House of Cards, HBO has momentum from a hit show on its side. The fifth season of fantasy epic Game of Thrones premiered Sunday with a series high of about 8 million viewers, Nielsen said. It drew an estimated 5.3 million viewers in the 18-49 demographic that over-the-top services aim to bring into the fold.
Beam, who said she and her husband weren't using half the channels they got from DirecTV, was one of those watching.
This article is commentary by an independent contributor. At the time of publication, the author held no positions in the stocks mentioned.